UPDATE!
The Walking Dead Beer will be out October 5th! It will be available regionally in the southeast, so call your local brew slinger to find out if they'll have Terrapin's Walking Dead Blood Orange IPA! Click here for the press release!
Previously on…
Hey gang! News of this may have leaked out a little bit early yesterday, but today we are proud to announce that we are, indeed, making a beer with brewers Terrapin Beer Co.! Located not far from Atlanta in Athens, GA, Terrapin focuses on making unique beers that they weren't seeing in the southeast. They have a really awesome year-round offering as well as the occasional seasonal beer and side-projects. They definitely know how to have fun and make an awesome beer, so why not work together?!
The Official Beer of The Walking Dead will be a Red India Pale Ale brewed with blood orange peel. Mmmmmm! You'll have to stay tuned for when and where you can get the BLOOD ORANGE IPA! We'll have more soon!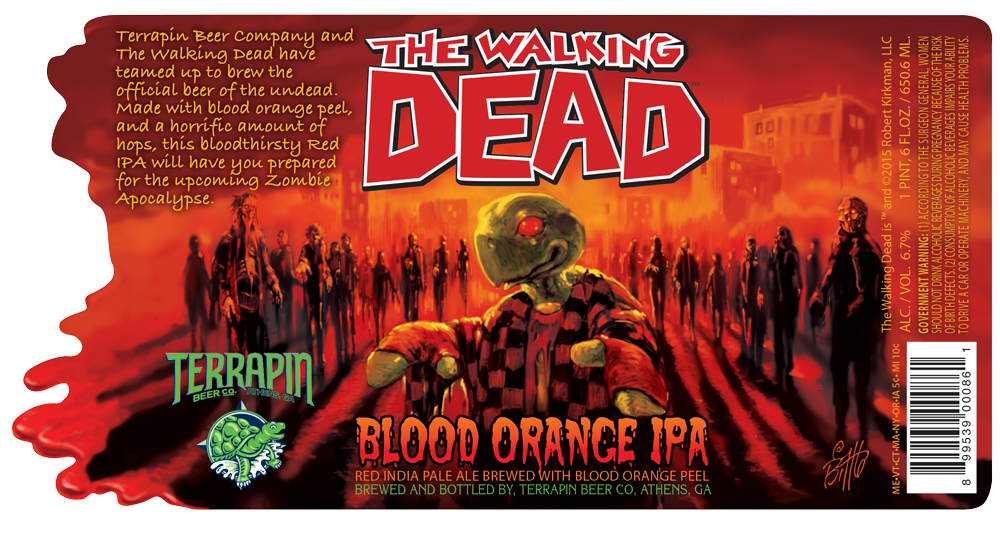 Terrapin Beer Company and The Walking Dead have teamed up to brew the official beer of the undead. Made with blood orange peel, and a horrific amount of hops, this bloodthirsty Red IPA will have you prepared for the upcoming Zombie Apocalypse. 6.7% Alc/Vol.
Blood Orange IPA is brewed and bottled by Terrapin Beer Co, Athens, GA