Hey gang! It's our comic comparison for the very last episode of Season 5! Tonight's episode had some added juice (Glenn vs Nicholas, all the Daryl stuff, Morgan showing up, etc) but the stuff at the end with Pete was pretty accurate (and all from Volume 13: Too Far Gone)! So let's check it out!
RICK'S OUTBURST FALLOUT
We see here (in truncated version) that while the Rick/Pete fight may have been super faithful, the immediate fallout is a little different. In the show, Rick is out cold, and wakes up to Michonne, and they pretty much make up, at least a little bit. In the comic Rick is just dazed, and immediately has to deal with what he's done. He's immediately repentant and taken to the doctor/holding (see the next part for how that plays out). When it comes to dealing with Michonne cooly tells him to "get his shit together."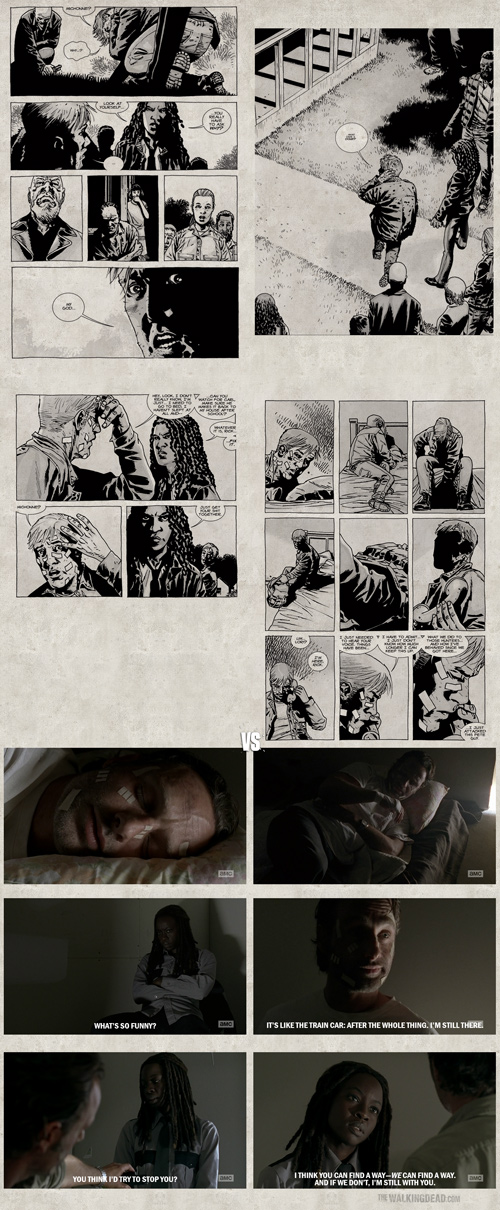 I think Michonne and Rick in the show have always had a more warm relationship than the comic, so it makes sense that they would deal with this situation a bit differently. And of course, in the comic we see that Rick slides back into some dangerous behavior. The fight with Pete and showdown with Alexandria is treated as more of a psychic break (although in show we also see Rick commune with his "ghosts" when he hears the voice of Bob).
DOUGLAS/DEANNA DEAL WITH RICK
This one is pretty different. In the comic Douglas immediately deals with Rick and wonders what he'll do about him. Douglas then tells Rick about Davidson, the former leader of Alexandria who used to be a good man but eventually abused his position of power, coercing women into sleeping with him and putting others in danger in his place (in the show, Aaron tells Daryl a little about Davidson but there is almost zero detail, just that he was exiled). Rick tells Douglas more about his past, being very honest. He never wanted to be leader, Rick says. Ultimately Douglas agrees to let Rick stay on as sheriff even lets him carry a gun. His one condition: never question his authority.
In the show, Deanna wants to have a community meeting, not a one-on-one, which is where Rick's actions are to be judged. It's hard to say which side Deanna is going to come down on before Rick shows up with a walker carcass and then Pete showing up.
PETE FLIPS OUT
This one is kind of subtle, but pretty close. The only difference in the show is we have a steady shot of the entryway while we hear Pete's freak out off-camera instead of seeing it.

Oh also, Pete finds that knife block instead of grabbing Michonne's sword.
THE END OF PETE
In the comic, Pete shows up during an impromptu meeting over Scott's burial instead of a community meeting (since Douglas never has one). The outcome is almost identical: the leader's (Douglas/Deanna) tries to calm/stop Pete and he kills her/him. Douglas/Deanna order Rick to execute Pete on the spot.

We see in the comic that Rick speaks with a little more authority as he's been re-established as sheriff already. In the show, Rick is almost completely quiet. He just waits for Deanna to pass judgement. And then… BLAM.
What did we miss? Sound off down below!

CHECK OUT THE FULL RECAP AND DISCUSSION: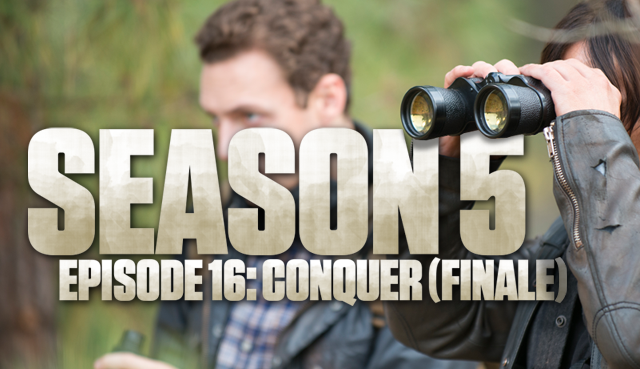 THE WALKER STALKERS DISCUSS THIS EPISODE: