This year we're celebrating The Walking Dead's 15th anniversary in style. We're designating Saturday, October 13th, 2018 as Waking Dead Day globally – meaning fans will be able to pick up all sorts of exclusive merchandise commemorating the occasion at a participating comic shop. We're keeping most of the swag under wraps for now, but today we're announcing a Walking Dead Issue #1 variant drawn by the series' comic artist Charlie Adlard.
He has re-imagined the first issue with Rick standing in front of a comic shop surrounded by familiar Skybound titles like Invincible, Manifest Destiny, Extremity, Outcast, Oblivion Song, and more. See the variant and original covers below: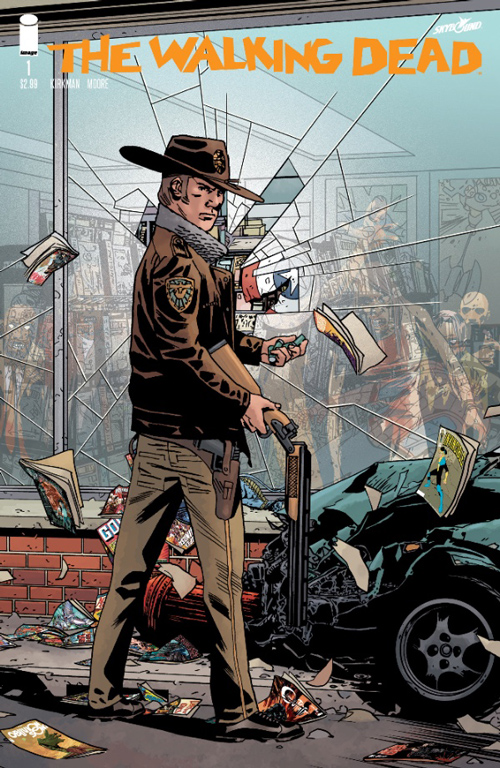 (The Walking Dead 15th anniversary variant – art by Charlie Adlard, Dave Stewart)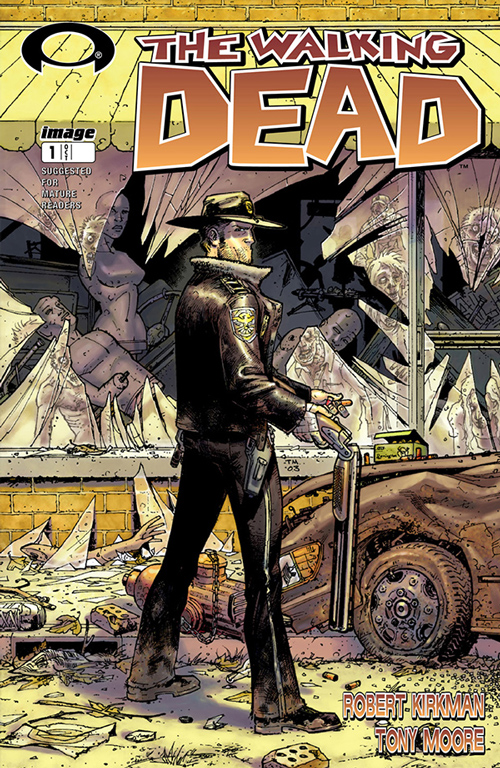 (The original first issue of The Walking Dead – art by Tony Moore)
That's not all – some participating comic shops will be able to order special versions of the TWD #1 variant with their store's logo on the cover as part of the destroyed comic shop window! Find a list of shops with this special cover
HERE
. See the full press release below:
---
PORTLAND, OR, 05/23/2018 — Image/Skybound Entertainment is pleased to announce that October 13th will mark THE WALKING DEAD DAY – an exciting all-day, globally celebrated event commemorating the world's favorite, long-running, survival comic created by Robert Kirkman (OBLIVION SONG, OUTCAST BY KIRKMAN & AZACETA).
Image/Skybound Entertainment is thrilled to reveal the first of many collectable THE WALKING DEAD DAY items for fans to keep an eye out for – THE WALKING DEAD #1 15th ANNIVERSARY VARIANT – which boasts cover artwork by series artist, Charlie Adlard, for the first time, with colors by Dave Stewart.
THE WALKING DEAD #1 15th ANNIVERSARY VARIANT features a brand new cover by Adlard showcasing walkers invading comic book shops across the globe to celebrate THE WALKING DEAD DAY.
A selection of WALKING DEAD DAY participating local comic shops will become a part of the iconic story with their own special edition of this cover which will feature the store's logo incorporated into the cover artwork. Fans should contact their local comic shop to inquire as to retailer participation in store exclusive version and to learn more about limited WALKING DEAD DAY promotional swag available.
THE WALKING DEAD #1 15TH ANNV VAR (Diamond Code JUN180298) will be available on Saturday, October 13. The final order cutoff for WALKING DEAD #1 15TH ANNV VAR will be Monday, July 9th.
---
Will you be picking up this 15th Anniversary variant? What other swag do you want to see? Let us know in the comments!