Before we launch into this article BE WARNED if you haven't read The Walking Dead Issue #175 or don't want to be spoiled then TURN BACK. Read our Tweets and Grams post, our Season 8a Quiz, or even our Top Carl Moments! Ok…are we good? Great.
Part One of The Walking Dead's New World Order arc ended with a massive cliffhanger: Michonne discovers her own missing person notice allegedly from her daughter Elodie, who appears to be living at The Commonwealth (see below). This has huge implications from a comic AND game perspective, so let's dive into what it all means.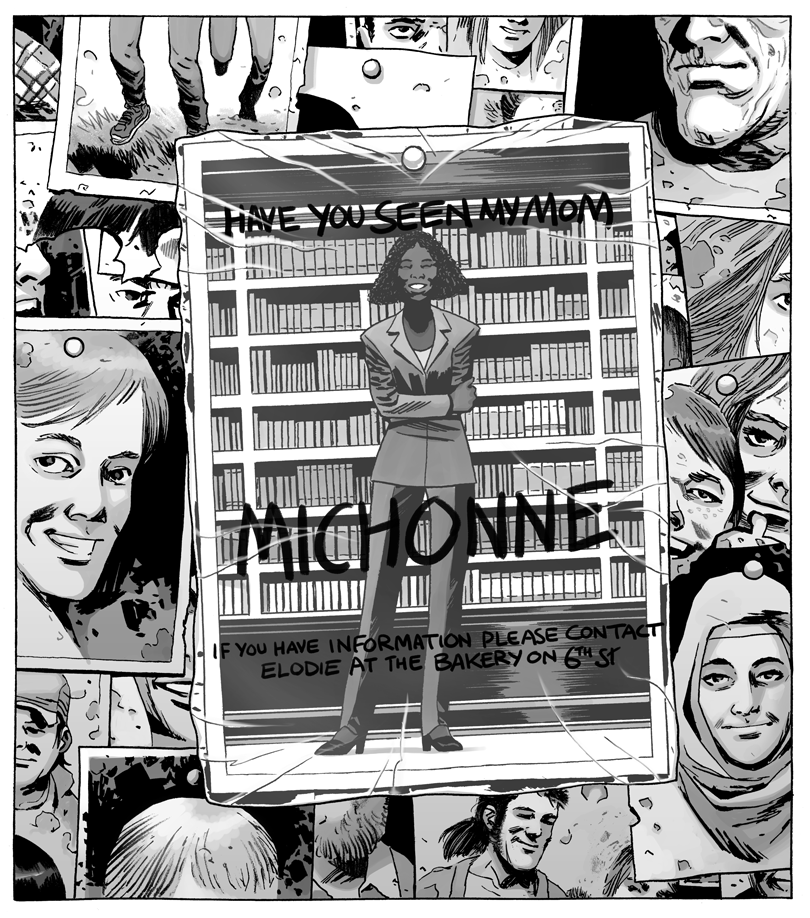 ---
The Telltale Crossover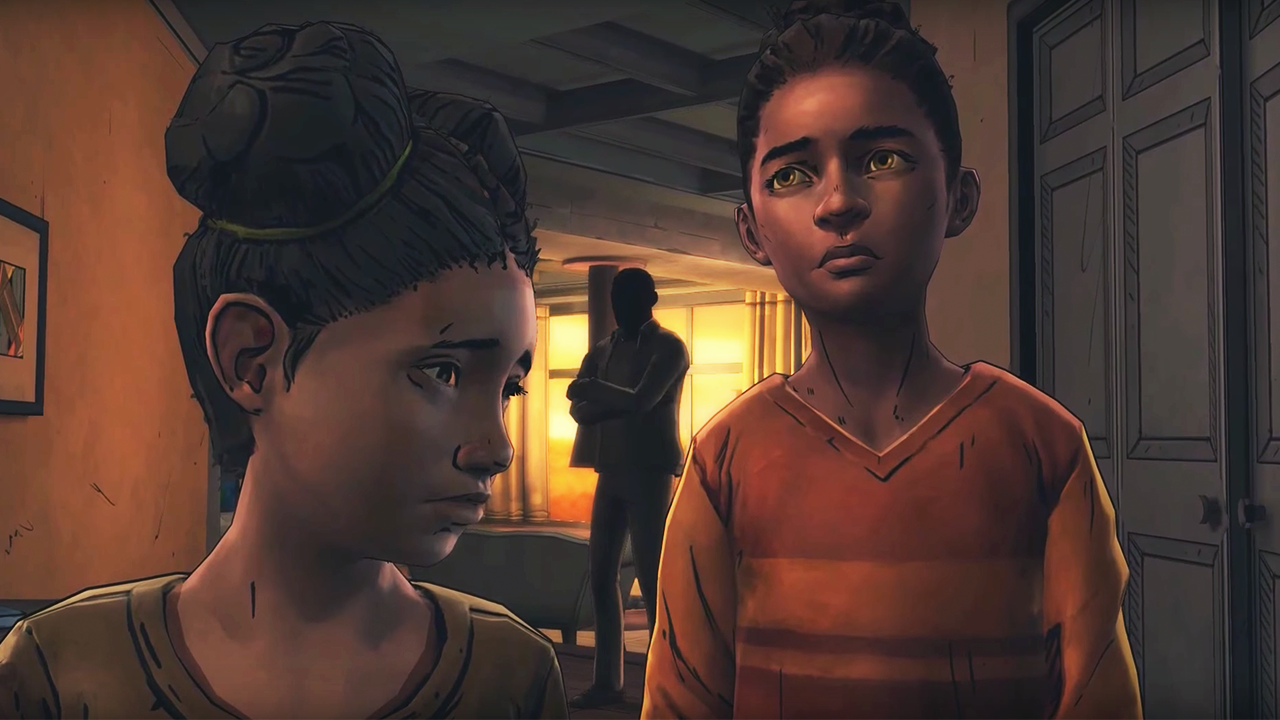 The mention of Michonne's daughter Elodie is important for a few reasons. First of all, holy sh*t at least one of Michonne's daughters is possibly still alive. And second, we have ourselves a Telltale crossover! In case you didn't know, Telltale released a three-chapter Michonne game in 2016 (called The Walking Dead: Michonne) that chronicled Michonne's journey during the post-All Out War time gap all the way through Issue #139, when she returned to Alexandria.
The common thread in the game is Michonne's past – she frequently hallucinates her two daughters Elodie and Colette along with her ex-husband Dominic. The story never confirms their deaths, but the bleak tone implied they all suffered the same fate as everyone else's families. But now, nearly 50 issues later, it appears at least Elodie might still be alive and living/working in The Commonwealth.
---
How It Compares to The Show
Before we jump into the comic implications, let's address the show. Although we don't know a ton about Michonne's backstory, we do know she had a young son named Andre with her boyfriend Mike. We got a glimpse of this in one of her flashback nightmares from Season 4 (see above). Although it was a dream, she confirms later to Carl that she did in fact have a son named Andre who allegedly died while being 'looked after' by Mike and their friend Terry (aka her eventual armless walker friends). She also says they deserved what they got, meaning they were probably careless with their babysitting duties.
Although there's no mention of daughters in the show, Michonne DOES get spooked in Season 4 by a walker that looks eerily similar to a younger version of herself (see below). Although this is probably just a coincidence, it is interesting to see considering her comic backstory.
---
What This Means For The Future of The Comics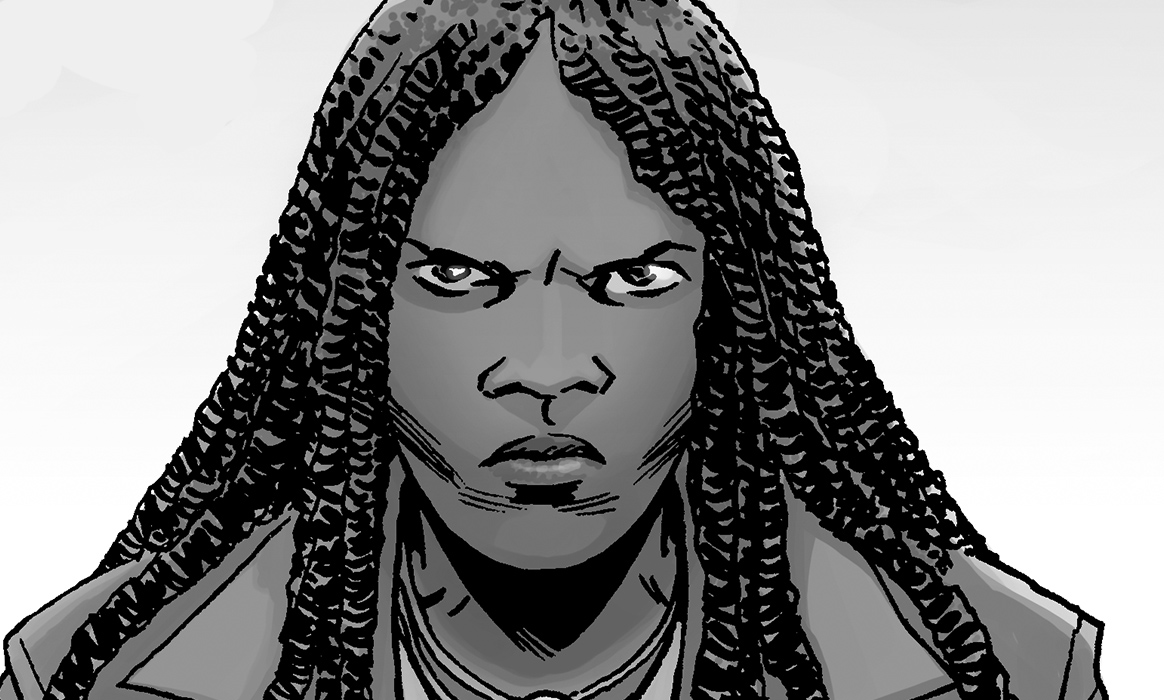 Setting aside the show backstory, it looks like Michonne might have finally found her daughter (what are the odds?) OR, is this all a trap? After all, we don't know anything about this community. Maybe they knew Michonne was coming and planted a fake missing person flyer up to mislead her (that's doubtful). Or maybe Elodie WAS alive and posted this flyer years ago. Whatever the case may be, Michonne will find answers and possibly get reunited with her daughter. If that happens, the story could open up to all sorts of possibilities – including Michonne staying at The Commonwealth (assuming they're not Woodbury 2.0). Whatever the case may be, we want to hear what YOU think will happen with this storyline. Tell us in the comments and check out the video version of the article below.