And the group is in Alexandria! Where they meet the benevolent and famous… DEANNA MONROE?! Wait a sec. Let's compare these two, starting with the biggest change (or is it)?
DEANNA MONROE

So yes, Douglas Monroe has become Deanna Monroe (we meet Douglas in Volume 12: Life Among Them). Other than that, so far they are VERY similar. They're both welcoming, they both understand hard decisions, they both want to protect their community, and they both think that Rick is the man to do it. Will they stay similar as we move further down this road? Maybe, maybe not. I don't think Deanna is going to hit on Sasha or Carol though…
RICK'S INTERVIEW
Rick is interviewed in the comic as well, albeit not on video. Douglas tells a very… interesting story about a murderous father that did not make it to the small screen, but Deanna is still pretty compelling.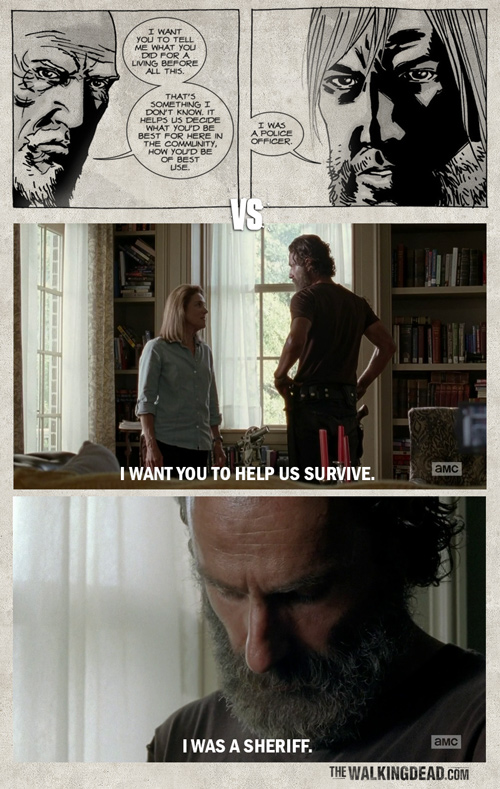 Rick reveals his former occupation in both cases but it's only in the comic that Douglas tells him he wants him to be sheriff right away. In the show Deanna waits a bit before unveiling her plans for Rick (and Michonne).
RICK CLEANS UP


Man, how good would that shower feel? In the show, Jessie shows up to cut Rick's hair but in the comic it's Olivia, who also handles the rations and weapons (we see her in the show—not sure if they say her name—when the group drops off their weapons). In the comic, Jessie shows up a little bit later.
CARL'S CONCERN
Carl may be younger than his show counterpart but he still has the same concern: life in Alexandria has made people weak.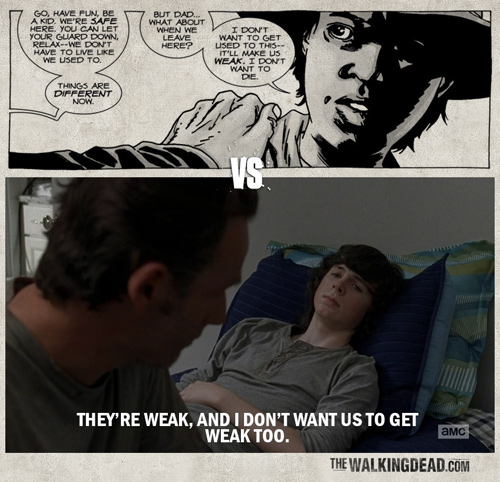 Sheriff Rick
And here he is all decked out. We haven't got a great shot of him patrolling the streets in the show yet, but here ya go!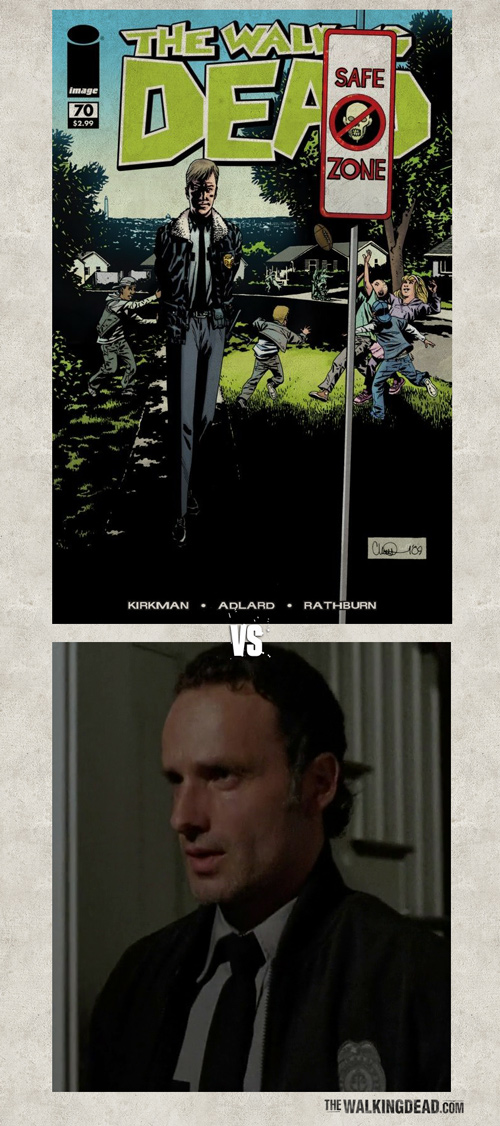 PLEASE CHECK OUR RECAP AND DISCUSSION FOR THIS EPISODE: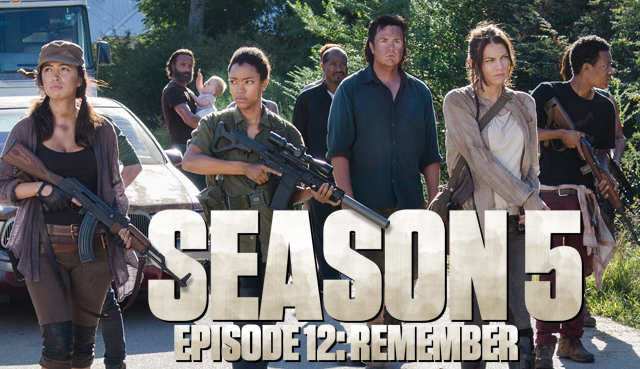 THE WALKER STALKERS DISCUSS THIS EPISODE: