Welcome to our first "Weekend Challenge!" We're going to try and have these monthly—contests that will require a little more effort than a Tweet or post comment. We want you to get creative while not limiting the contests to just fine artists and graphic designers. So here's what up for the first Weekend Challenge:
The Challenge: This weekend (starting now, May 31st) go to a hardware store (Home Depot, True Value, Orchard, local joint, whatever) and find a tool you think would be the best for taking out zombies. Pose with it and get a picture. The better the pose/scenario, the cooler the tool, the more I'm going to like it. You have to be in the store! I know you've turned your garage into a perfect replica of the prison, but we're trying to put everyone on equal footing. Free free to mix up different items, but they should all be from the store, unused. You can't go home and build a potato gun and then roll into Sears with it. I mean you can, but you won't win. Take your pic and upload it to Flickr, imgur, whatever, so long as it's shareable. Then post a link in the comments with 1-2 sentences about why your tool/weapon is the best.
The Prize: We're letting you pick which volume of The Walking Dead you want Robert to sign and we'll send that. Some people collect the softcovers, some people collect the hardcovers, and maybe you're only on volume 5 so you want volume 6. Whatever it is, we want it to be something that fits into your collection. Compendiums and Omnibuses excluded, sorry. Depending on the amount of entries, I'll be going through them Monday and picking a winner. If it's close, we'll take it to Twitter and let the people decide.
Got questions? Post them below or tweet at us. Now go forth and prosper!
Oh and friend us on Facebook already, would you? Our new page is still so small! We need more peeps!
EDIT: WINNER!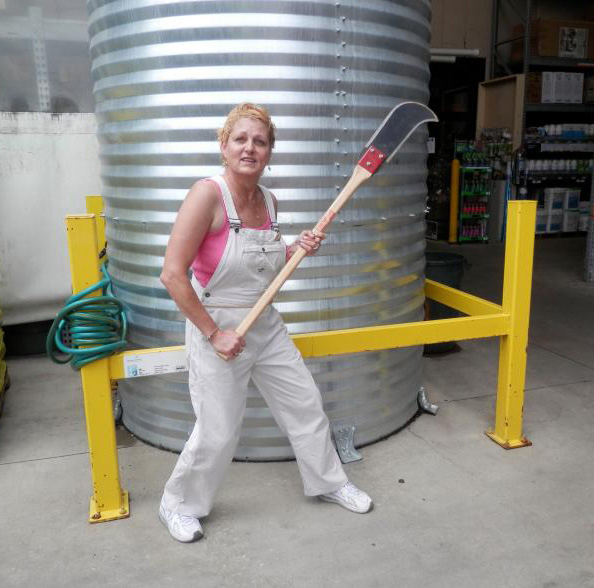 Congrats to Test Subject 19 (if that's even your real name—I have my doubts)! Her choice of a 40″ DItch Blade is so close to my zombie weapon of choice (the guan dao) that I had to pick it. It's bladed, has a decent range, doesn't require power, and makes almost no noise. I can't believe that's a tool you can buy at a hardware store. One of the reviews on the  Home Depot site even mentions zombie defense. Test Subject 19, I'm going to email you at the GMail account associated with your disqus login. Congrats!
And we won't always do this, but I'm so proud of one of our readers for going to a hardware store in full makeup that I'm sending a shirt to Christina! I'll be emailing you!