We are thrilled to announce that all of Negan's best and most colorful quotes from The Walking Dead comics will be collected into one book called The Quotable Negan. It's the first book to come from Skybound Books, our new division that is an imprint of Atria Books. The Quotable Negan will include 128 full color illustrated pages of Negan and a forward by Walking Dead Creator Robert Kirkman.
It will be released on July 3rd, 2018 but you can pre-order the book NOW in our Skybound Shop. The first 1,000 fans to PRE-ORDER The Quotable Negan via the Skybound web store received a bookplate signed by Robert Kirkman himself (we've reached 1000). Check out the first image from the book and press release below.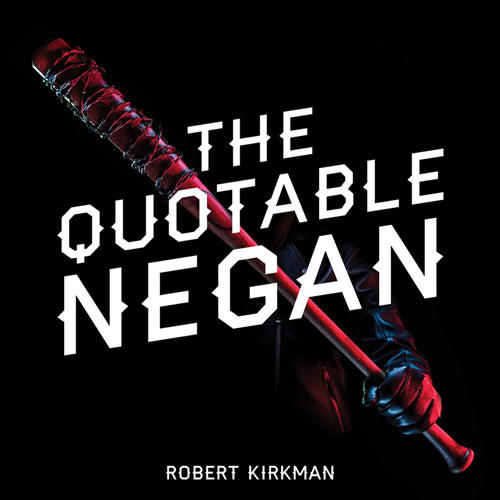 ---
Skybound Books, a co-publishing imprint of Atria Books, announced today that The Quotable Negan, a massive collection of The Walking Dead antagonist's most memorable one-liners from the comic book series and the origin story Here's Negan!, as well as a slew of fun facts about his reign of terror, will be released on July 3, 2018.
"Seeing all the vulgar and irreverent things that Negan says compiled into one book is simultaneously hilarious and disturbing," said The Walking Dead creator Robert Kirkman, "but even with all the awful stuff he's said and done, there are some unexpected nuggets of wisdom and humanity in there, making him a surprisingly complex character. My only hope is that fans have just as much fun reading him as I have writing him!"
The Walking Dead has produced some of the most iconic characters in pop culture, but few have infected the minds of zombie-obsessed fans more than Negan, the baseball-bat-wielding, profanity-loving, murderous leader of the Saviors. Since his debut in the comic book series and smash-hit AMC television show, Negan has emerged as the irresistible villain that everyone loves to hate. The Quotable Negan honors the charming psychopath with an introduction from Robert Kirkman.
The hardcover book will feature 128 full color illustrated pages, and will mark the first publication from Skybound Books and Atria, a partnership that was first announced last July.
---
What are your favorite Negan lines from the comics? Will you be pre-ordering The Quotable Negan? Let us know in the comments!