Negan's backstory "Here's Negan" is finally available as a collected hardcover! The 16-chapter Walking Dead spin-off story has gradually been released in four-page monthly increments in Image Plus since April 26th, 2016. Now that we know Negan's past, we want to discuss it with you!
Similar to our comic discussions, the best comment will be rewarded with a Robert Kirkman-signed copy. Here's Negan can be purchased at comic book shops or online. We will also sell it at our Skybound booth at this week's New York Comic Con. ADDITIONALLY, Barnes and Noble is selling Here's Negan with an intimidating alternate cover: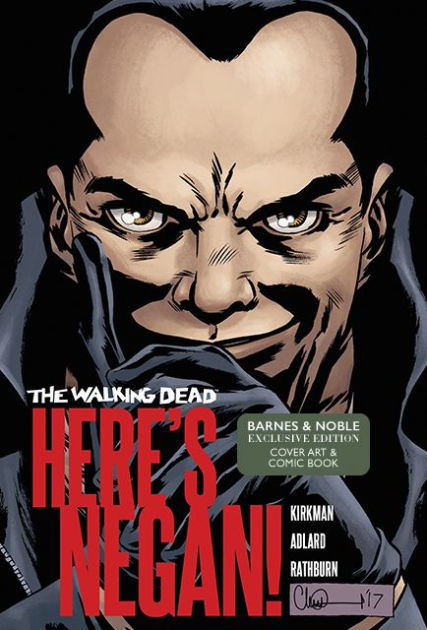 We've included the description and cover for Here's Negan below…happy commenting!
---
Who is Negan? Since his debut in THE WALKING DEAD #100, the charismatic psychopath has antagonized Rick Grimes, murdered his friend with a baseball bat wrapped in barb wire (which he calls "Lucille"), and led the Saviors into war against Alexandria and the neighboring communities. But who was he before society broke down? That question will be answered here, collecting the "HERE'S NEGAN!" story originally serialized in IMAGE+ magazine.
Digital : $15.99
Print: $19.99