Need something new to get into that's not on Netflix? Look no further than The Walking Dead comics! Not a fan of comics or reading? Do you think since you've seen the show the comics will be repetitive or spoilery?? THINK AGAIN. We've laid out 8 simple reasons why The Walking Dead comics should be YOUR new obsession. To convince you even further we've asked our Twitter fans to back us up. Let's do this:
---
1. The Comics Are Drastically Different From The Show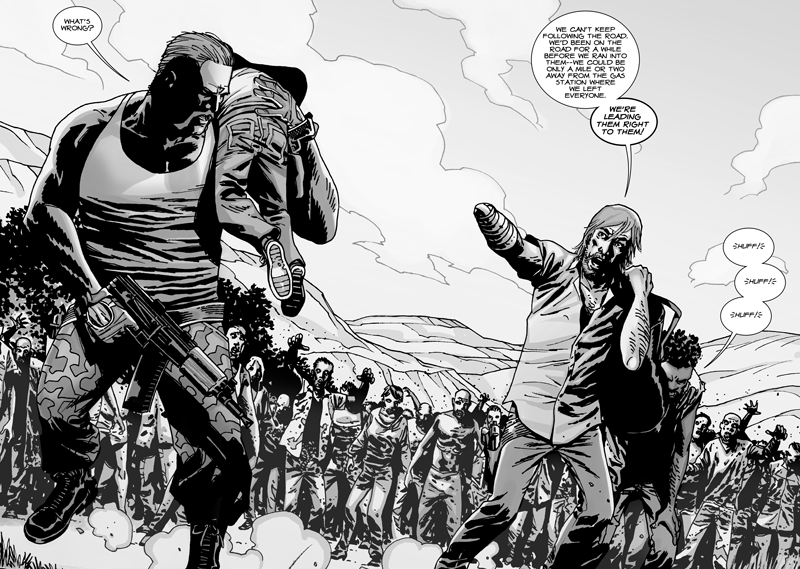 A badass Andrea, an alive Sophia, and a handless Rick? That doesn't sound like the show at all! The Walking Dead comics have deviated storylines a LOT. In fact, the majority of Season 6 so far (which included Rick's plan to drive the walkers away, Morgan's insane backstory with Eastman, Glenn's fake out, and the Wolves massacre) are nowhere to be found in the comics. So even though both series converge with locales the JOURNEY getting there is disparate. (Also Carl is 100 times better in the comics). Our comic fans on Twitter agree:
@TheWalkingDead The comic Rick is much more deceptive. You think he is some weak man, but if you mess with him, he's GOING to kill you.

— TheMinicat (@iamtheminicat) January 29, 2016
@TheWalkingDead The shock value, they are more unexpected than when it happens in the show, you turn the page and boom, a death. I love it!

— Morgan (@FollowTheDixons) January 29, 2016
@TheWalkingDead I also feel that anyone could perish in the comics, fan favorites or not. Definitely don't get that vibe in the show.

— Slowey Joey (@sloweyjoey46) January 29, 2016
2. Andrea's Alive…And She's Totally Awesome
WE KNOW…a lot of you didn't care for show Andrea (no offense to Laurie Holden). In the comics, not only is Andrea still alive…but she's a TOTAL badass. She basically inhabits a version of Sasha…it began in Episode 507 when Sasha was given a sniper rifle to guard the Grady cops. It continued when she became the Alexandrian watch tower look out in Episode 513…which is ANOTHER role that Andrea played in the comics. More notably comic Andrea is Rick's love interest (Carl literally calls her Mom) and they're AMAZING together. We know it's hard to believe, but comic Andrea is one of the toughest women in the show. She's nothing like this:
We asked our fans what they like more about the comic than the show and here's what they said:
@TheWalkingDead Andrea still being alive and a complete badass.

— Michael Morris (@kcmorris95) January 29, 2016
@TheWalkingDead Andrea is so much better

— Jordan (@jordan_mort) January 29, 2016
@TheWalkingDead Andrea. that is all.

— ¯\_(ツ)_/¯ (@effybabut) January 29, 2016
3. Cursing!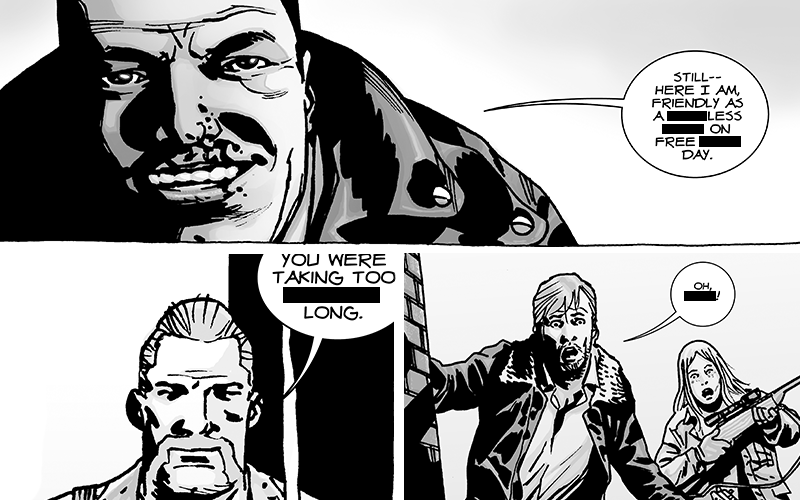 As wonderfully graphic as the show is, it DOES adhere to AMC guidelines. In fact, we're STILL unsure how they'll handle upcoming villain Negan's colorful vernacular in future seasons. But in the comics…everyone from Rick to Michonne to Maggie all curse! And let's be honest, if you're in a zombie apocalypse you're going to let f bombs drop like Kid Cudi's rap career. We're not alone in this:
@leeduscohan @TheWalkingDead Tbh profanity plays such a big part into conveying emotion, I think the show misses out big in that.

— . (@CommenceFA) January 29, 2016
@TheWalkingDead the comics are completely uncensored and no holds barred. The TV show is the zombie apocalypse with a filter & too emotional

— Andrew Dill (@Andrew_Dill) January 29, 2016
@TheWalkingDead The language use in the comic is more realistic, who isn't going to curse during the zombie apocalypse?!

— Yunker (@yunkadunk1) January 29, 2016
4. Charlie Adlard's Art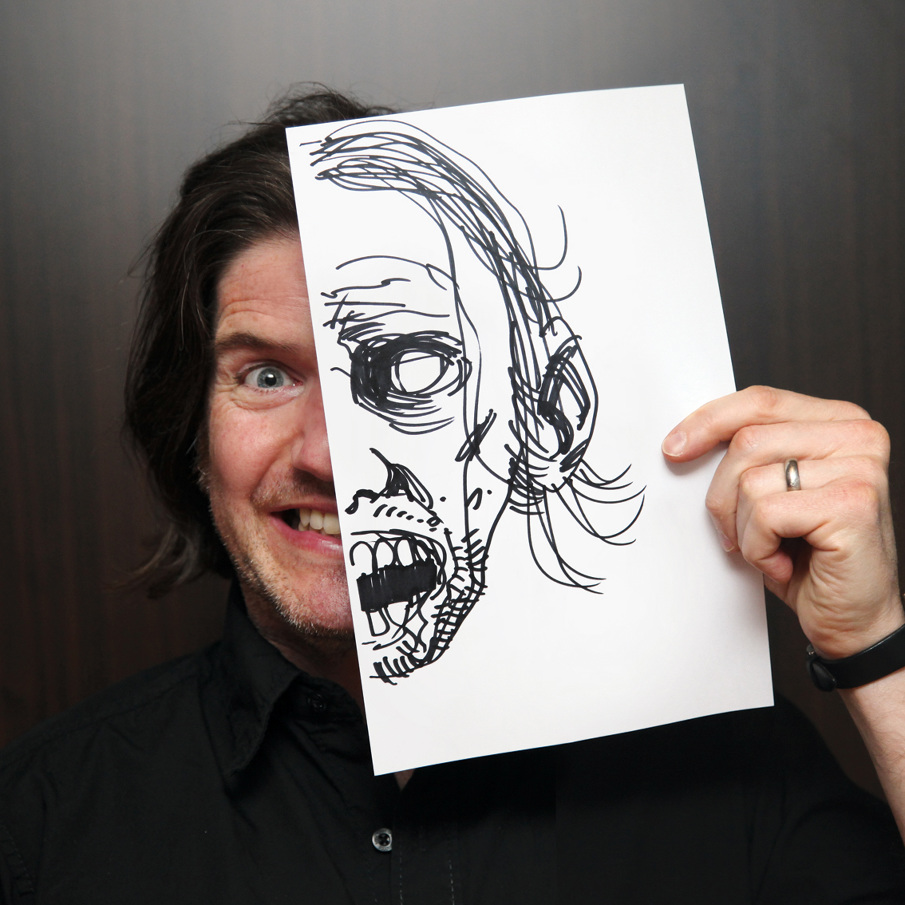 Charlie Adlard's art makes it easy for fans to feel like they're a part of the zombie apocalypse. His illustrations hold nothing back…the world he shows us is brutal and unforgiving. The suspense and emotion jump off the page and may be the best reason to dive into the comics. Here's what his fans had to say:
@TheWalkingDead Comic is better because of the amazing art! Also every Main character is extremely capable of survival.

— Cammy Toe (!!!!) (@camrobitaille1) January 29, 2016
@TheWalkingDead @CharlieAdlard Everything. I know that isnt helpful, but everything in the comics is better.

— Zach Hinkle (@ZachHinkleGD) January 29, 2016
@TheWalkingDead I absolutely love Charlies artwork, the show could never get his use of ink or his distinct style right. Love It.

— scotty wall (@supawalrus) January 29, 2016
5. More Backstory & Character Depth (AND Less Farm!)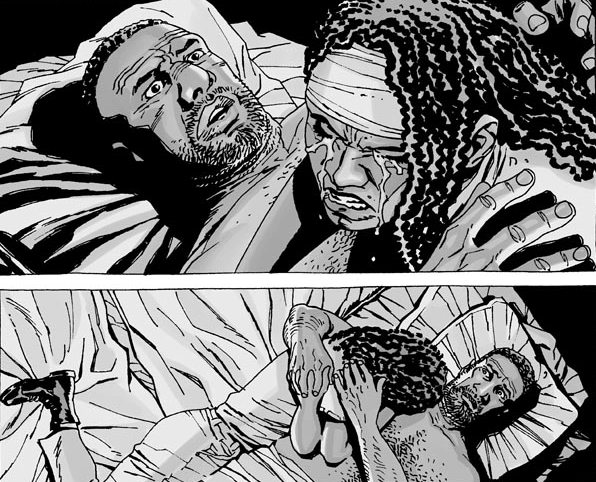 Wouldn't you have loved to see a Michonne/Tyreese romance? What about a story where they don't have to constantly worry about a baby? The comic (now up to 150 issues) digs DEEP into character relationships, backstories, and story depth. A lot of questions you have for the show are answered in the comics! Think of it as an exciting encyclopedia into your favorite characters. Here's some fans who agree:
@TheWalkingDead @RobertKirkman the way characters feel human with weaknesses and flaws. Seeing them grow and actually develop.

— Pepsimaru (@pepsigem) February 1, 2016
@TheWalkingDead I like that there's more to the stories that is told. The comics include more backstories that the show doesn't have time 4.

— Bobby Phillips (@wolfy1183) January 29, 2016
@TheWalkingDead the development in the storyline never drags on and the characters seem to have more depth and are badass as hell

— yasmin (@walkingldead) January 29, 2016
6. More Gut-Punching

Believe it or not, The Walking Dead comics are WAY more brutal than the show. Specifically, moments involving Lori, Negan, and spiked heads come out of NOWHERE and perpetuate a feeling that no one is safe. That kind of unpredictability makes every page turn exciting (and nerve-wracking) than almost any other comic you'll read. Just let the fans explain:
@TheWalkingDead
Comics are WAY MORE GRAPHIC than show!

— Annie (@missjack415) January 29, 2016
@TheWalkingDead definitely the more brutal elements: see Lori & baby mowed down by bullets as Rick flees with Carl barely looking back

— DJBabyBuster (@FeastOfBeast) January 29, 2016
@TheWalkingDead the comic will always be far more brutal. Hershel finding Rachel & Susies heads would never have been allowed on TV.

— Rich Harvey (@ghostrich1066) January 29, 2016
7. Robert Kirkman's Writing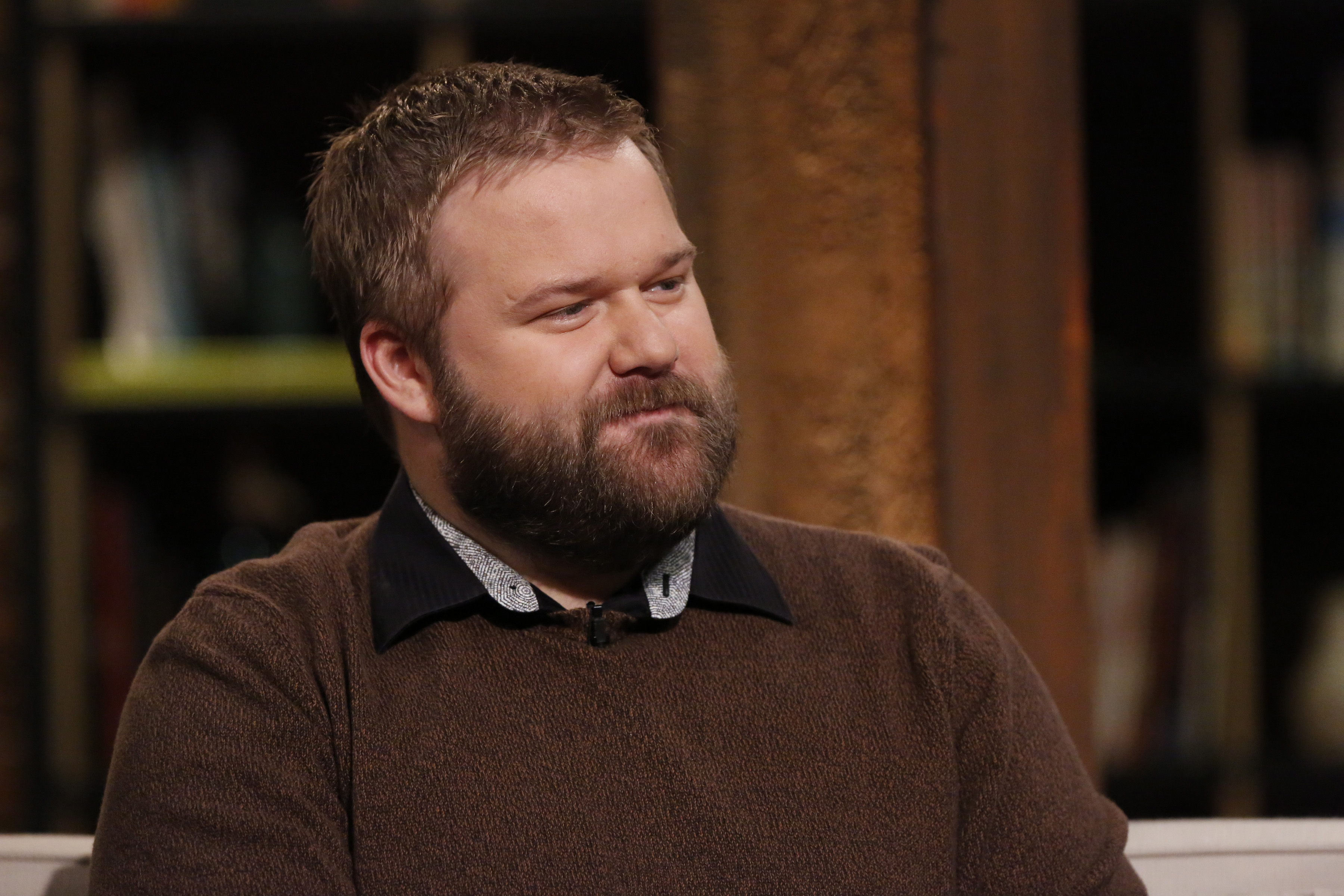 Walking Dead creator/writer Robert Kirkman writes every.single.issue. The writing never falters and is the MAIN reason you should start reading the series. In fact, you're unknowingly already familiar with his writing! Here are some of the most iconic episodes he's penned: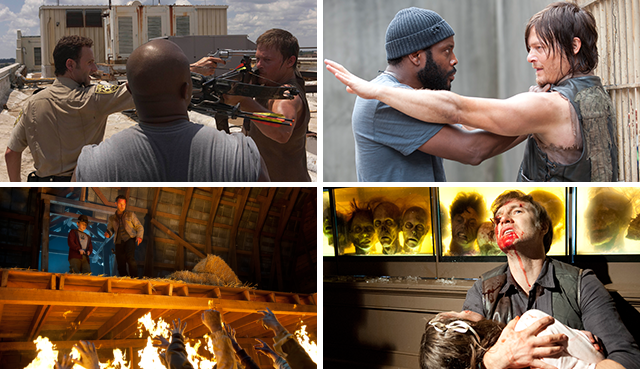 Here's why our fans love his writing:
@TheWalkingDead @RobertKirkman establishing relatable connections between character and reader. Thought-provoking situations at their best.

— James (@Austin_James_88) February 1, 2016
@TheWalkingDead @RobertKirkman with his writing we always know to expect the unexpected… but even the unexpected is unexpected!

— annabella (@bellalecki) February 1, 2016
@TheWalkingDead @RobertKirkman how he makes so many cool characters!! Jesus, Neagen and his F-bombs, Ezekiel and Shiva! They're all great.

— scotty wall (@supawalrus) February 1, 2016
8. EVERYTHING Else!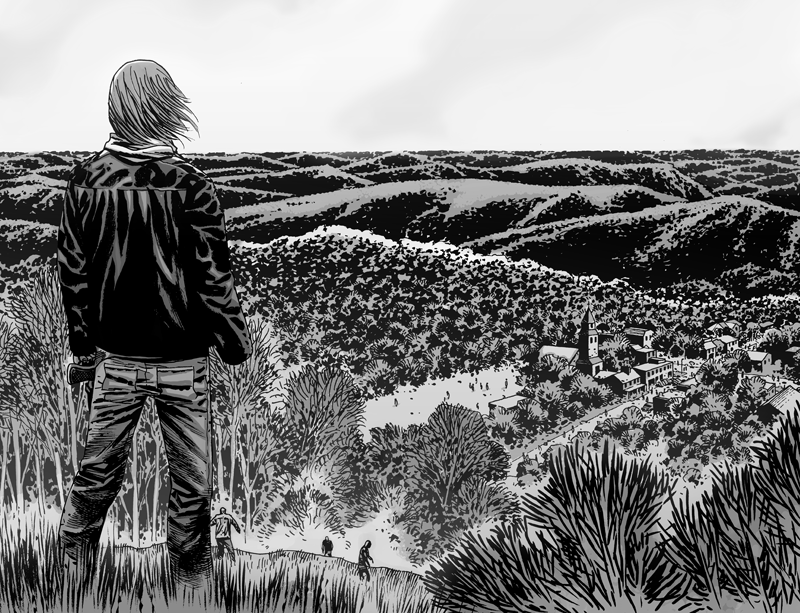 It's impossible to limit the reasons to read The Walking Dead comics to just 8. So here are some more unique answers that might help sway you.
@TheWalkingDead it's unpredictable. All of it. Every single issue.

— Walker_Swag_Alex (@walkerswagalex) January 29, 2016
@TheNextBlGThing I've honest to god never met someone who's read the comics and likes the show over them

— John Tatsiou (@JTatsiou) January 29, 2016
@TheWalkingDead @Skybound never have to wait more than a month for the comic!

— The Steve Strout (@thestevestrout) February 1, 2016
@TheWalkingDead It's more violent. And for the characters, I think the comics are more emotional.

— Aurelien (@leeduscohan) January 29, 2016
@TheWalkingDead some characters just weren't executed as well on screen, specifically Andrea. Favorite in the comic, most hated on the show.

— EM ⚓️ (@wildlyemily) January 29, 2016
@TheWalkingDead Not really anyone's fault, given the actors being actual people that age, but – Carl being so much younger in the comics. –

— Jessica (@jessicatNY) January 29, 2016
@TheWalkingDead theres more character depth, i actually care about what happens to comic characters. tv has good ones but its not the same

— josh hammond (@josh270489) January 29, 2016
@TheWalkingDead @RobertKirkman he makes the apocalypse world not about zombies but just pure survival from anything and everyone

— Raven Wiggan (@raethebuilder) February 1, 2016
@TheWalkingDead no Daryl

— ruyi (@JiuzhangCai) January 29, 2016
@TheWalkingDead @RobertKirkman With every issue comes another jaw dropping event.

— ☰ ᏦᎪᎽ ☰ 17 DAYS ☰ (@EridiumAddict) February 1, 2016
@TheWalkingDead the comics never fake killed off a character and revealed they were alive 6 issues later.

— Drew (@_SwarlesBarkley) January 29, 2016
@TheWalkingDead Alexandria isn't as empty in the comics!

— Jack (@JWLewis62) January 29, 2016
@TheWalkingDead maggie greene isnt slept on

— carl grimes (@pauIsmonroe) January 29, 2016
@TheWalkingDead the comic is raw, it doesn't hold back! Sometimes the show feels like it tones certain things down… which is a shame.

— Ronny Haze (@R0NNYHAZE) January 29, 2016
@TheWalkingDead there are no commercials in the comics

— T_W_D_G_FREAK (@T_W_D_G_FREAK) January 29, 2016
@TheWalkingDead everithing

— SebaOMG:) (@seba_VAA88) January 29, 2016
---
If you DO want to try the series out head over to our Walking Dead shop and check out Compendium One. It's the first 48 issues and a GREAT way to get started.
OR better yet: grab our awesome starter pack! Happy reading 🙂