Breaking News: MURDER FALCON #1 has sold out at the distributor level! That means it's time for that most magical of events, a second printing!!
The MURDER FALCON #1 2nd print will be available Wednesday, November 14th at a comic shop near you, so get those orders in NOW. Also, make sure to stop by your local shop in general. They may still have a copy or two of the first printing laying around if you can't wait another few weeks to rock your face off! Check out the cover below and read Image's official press release.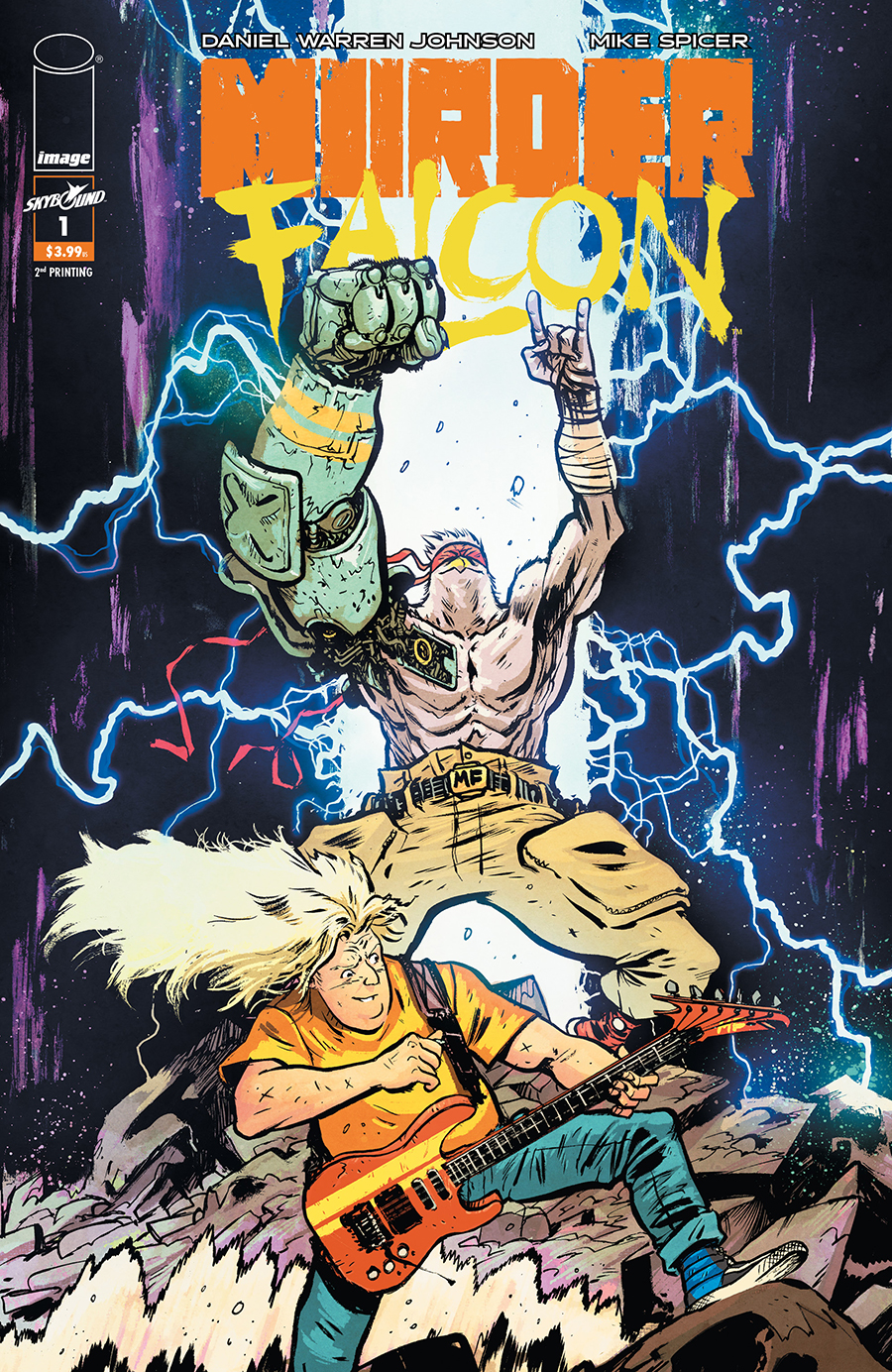 ---
MURDER FALCON STRIKES A POWER CHORD
Debut issue rushed back to print
Image Comics and Skybound Entertainment are thrilled to announce that the first issue of Daniel Warren Johnson's (EXTREMITY) heavy metal action series MURDER FALCON is being fast-tracked for a second printing in order to keep up with overwhelming customer demand.
In MURDER FALCON, the world is under attack by monsters, and mega-talented guitarist Jake's life is falling apart: no band, no girl, no future…until he meets Murder Falcon. He was sent from The Heavy to destroy all evil, but he can't do it without Jake shredding up a storm. Now, with every chord Jake plays on his guitar, the power of metal fuels Murder Falcon into all-out kung fu fury on those that seek to conquer Earth. It's time to shred!
MURDER FALCON #1 will remain available for purchase across all digital platforms, including the Image Comics website (imagecomics.com), the official Image Comics iOS app, Comixology's website (comixology.com), iOS, Android, and Google Play.
MURDER FALCON #1 2nd printing (Diamond code: AUG188892) and MURDER FALCON #2, Cover A (Diamond code: SEP180192) and Cover B "Heavy Metal" variant by Andrei Bressan and Adriano Lucas (Diamond code: AUG188893), will be available on Wednesday, November 14th. The final order cutoff for comics retailers is Monday, October 22nd.
Select praise for MURDER FALCON:
"Guaranteed to make your ears bleed with the awesome notes of its heavy metal roots." —Syfy Wire
"A ton of fun." —Graphic Policy
"A great book for metalheads, monster fans, and every bonkers misfit in between." —Big Comic Page
"MURDER FALCON #1 rocks out with sweet beat-em-ups, off-the-wall spectacle." —Newsarama
"A fun, high-octane romp that also has a lot of heart to it as well." —Word of the Nerd