If one of your favorite Skybound comic books has a crowdfunding campaign, then Adriel Wilson is the person behind it! The company's Campaign & Acquisitions Manager brings exciting new creators to audiences while planning innovative campaigns to promote their work. As part of our ongoing celebration of Pride Month, we chatted with Adriel about his career path and what inspires him. Here's what he had to say…
What's your origin story?
I was a feral child living alone in a magical valley. One sunny day while hunting for wild strawberries in a forest meadow I was captured by a family of witches. They took me to Salem, Massachusetts and tried to raise me as a human girl. Years later some religious zealots lured me away from the coven with tasty bread and wine. They kept me in restrictive cage made of guilt and iron. When I finally escaped their clutches, I found my way to the queer community. There I met another wild raised trans artist. They explained the existence of nonbinary identities to me and in that moment, I understood who I was and how I fit into the infinitely diverse gender spectrum. I've since shifted further into the fierce masculine werewolf that I am.
How did you come to work at Skybound?
A friend of mine who is part of the games teams at Kickstarter saw the listing for my position and sent it to me. I read the description and knew it was written for me! I was familiar with Skybound because a video game developer I used to work for licensed The Walking Dead for a mobile game. I interviewed with the three people I work with most and they clearly liked my experience and vibe because they hired me!
Can you describe your role as Campaign & Acquisitions Manager for Skybound?
I run crowdfunding campaigns for the Editorial department which means comics, comics, and more comics! I work with creators and our editors to construct successful campaigns that will showcase the amazing content we're privileged to work with. I also get to work with our manufacturers to create the cool, exclusive merch that accompanies each campaign – like plush and stickers! The acquisition part of the role is all about finding new creators to work with. I get to read comics and research their creators' audiences and publishing history.
What do you like best about working at Skybound?
The people! Honestly the editorial team is comprised of some of the coolest, smartest people I know. My identity has never even come up, they accepted me at face value walking through the door. The second-best part of working at Skybound is getting to work with artists and writers that I've been a fan of. The first time I got to email one of my favorite Magic: The Gathering artists was SO COOL.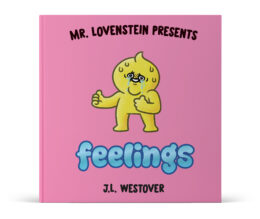 What Skybound project are you proudest of?
Later this month we are launching a campaign to fund the second Mr. Lovenstein book, Mr. Lovenstein Presents: FEELINGS. I suggested that we create a handkerchief as part of the campaign, and it is going to be so cool and unique! J.L. Westover's comics are funny in such a relatable way. I'm proud to be a part of expanding the audience of such a brilliant cartoonist.
What are your favorite Skybound titles?
There are so many amazing titles, how do I choose?! A few of my favorites are Mr. Lovenstein, I Hate This Place, The Astounding Wolf-Man, and Ava's Demon.
What else do you nerd out over?
Solarpunk, Star Trek, and making art.
Do you have any advice for someone considering a career in your field?
Crowdfunding is a space with a lot of room to grow. Learn the systems and spend time interrogating why one campaign succeeds and another doesn't. One thing I did was design a roleplaying game zine from concept to production. I ran a campaign for that game as part of Kickstarter's ZineQuest and did everything myself. I'd worked on campaigns before but running my own from start to fulfillment taught me a ton. Learning from experience is incredibly valuable, I recommend it to everyone.