Hey there, INVINCIBLE fans! We kicked off INVINCIBLE month by asking fans for their favorite moments from the best superhero comic book in the universe. You guys did not disappoint! Epic fights, insane villains, crazy twists and turns, we've got it all. Check out some of our fans faves below.
Do you agree? Are there some choice INVINCIBLE moments we missed? Tell us in the comments or go yell at us on the official Invincible twitter account: InvincibleHQ! Don't forget: The End of All Things is dropping February 14th!
---
So many choice fights!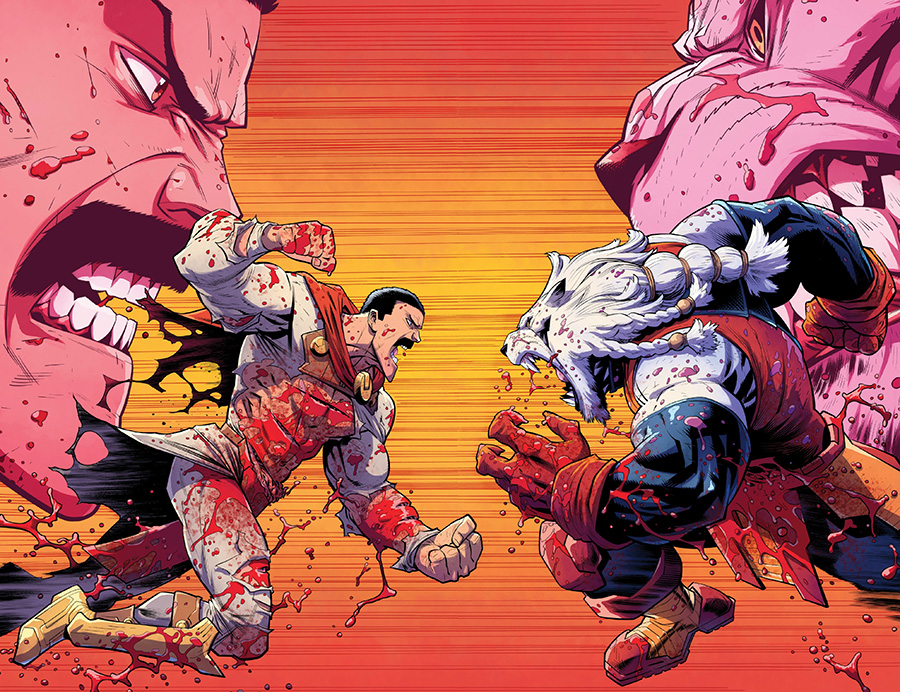 Battle Beast Vs Thragg.

— Walker_Swag_Alex (@walkerswagalex) January 31, 2018
The scene transitions in a few of the issues, where it's parts of the Thragg vs Battle Beast fight

— BB Knight (@PetShopCawer) January 30, 2018
Yeah, you can't beat how badass the Thragg/Battle Beast fight was

— Clayton G (@LCuCuy) January 31, 2018
The Conquest fight and atom eve! Holy crap you guys threw me for a loop.

— A Week In Geekdom (@AWEEKINGEEKDOM) January 30, 2018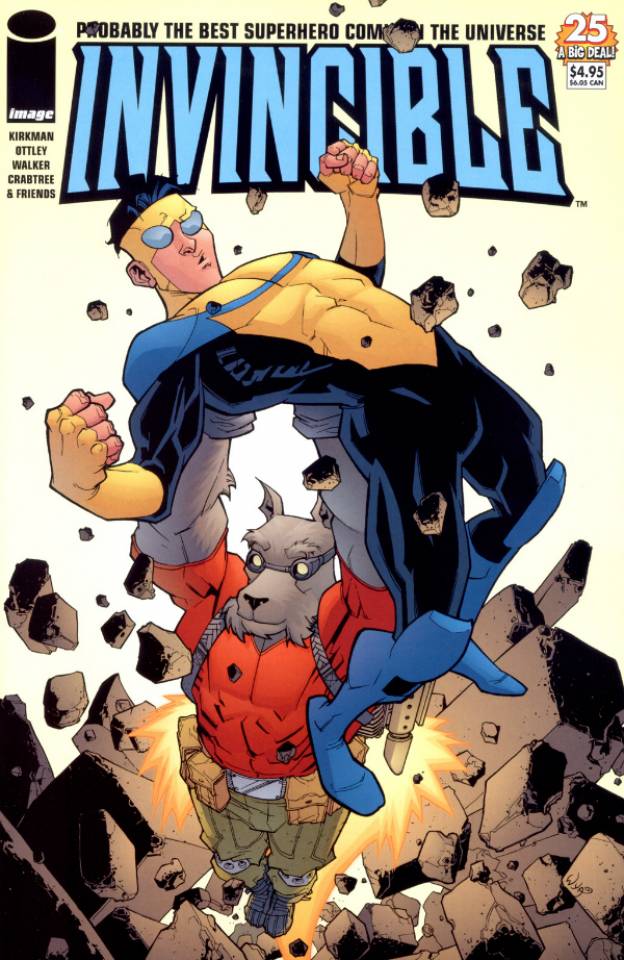 Invincible vs Science Dog was pretty great.

— Chris Piers (@chrispiers) January 31, 2018
---
The life and times of Armstrong Levy:
My favorite moment is the entire issue of #33. Angstrom Levy was such a great villain! The "fight" in this issue is so original and memorable! #Invincible15 pic.twitter.com/rkSH4iyhN5

— Devin Berry (@devinberry1997) January 31, 2018
How can we pick?! How about the events of Issues 108 & 109. A quest to follow one of the greatest villains, Angstrom Levy, into a new dimension. It's filled with fan service. Conquest, Rudy, and a Baby Monster Girl as well as the brutal betrayal by Robot, leaving Mark stranded!

— The Invincible Podcast (@InvincibleCast) January 31, 2018
---
Robot's Takeover: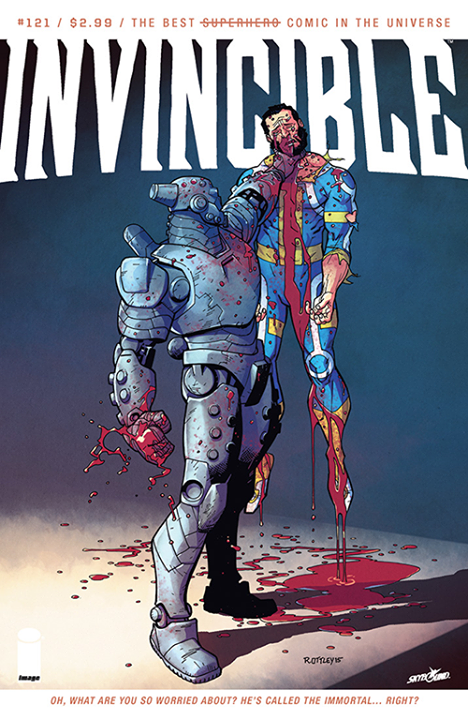 There are a lot of moments, but Robot's conquest of Earth was shocking. I don't think I've ever seen a book take a turn quite that fast and with a bodycount that high. pic.twitter.com/kHSqp4aIlY

— Andrew Stewart (@Avenging_Andrew) January 31, 2018
---
Re-re-re REBOOT:
The end of the Reboot arc was hands down the most gut-wrenching moment. It had me crying during lunch at school.

— Griff Massey (@griff_massey) January 30, 2018
The moment that hit me the hardest in Invincible was when Mark was sent back in time, & it wasn't clear if he'd ever get back. Having to relive everything & try to change everything, all while destroying the future that had been. @RobertKirkman @RyanOttley @Skybound pic.twitter.com/qwQd7G8Gqm

— Andi Tiscareno (@AndiT800) February 1, 2018
---
Quality time with Mark & Eve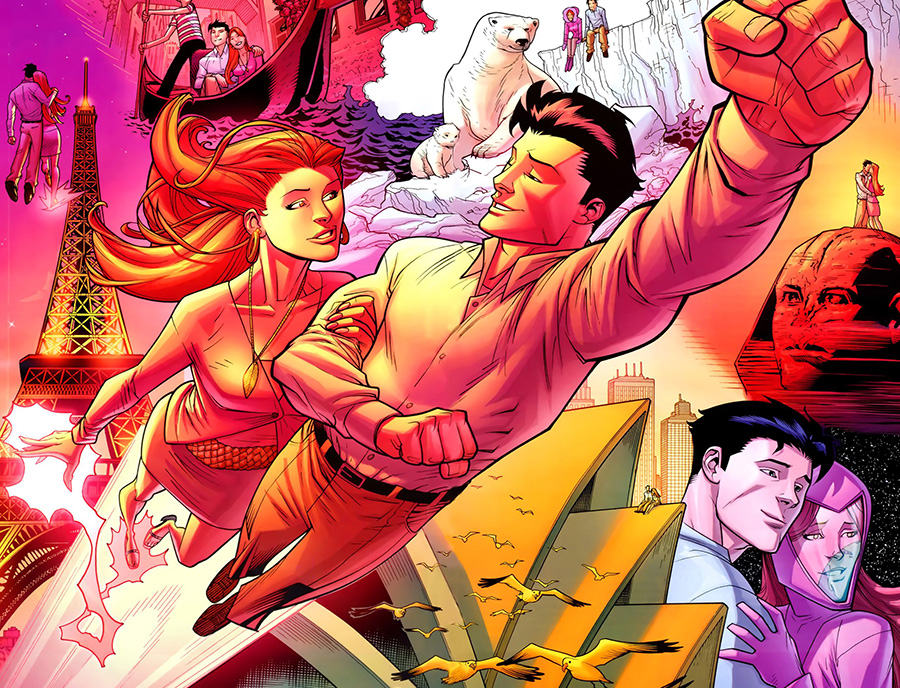 The scenes from issue 54 with Mark and Eve on their super date and they think about their memories from their history together and tell each other I love you.

— Cory Puga (@corypuga) January 31, 2018
Issue 54 is a top 5 favorite of mine not only because of the future teases, but because it was my favorite representation of Mark and Eve's relationship. So good!!

— The Invincible Podcast (@InvincibleCast) January 31, 2018
---
The source of all of Mark's Daddy issues: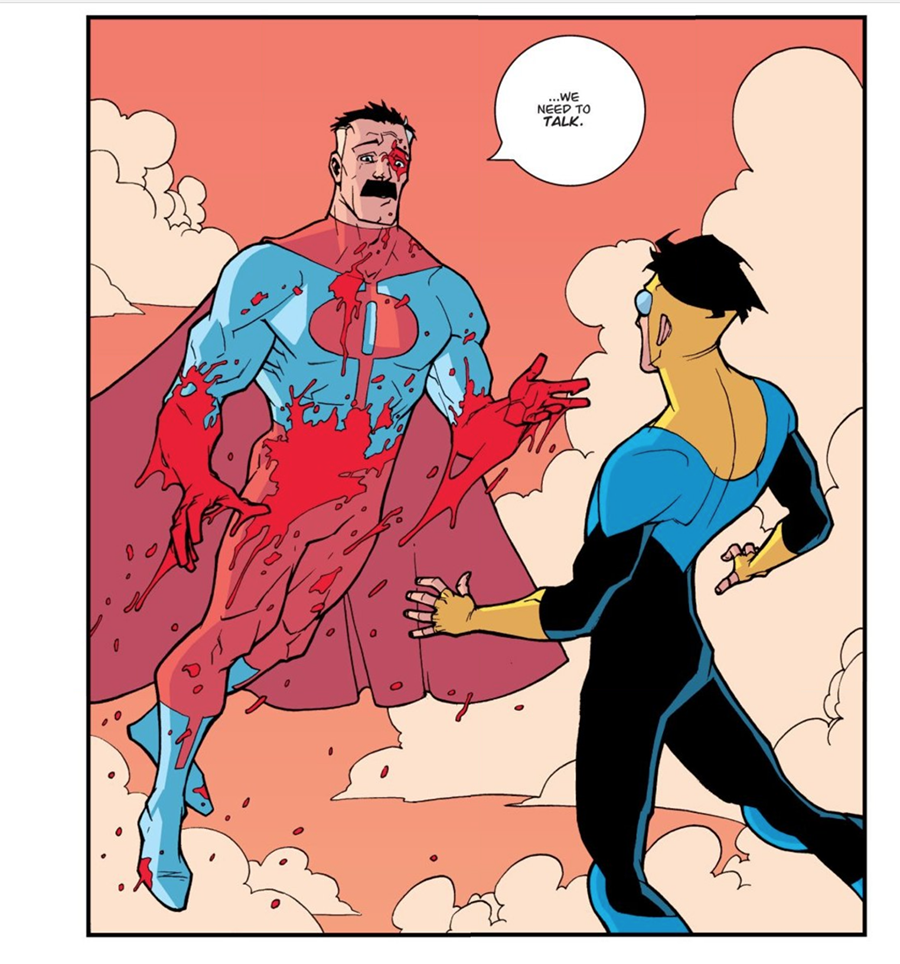 End of the first arc, omni man leaves his son in a pool of blood. Got me hooked and changed my life forever. Best comic book of all time.

— Edziu (@KnowIEDG3) January 30, 2018
"You, Dad. I'd still have you."

— Robbie Z (@robbiez) January 31, 2018
---
Overwhelmingly, there was lots of love for Conquest
Comic book moment- Conquest fight, particularly Conquest's monologue with the two page close up head shot. Non comic moment, the movie announcement and watching Game Over Gregory react live on Twitch was awesome! pic.twitter.com/A1ZuE4KZZ6

— Mike (@mikerb2223) February 1, 2018
I think it's gotta be anything with Conquest for me I love that character design plus he's such a badass villain.

— Channing weierman (@ChanningWiremen) January 31, 2018
This might be a little generic but the conquest stuff and the alternate dimension invincible stuff is SO GOOD #WEWANTCONQUESTBACK

— LAZY BUT STUDIOS (@Lazy_But_Studio) January 31, 2018
Gotta be the Conquest arc – specifically the killing of Eve. It was SO shocking and devastating and felt very final. That whole arc was the highlight of the series for me.

— Phillip Sevy @ECCC EE6 (@phillipsevy) January 30, 2018
I felt like Mark was such a badass in these panels. "That was just a warm up" gave me chills pic.twitter.com/CWf6njwecU

— Kozmik Kreator (@kozmos92) January 31, 2018
The arrival of Conquest signified a greater threat that Mark wasn't quite ready for but pulled through anyway, incredible art and writing. The family being attacked in issues 131 and 132 was also breathtaking. pic.twitter.com/2EqvmTLoBh

— Ben nerdschatting (@ben_nerdchat) February 1, 2018
---
Are you doing an INVINCIBLE re-read before the end? Let us know if you stumble upon any other awesome moments we didn't include!
15 piles for 15 days… I'll post my reading list once I'm sure these piles are right. And NO, I'm not cracking open my #1 CGC book ? pic.twitter.com/nSCF6jR1tm

— Mike (@mikerb2223) January 29, 2018
Ya know what? I'm gonna do it too. Here's to everyone re-reading the entire series before the final issue comes out! ✊ @RobertKirkman @Skybound @SeanMackiewicz @RyanOttley @corenthal @ImageComics @InvincibleHQ @InvincibleCast pic.twitter.com/AoGmZhkxwI

— Andi Tiscareno (@AndiT800) January 31, 2018
Re-reading all of INVINCIBLE for work purposes. Here goes nothing pic.twitter.com/C3sKqIz5gf

— Sally Jacka (@SCJacka) January 31, 2018