Since its blockbuster breakthrough The Walking Dead first dazzled comics fans, Skybound has become synonymous with supernatural horror. So it's no surprise that Kyle Starks' I Hate This Place is the genre's hottest hit title. Fortunately, most fans don't have to choose between buying the series under this title or its original, edgier one: Fuck This Place. That's because both titles are available to comics retailers. And both of them are pictured below, along with four pages from the series' next issue. Here's the deets…
Today Skybound revealed a first look at I Hate This Place #7, which continues the newly launched second story arc of the GLAAD Media Award-nominated supernatural horror series from creator/writer Kyle Starks (Assassin Nation, The Six Sidekicks of Trigger Keaton), creator/artist Artyom Topilin (Ice Cream Man Presents Quarantine Comix Special), colorist Lee Loughridge (Deadly Class, The Good Asian), and letterer Pat Brosseau (Birthright, Manifest Destiny).
No place is safe on the ranch now that Trudy's murderous survivor cult family has invaded the house. Will the couple stay and fight, or take their chances out on the farm?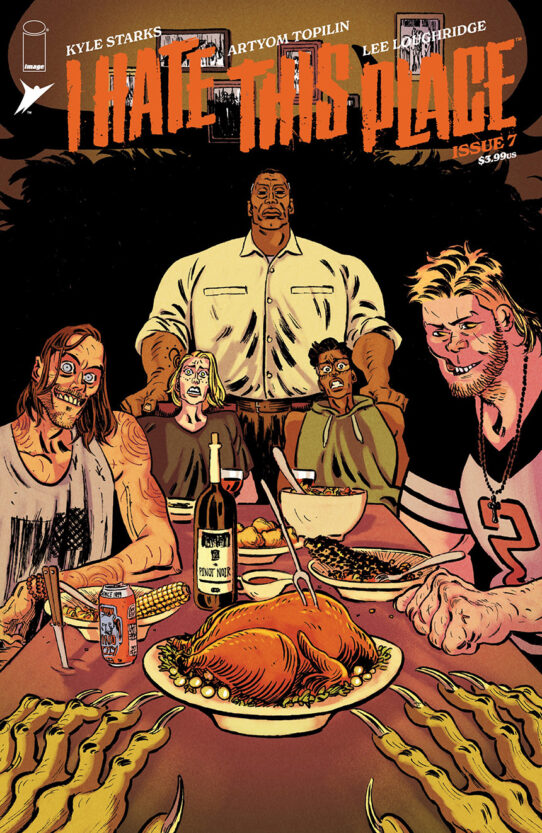 To provide retailers and fans with options, each issue of I Hate This Place will have open-to-order covers by Topilin with clean and explicit cover options, featuring the standard series title and the explicit version of the series' original title, Fuck This Place.
The available covers for the issue include:
I Hate This Place #7 CVR A (Diamond Code FEB230180)
Fuck This Place #7 CVR B Explicit Variant (Diamond Code FEB230181)
Both versions of I Hate This Place #7 will be available at comic book shops on Wednesday, April 5, 2023, with Cover A also available on digital platforms including Amazon Kindle, Apple Books, comiXology, and Google Play.