Folks, this new series announcement is unlike the rest.
Normally, I'm here to tell you how great our latest comic is, how the creators are supremely talented and a pleasure to work with… and that's not untrue here. Just… I'm a little biased. Because on this one book, I'm not the editor. I'm the writer.
Skybound is the most creatively stimulating environment I've ever experienced, so in creating this comic with artist Niko Walter—and joined by colorist Mat Lopes and letterer Rus Wooton—I'm putting to use everything I've learned from all the talented creators I've worked with…and also Robert Kirkman. I can't imagine publishing my first comic anywhere but at Image.
So, the pitch: GASOLINA is a horror-crime epic set in Mexico, full of gun fights against cartels armed with tanks and perverse creatures… shot through the eyes of newlyweds fighting against a world quickly going to hell, who put a human face on a conflict that's both harrowing and outrageous.
The short version: shit goes down.
The first issue hits stores September 20. Check out the preview pages and the trailer, and if you dig it, please pre-order it with your local comic book shop. Every pre-order helps sustain new series. I'm also on Twitter @seanmackiewicz where I'll be posting new art and answering your questions, such as, "Are you quitting your day job?"
(Not a chance. We have two more series launching this year, and this job is way too much fun.)
Sean Mackiewicz
Beachbum, CA
---
GASOLINA #1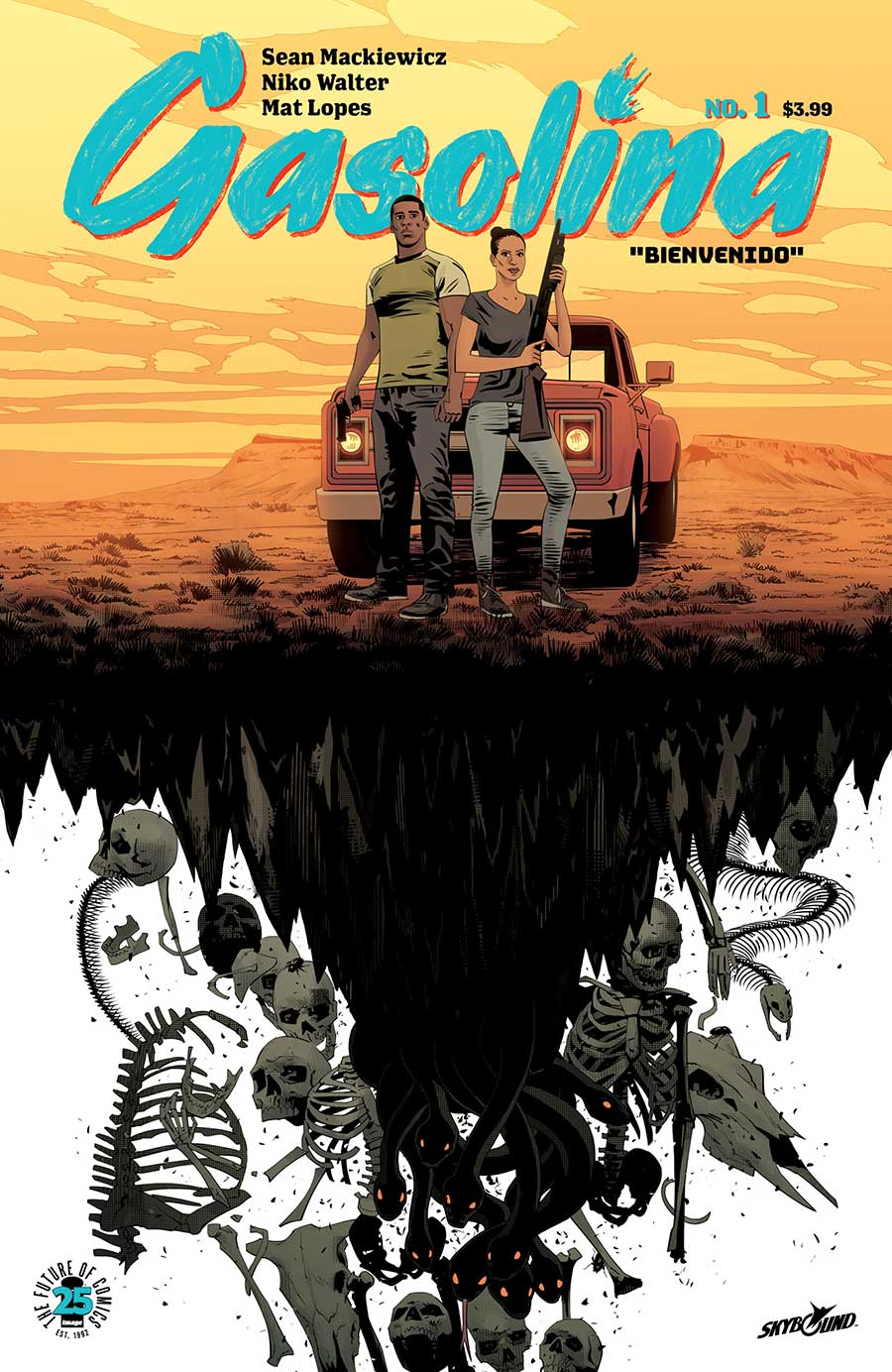 STORY: SEAN MACKIEWICZ
ART: NIKO WALTER & MAT LOPES
SEPTEMBER 20
40 PAGES | Full Color | Mature | $3.99
Fugitives. Rebels. Newlyweds. In their journey south from El Norte, Amalia and Randy have played many roles in order to survive. Now, they must become unlikely leaders in the fight against a new cartel, who uses inhuman tactics to ignite the most monstrous war Mexico—and the world—has ever seen. 
Everything burns in this new series from Sean Mackiewicz and Niko Walter, where love and devotion can only be measured in fire and blood.
---