Hey it's Brian! Crashing Jon's Q&A real quick. We are beyond excited that EVOLUTION is on shelves and bringing a unique spin to the horror comics space. Editor Jon Moisan volunteered to take a break from his busy schedule of comic editing, artist scouting, enamel pin buying, and horrible board game finding to talk with our EVOLUTION writing team about their creative process, their thoughts on the series, and where EVOLUTION might be going. Ok, here's Jon and our EVOLUTION team:
---
Do you have a favorite moment from issue #1?
Christopher Sebela: That's hard for me to pick. First issues are tricky and especially ours, because we're building a world and a few specific corners of that world, the characters and the concept all at the same time. My favorite moment is how well it all comes together in the finished issue.
James Asmus: I've been in love with the ultra-loaded cold open since I first heard the idea for it. A 1970s cult planning to end to the world – and a jump to the present day, where we're left trying to trace the ties and consequences. I signed up off that alone, and I think lots of other folks will too.
Joseph Keatinge: It's like Chris said, picking one part is difficult because my favorite aspect of the book is how all these different voices come together to form a cohesive whole. I've never read anything like this with original characters.
Joe Infurnari: As the artist, I pore over every moment in the book but I think I love the quiet moments that catch you off guard like Hannah's quiet ritual before bed.
Jordan Boyd: I'd have to say I'm partial to the scene in the hospital chapel. It was around that time, that I really started to dial in on what I was going to be doing with my coloring style and palettes for this whole series.
What do you like most about your part of the series?
Sebela: I had a long vision for what I saw Abe's path through this book being and while what I envisioned was dark, it's become somehow even darker in the writing of it. And everyone's been into it. It's kind of scary showing your collaborators this thing you had in mind and wondering if they're going to look at you like your eyes are bleeding. Luckily they supported me going down this deep dark hole.
Asmus: Tackling a world-shifting event through the lens of someone whose base-line is always their faith. Once I started, it was strange to realize the massive disconnect between how many people in the world filter their thinking through their religious beliefs, versus how few characters in mainstreams stories do. It's especially relevant and challenging, though, to have to do that in a world where the fundamental truths we thought we knew begin changing into something more horrible, right before your eyes…
Keatinge: I talk about this in the back of issue #1, but a combination of utilizing my love of horror and my experiences growing up in a surreal hub of Americana is fun.
Infurnari: I like that I have a constructive and professional outlet for drawing absolutely horrific distortions of the human body and mind.
Boyd: From the get-go, everyone's really let me just run with the messy, expressionistic look I'm trying to perfect while coloring Joe's art, and that freedom to experiment has really meant a lot.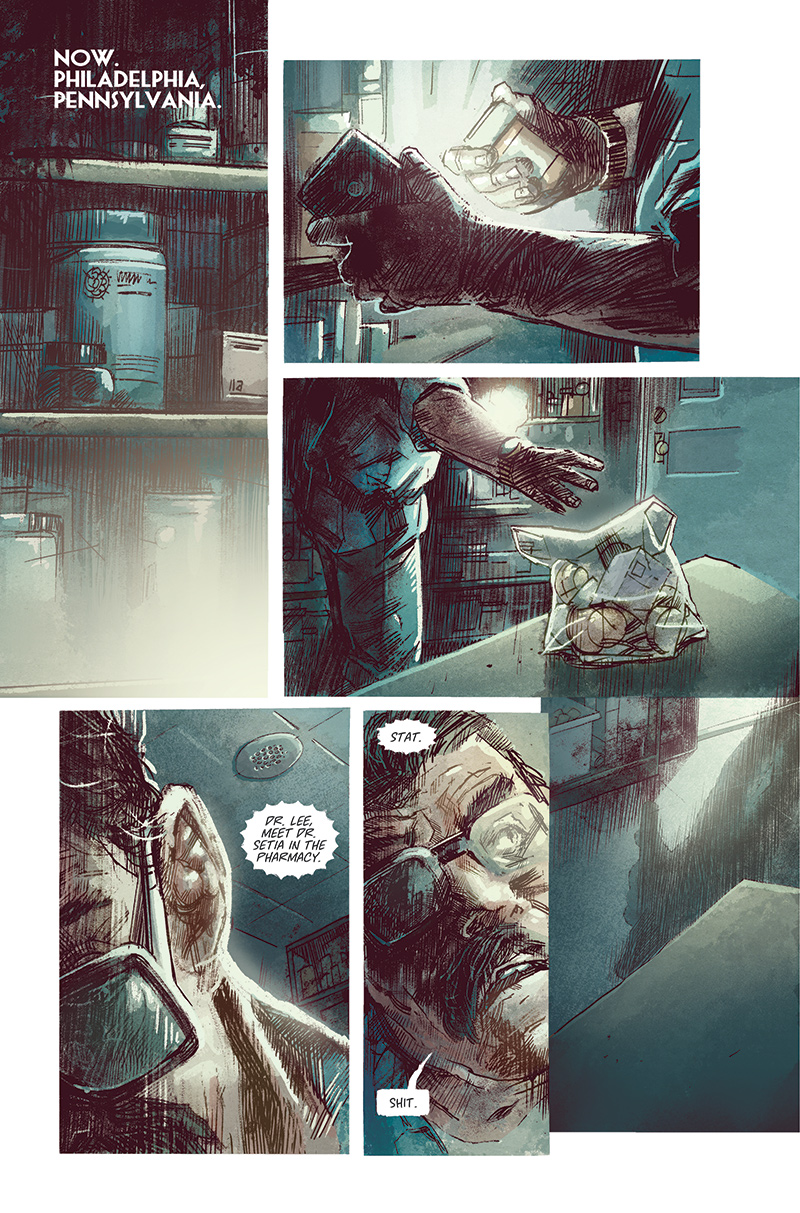 What's it been like working with a team on a book?
Sebela: I've written in a team once before, but it was on an established property, which at least gave us some ground rules. Working with other writers on a concept that was all our own was kind of intimidating. There were no limits, the whole book was just whatever we came up with. Trying to decide what fit and what was too big or wobbly was hard, but the upside of writing on a team is having the constant soundboard of other writers to tell you wen you're being too precious or your ideas don't work.
Asmus: I've actually done a lot of variations of co-writing (including on Skybound's Thief of Thieves). I think because I started my writing career in super-collaborative theater, I actually prefer the give-and-take of real collaborations. I find that the ideas you can both/all get excited about are usually better and more interesting than what you would have come up with on your own, left to your usual devices.
Keatinge: I love it, and it's something I'd like to do more. Skybound has given us a place to experiment with form in a way I never have before.
Infurnari: Anyone would admit that on the surface this sounds like a potential nightmare (besides the content, of course). But, truth be told, it's been not too dissimilar from more conventional collaborations. I think we all owe our editor, Jon Moisan, for doing a great job at keeping all the parts moving in a well-oiled machine.
Has your creative process changed at all for this book?
Sebela: A little bit. Having to keep not only the beats of my part straight in my head as well as the beats of Joe and James' stories is a lot more mental juggling than usual. So I tend to do a lot more re-reading and note-taking on this book, working everything out and how it weaves together with the other parts. At the end of the day, the writing is still the same, just a lot more planning goes into it.
Asmus: Maybe only in the sense that this story was already shaping up to be something so different from what I would have carved out, myself, before I came onboard. But I mean that in the best way. It's been a devious thrill to push full-bore into horror territories that I've always loved, but hadn't yet had the chance to play with.
Keatinge: It's a whole other process than working alone. Everything from the outlining and scripting and editing is entirely different than doing it on your own. It's got me thinking about what else we could do and how we could further utilize the format as our story grows and develops.
Boyd: I try and approach every new project differently, and Evolution has been no different. In addition to figuring out a unique set of brushes, textures, and color swatches for coloring Joe's drawing style, I also figured out a series of "rules" for how I would differentiate the different story threads using color coding.
Without giving too much away, do you have a favorite upcoming moment?
Sebela: Anything I could say would be giving a lot away. The fun of this book is all the quiet moments of dread exploding into complete chaos. It's definitely been my favorite part of writing it, building those tightropes and then cutting them when the reader is halfway to the other side.
Asmus: There are plenty of wrinkles and turns in everybody's stories that I can't wait for you to read. But in terms of my chapters, there's an issue break in the second arc that – as I was typing it – felt like a dare to the readers to return for what was coming next. That whole section felt, to me, like I was hitting the pressure points as some of the gritty, grindhouse-y 70s horror movies that inspired a lot of this.
Keatinge: It's sort of like I said about #1, my favorite aspect is seeing what Joe, Chris, James, Josh, and Jordan all bring and the surprising directions our collaboration takes our characters.
Infurnari: In issue #5 the disease properly introduces itself and gives a little 'demo' of what it can do. That's all I'll say.
Boyd: Any time the methodical, creeping dread boils over into big-time scares or gross-out moments are my favorite, and there's no way I'm giving any of those bits away.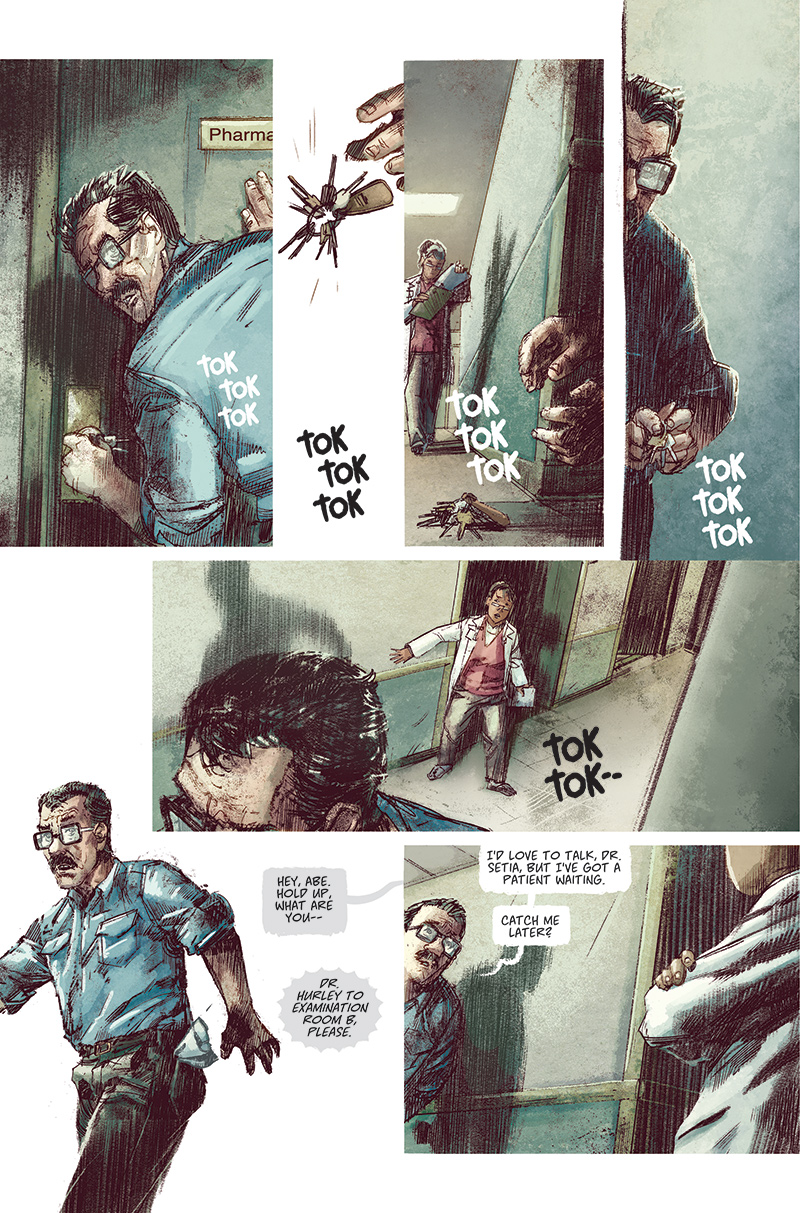 Is there a character that you identify with from the series?
Sebela: Abe, for sure. Probably because I write him, I put a lot of myself into him. He's the guy who believes in something even when the world is telling him not to, that he's chasing a dumb, outlandish idea. And he has to accept, as much as it hurts, that maybe he is just being delusional. I can relate to that. Sometimes just a whiff, sometimes a lot.
Asmus: They all make sense to me in their own ways, in terms of how they respond the horror and madness bubbling up in their world. As things unfold, though, it's harder and harder to know which one is how I'd really respond – and which ones I'm afraid I'd become. That's actually what has me still excited about the book thirteen, fourteen, fifteen issues in so far.
Keatinge: Claire. Big time.
Infurnari: I'm afraid to speculate what it means that Abe is probably my favorite. He is full of surprises
Boyd: It's cheating, but I really like them all? Probably a consequence of this murderer's row of incredibly talented writers we've got.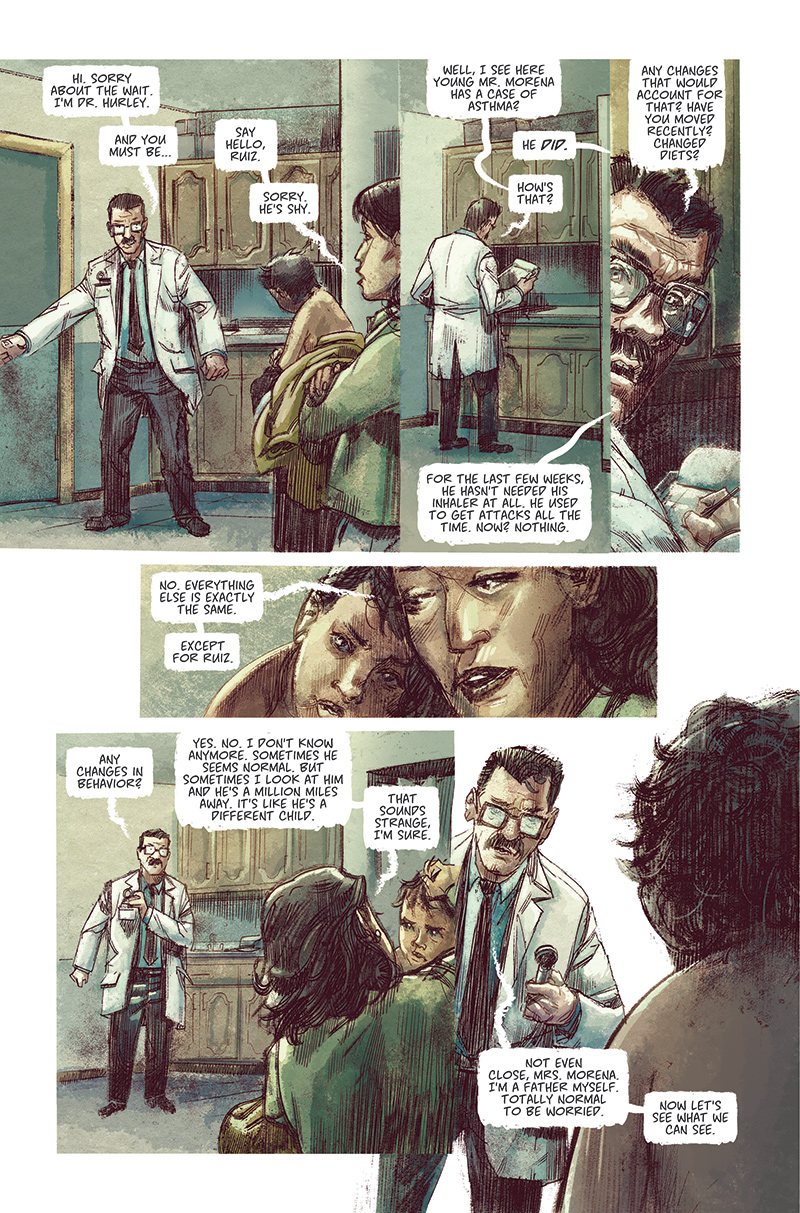 Evolution is a book full of frightening implications; what frightens you most?
Sebela: Home invaders. Or spiders. Or heights. My fears are pretty simple, but getting me to be scared of horror concepts is a lot harder. That veil of fiction, I can see stuff that is scary, but I'm not necessarily scared. Fear is weird and very subjective so I'm bad about explaining what frightens me. Probably answering questions like this.
Asmus: Needles. The physical sensation of falling. The anxiety of failing to provide for my kids. The increasingly clear and numerous fragilities of our society and way of life. And the ways in which people who do not question themselves and their actions can cause so much harm and cruelty without even processing the pain they're causing. Most of those get a good workout here. And hey – you can help alleviate the one about my kids if you go buy the book.
Boyd: As a parent with a small toddler, stories where the whole world is about to go down the toilet are becoming increasingly powerful and scary to me.
Infurnari: Something is clearly going on. I think the terrifying thing is how, as average people, our characters know so little and have no advantage.
EVOLUTION is available NOW on ComiXology and at your local comic book shop! Pick up your copy TODAY!