BIRTHRIGHT VOLUME 1 is out NOW, and the second arc starts this week! Today, in the second of our two interviews, we talk with series artist Andrei Bressan! Be sure to check out the first interview with writer Josh Williamson!

Skybound: Your work on Birthright has been praised by reviewers all over the internet. You're really doing a great job of bringing the fantasy world of Terrenos to life. Are there certain other works that have influenced the way you've drawn the fantasy world of Terrenos?
Andrei: Thanks, it's been a great pleasure working on this book. And it's really cool to see that our work is making such a cool connection with people. When I started to work on Birthright, and Josh asked me to bring some sort of modern war/Middle East vibe to the book, I started to dig. I was reading an article that says the big World War changed man's mind forever. Modern art could be seen as a result for such. So shattered things were immediately on my list. Trying to avoid symmetry in almost all parts. During this mental process, I ended with the paintings of Zdzisław Beksiński, a great Polish painter, and started to work for establishing the world of Terrenos under Lore's wrath. I knew that Beksiński had a humorous idea for his work, but just like Campbell said, a dream is a personalized myth, I started to work creating some sort of Midas's touch for our main antagonist. Every place that he touches ends up a torn, twisted, nightmare landscape. But this is also a fantasy book, a family drama in its core, and we need an element of wonder, a place for hope, too. And so I went for Sydney Sime, Arthur Rackham, Simon Lee, Katsuya Terada, Jeffrey Jones and Gustave Doré. Doré gives me the Baroque tone for Birthright, it's quite scenic, poetic and shares some great influence from Michelangelo's work. You see, these two masters seem to understand the characters' action as a force from within, a visceral line of life that's pushes trough. And Terrenos still has plenty of ground for us to cover. Lots of dangers and wonders to come.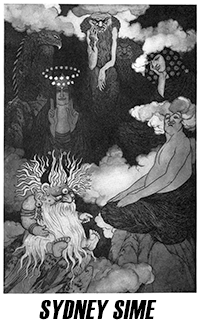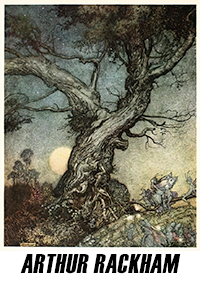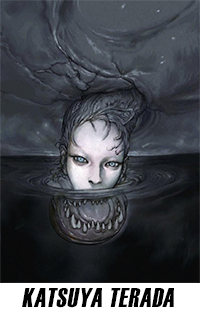 So far you've had a chance to draw all sorts of fantasy beings in Birthight, everything from orcs to razor beasts and bird people. How do you go about the character designs for these different creatures? Where do you begin?
Every character carries a creation story on its own. But they all follow some principles. I start with all Josh's notes, then, start to look for a meaning for each character. Trying to mold them around the core idea, mixing with references from animal world. The process is based on their silhouettes, and reminds me some of a Queens of the Stone Age/Iron Maiden songs, where you have a really loud, noisy, aggressive part, then, cool and long. It's funny. I play along with shapes and textures looking for the same principle. Some of these are really well known by animators. The challenge comes with the narrative framing them along the meaning. And here is an example:

This is a part from issue 1. Here we have father and son, side to side. The idea was to frame a "progression": from father to son. The book has lots of symbolism. Here, Mikey has some sort of a Spartan look. I used his hair and beard to give him some helmet frame. A constant warrior stance. It was something that occurred to me during the scene. Here, Josh is talking about a complex idea, comparing different concepts related to men's world. The modern and the old. The Spartan profile was an idea to bring emphasis on this dynamic. Mikey's has his head up, proud, Aaron, head down. If you look, in issue 1, there's plenty of scenes of them with divided faces. Aaron, divided by love and betrayal, and Mikey, with his secrets. Old and new both having some childish behavior.
The girls, they have a nobler stance. Like both men lost their "Andreia" ("manly spirit"). Wendy in issues 1 and 2, holds her hair back with a winged hair clip. And we thought it could be a powerful way to bond with Rya, the [winged] Gideon.
And so far, we have two models of trinity: Aaron/Brennan/Mikey and Wendy/Rya/Zoshana.
What's been your favorite thing to draw so far in the first arc of Birthright?
You don't have to go that far to see I love to draw action, dark and bloody scenes, but my favorite part is those kids. I believe it's possible to see, feel, almost a different tone for them. You know, Josh has such a powerful way to portray them, and that makes me jump with ease on that world
Half of Birthright takes place in the real world, while the other takes place in Terrenos. What do you try to accomplish with your art to help make those two halves cohesive, but also distinct? If that makes sense.
Yeah, it makes perfect sense to me. At the beginning, we talked about a really different type of work, closer to pencil with a few inks. But it seems to work best the way it is. The narrative is more fluid in this way. That doesn't mean it's easy. The change occurs more naturally from scene to scene, and it's quite emotional, especially when we are in the modern world and need a strong emotional response. Everything on a page starts from inside out… sometimes it takes more energy, more connection and focus to work from place to place. The scenes with Aaron and Wendy really push me. I take extra care with them… Comics to me are closer to theater sometimes, in order to grab the audience, you need to create a gesture, working almost like an actor to create a clear move. And I leave a few scenes to draw later, just to be able to dive into that emotional place, I need to touch the air with them.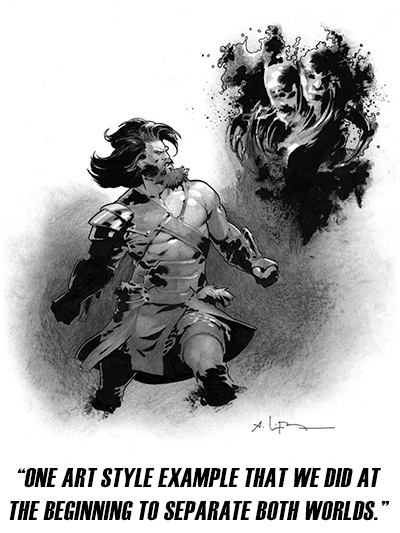 You seem like the perfect fit for the artist of Birthright. How did you and Josh hook up to do the book together?
It all came together due to Sean [Mackiewicz, Skybound Editorial Director]. I worked with him a few years ago at DC and during NYCC I had the chance to show him some new things I'd been working on. And we started to talk about Birthright. I didn't know Josh's work until then, not fully, had heard about Ghosted mostly, but it was such a happy surprise getting to know his work through Birthright. After Birthright I started to buy Ghosted and Nailbiter. And we do really well on Birthright, share lots of things with him. It's been great!
With the first arc wrapped up and the second starting this week, anything you can tease about some of what you've had the chance to draw for arc two?
Let's say we should be really worried with Mikey's actions from now on. Will not spoil the fun, but he is really growing in complexity in this second act. Sometimes I wonder if we will be able to see the spark of a hero.
Most of your work before Birthright was with DC, it seems. How has it been working with Skybound on Birthright?
Oh, it's been amazing. I could not be in a better place. The editors are great and it's really cool to work closely with these guys on a ride like this. Everything here is fresh and new. Lots of ideas and possibilities. They are working pretty hard to give people some of the best books out there. It was also through Skybound that I´ve got to meet Adriano Lucas, our colorist on Birthright. And this also grants new highs for this journey. And thank you, Leo, and all the Skybound team for this chance to share a bit of Birthright secrets with our readers! See ya.

BIRTHRIGHT #6 is out THIS WEEK, kicking off a new arc! The issue also has a variant cover from James Harren (of Image Comics' RUMBLE)!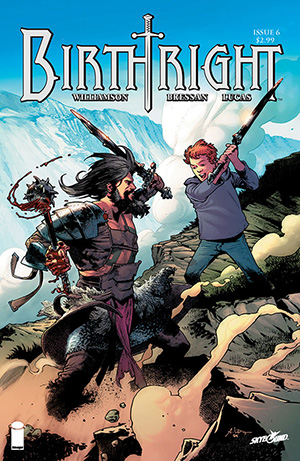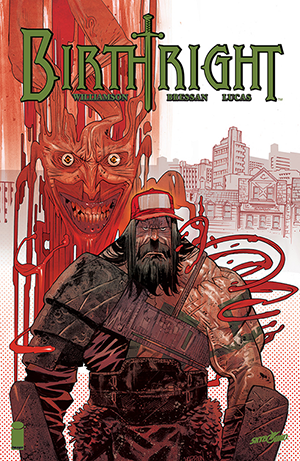 LEO JOHNSON, who was gracious enough to conduct this interview for us, is our latest freelancer here at Skybound! Leo has been writing about comics for several years at various places. He currently be found at the Eisner-nominated Multiversity Comics and on Twitter @LFLJ.