SKYBOUND PRESENTS AFTERSCHOOL #2: THE STORK WILL LEAVE TERROR ON YOUR DOORSTEP
Teen Horror Anthology Presents The Storkening in New Issue by Kate Herron, Briony Redman & Leila Leiz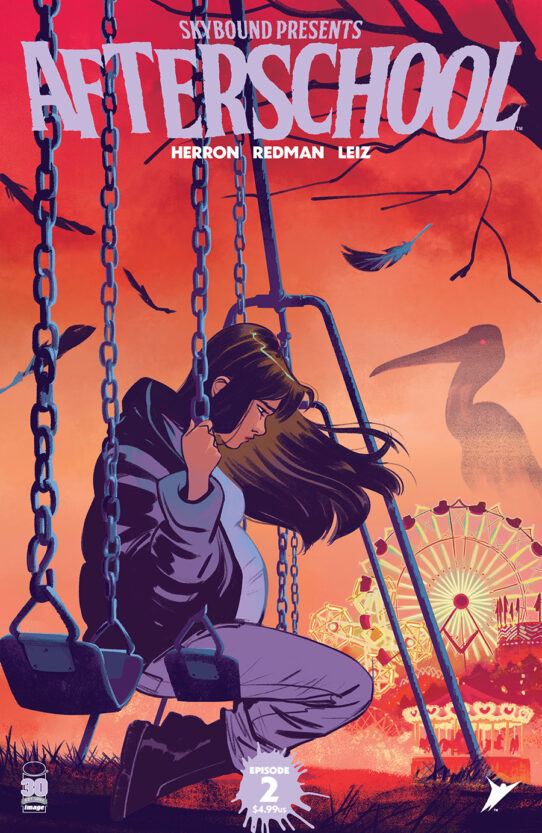 Today Skybound revealed a first look at Skybound Presents Afterschool #2, the latest issue of the new teen horror anthology miniseries that takes the familiar cautionary tales we've all learned in our youths and flips them on their heads. Afterschool #2 is out July 20 with the story of a monster stork that's never been told before. (continues)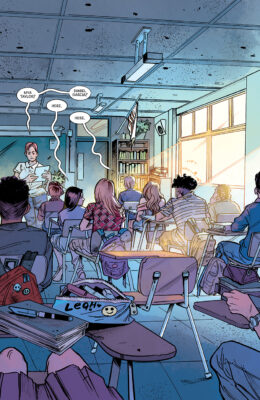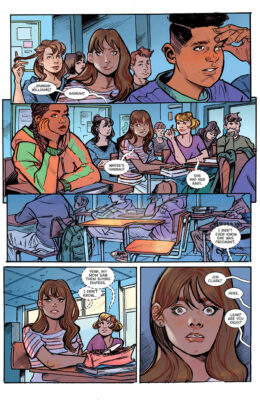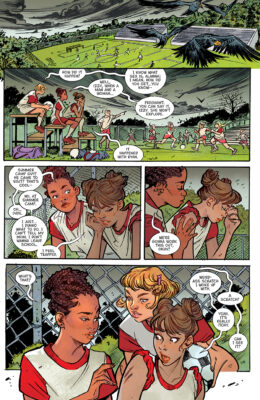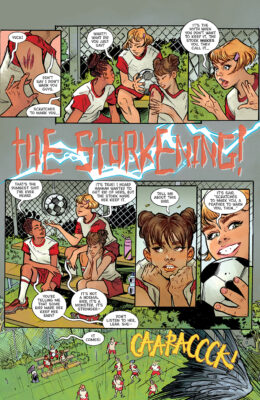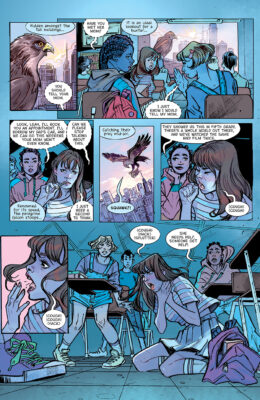 In this issue, the acclaimed writing duo of Kate Herron (Marvel Studios' Loki, Sex Education) & Briony Redman (the BAFTA Rocliffe-winning Pont Brec) team up with artist Leila Leiz (M.O.M.: Mother of Madness, Horde), colorist Giovanna Niro (Two Moons) and letterer Pat Brosseau (Manifest Destiny) to present a standalone horror story soaked in blood and feathers. Afterschool #2 also features a stunning cover by acclaimed artist Veronica Fish (Archie, Sabrina the Teenage Witch).
"Scratches to mark you, a feather to warn you, then it comes…" According to the urban legend, if you try to get rid of your baby, a monstrous stork will force you to keep it. But surely, that can't be true, can it? For Leah and her friends, they're about to find out about just how true it is in…The Storkening!
The team behind this Afterschool special joins the impressive roster of lauded writers and all-star artists from comics, television and beyond working on the miniseries, including Justin Benson & Aaron Moorhead (Marvel Studios' Moon Knight) and Greg Hinkle (The Rattler, Airboy); Jill Blotevogel (Scream: The TV Series) and Marley Zarcone (Shade, the Changing Girl; Effigy); and Leon Hendrix III (Two Sentence Horror Stories, Mayor of Kingstown) and Eric Zawadzki (Heart Attack, House of El). Each standalone Afterschool special features a unique creative team to give each issue a distinct horrifying feel, with its own relatable characters and truly chilling lessons.
The series debuted June 8 with Skybound Presents Afterschool #1, a tale of an emotional support dog with a killer secret by Benson, Moorhead, Hinkle, Niro and Brosseau.
Skybound Presents Afterschool #2 (MAY220267) will be available at comic book shops and digital platforms including Amazon Kindle, Apple Books, comiXology, and Google Play on Wednesday, July 20, 2022.