Few artists working in comics today fuse energy and elegance in their work like Joëlle Jones. The fan-favorite creator made a name for herself with her creator-owned Lady Killer (think Mad Men's Betty Draper as an assassin) before skyrocketing on DC titles like Batman, Catwoman, and Supergirl: Being Super. Now Jones has created a gobsmackingly gothic cover for the second printing of James Tynion IV and Martin Simmonds' Universal Monsters: Dracula #1. Seriously, calling this thing stunning is like saying vampires don't tan. You can see what I'm talking about after these official details on the issue…
Today Skybound, in partnership with Universal Products & Experiences, announced that Universal Monsters: Dracula #1, sold out at the distributor level the day it released in comic book shops.
The debut issue of the four-part comic book limited series from the best-selling team of Eisner Award-winning writer James Tynion IV (Something is Killing the Children, The Nice House on the Lake) and artist Martin Simmonds (Swan Songs), who have earned multiple Eisner Award nominations for their hit series The Department of Truth, will return with a second printing, featuring a variant cover by Joëlle Jones (Lady Killer). This new printing will be available in comic book shops on Wednesday, November 22, 2023.
James Tynion IV and Martin Simmonds tell a new tale, inspired by Universal Pictures' 1931 film – Dracula. When Dr. John Seward admits a strange new patient into his asylum, the madman tells stories of a demon who has taken residence next door. But as Dr. Seward attempts to apply logic to the impossible…his surrogate daughter Lucy begins to fall under the spell of the twisted Count Dracula!  
Both long-time and new fans of  Universal Monsters can expect new twists, encounters, and a deep dive into the darkest corners of this timeless villain's narrative. Along with Dracula himself, this series features fan-favorite characters from the classic original film, including R.M. Renfield, Mina Seward, Doctor John Seward, Van Helsing, and more.
Universal Monsters: Dracula #1 Second Printing (Lunar Code: 0923IM832 | $4.99) will be available at comic book shops and digital platforms including Amazon Kindle, Apple Books, comiXology, and Google Play on Wednesday, November 22, 2023.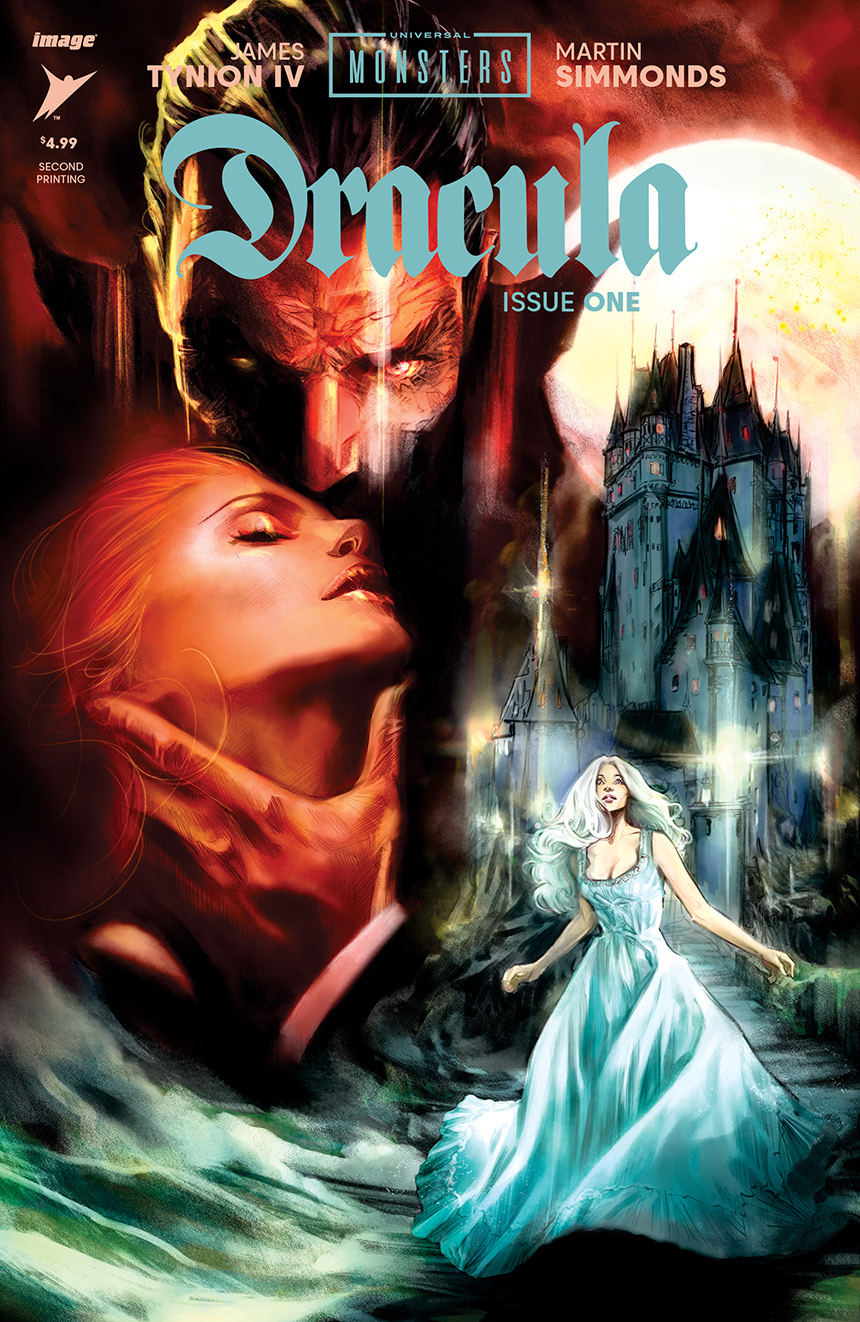 Dracula© Universal City Studios LLC. All Rights Reserved.