We here at Skybound love to promote not only our own comics but the entire narrative storytelling medium. So, alongside our friends at Image Comics, we're co-funding the Comics Librarian Conference Travel Grant, from the American Library Association's (ALA) Graphic Novels & Comics Round Table. In doing so, we're helping to support some of today's most important comics educators and advocates. We recently interviewed the Round Table's President Moni Barrette. Now, we're happy to share that the Round Table has announced the recipients of this year's grant. Here's the official word from the ALA's website…
The American Library Association Graphic Novels & Comics Round Table (GNCRT) is excited to announce Gabriel Lopez of San Antonio, TX, and Avi Netzorg Woontner of Santa Fe, NM, as the recipients of the first GNCRT Comics Librarian Conference Travel Grants.
Gabriel Lopez is a Research & Instruction Librarian for the Sueltenfuss Library at Our Lady of the Lake University. Gabe showed early promise and initiative as a comics librarian when he spearheaded the creation and continued development of a Graphic Novels Collection on his campus. In addition to his commendable professional endeavors, he is a member of GNCRT's Addressing Comic Book Challenges Committee and is set to graduate this summer with his MLIS. On being selected for the inaugural grant, Gabe stated, "Winning this award presents me with the incredible opportunity to attend the ALA Annual Conference and meet librarians from across the profession. I am also new to comics librarianship, and I am very grateful for the chance to learn from leaders in the field."
Avi Netzorg Woontner has focused their career on equitable and reparative knowledge organization to facilitate access to resources and stories for all. They are the Public and Technical Studies Librarian at the Institute of American Indian Arts in Santa Fe, NM, and prior to this position, they volunteered as Co-Coordinator for the Vancouver, BC, community queer library, Out On The Shelves. Avi served on the selection committee for the GNCRT's 2022 Best Graphic Novels for Adults Reading List. Avi says, "I have been fortunate to be able to follow my passion for comics and graphic novels throughout my professional career in selection, cataloging, and reader's advisory. This grant is an amazing opportunity to meet my colleagues around the continent who are equally driven to advocate for graphic novels, comics, and the amazing artists and storytellers who create them in libraries. I am very excited to attend ALA Annual and bring connections and resources back to my library's community."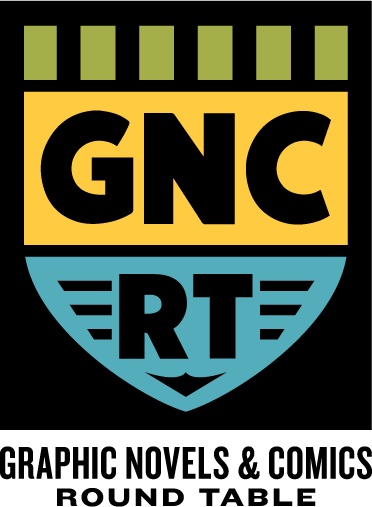 The GNCRT Comics Librarian Conference Travel Grant provides reimbursement funds of up to $3,000 for each recipient toward their attendance at the upcoming 2023 ALA Annual Conference in Chicago. Additionally, GNCRT will provide opportunities for the grant winners to participate in sessions and network with comics publishers and their fellow GNCRT members. 
The funding for the first year of these grants was provided by graphic novel publishers, with Image Comics and Skybound Entertainment donating a combined $6,000. GNCRT is grateful for the money provided by Image Comics and Skybound Entertainment, which provided essential support to establish the grant. GNCRT is accepting donations to support this grant opportunity going forward.
GNCRT President Moni Barrette said, "Congratulations to Avi and Gabriel! This is a competitive grant, for which there were many talented and deserving applicants. Avi and Gabriel represent the best that up-and-coming comics librarians have to offer. I am thrilled that this inaugural grant funding will help support both their physical journey to ALA Annual 2023 and continued professional development. I look forward to GNCRT and our stakeholders making opportunities such as this one available for many years to come.
More information on the GNCRT Comics Librarian Conference Travel Grant is available on the ALA website. To contribute to the grant fund, please visit https://ec.ala.org/donate/projects (select Round Tables from the top of the page, then GNCRT from the list on the left). For comics publishers interested in contributing, please contact GNCRT staff liaison Tina Coleman at ccoleman@ala.org.
About the Graphic Novels and Comics Round Table
The Graphic Novels and Comics Round Table of the American Library Association is dedicated to supporting library staff in all aspects of engaging with graphic novels and comics, including collection development, programming, and advocacy. For more information, connect with GNCRT on Discord; Twitter: @libcomix; Instagram: @libcomix; or the GNCRT ALA Connect page.