When Robert Kirkman decided to launch his first all-new series since The Walking Dead concluded, he did it with style. But then that's what artist Chris Samnee brings to every project, as those familiar with his work on Daredevil, Black Widow, and Captain America well know. The duo's action-packed kung fu epic Fire Power is no exception. And today we've got word that Kirkman and Samnee are returning to Fire Power with a new story arc, starting in July's issue #25. Check out the deets below, along with a look at the double-sized issue's cover…
Today Skybound announced that Fire Power by Kirkman & Samnee will return for an all-new story arc this summer. The high-octane comic series from the superstar team of creator/writer Robert Kirkman, creator/artist Chris Samnee, colorist Matthew Wilson and letterer Rus Wooton kicks off a fifth arc with issue #25 arriving July 26, 2023.
Fire Power will return with a double-sized 44-page story picking up where the previous arc's shocking finale left off, with readers reeling for the Johnson family. After learning Wei Lun killed his parents, Owen cannot let the past go.
"No lie, Issue #25 might be my favorite of Fire Power yet," said Amanda LaFranco, Editor, Skybound Entertainment. "The battle might be over, but the war is not yet won, and the tension between Owen and Wei Lun is palpable as the group recovers from the epic finale of our last arc. We're building to something BIG in these next issues, and Robert and Chris are putting on a masterclass of character and stakes in this double-sized return, you won't want to miss it!"
Fire Power by Kirkman & Samnee #25 (Diamond Code MAY230222 | $4.99) will be available at comic book shops and digital platforms including Amazon Kindle, Apple Books, comiXology, and Google Play on Wednesday, July 26, 2023.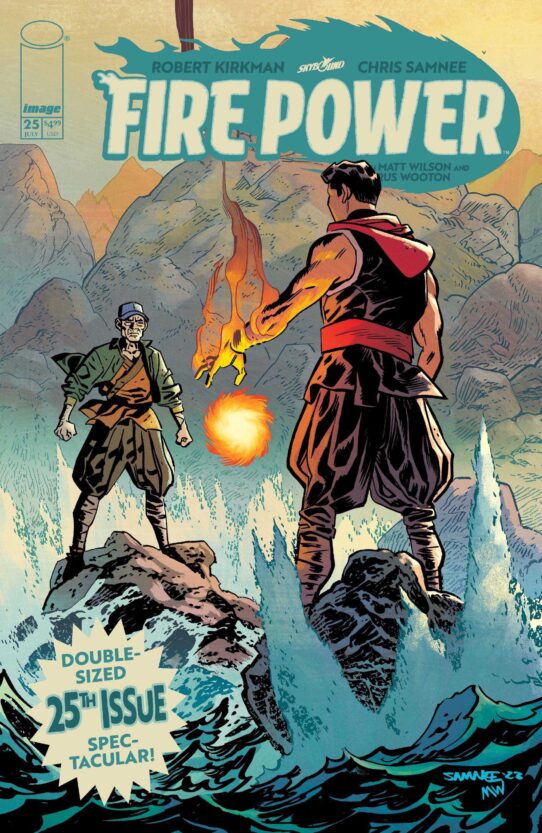 If you haven't discovered Fire Power yet, you can learn more about the series here!