The next chapter of one of the most successful web comics of all time will finally see print next year via Skybound Comet. Ava's Demon Book Two: Aftermath, from cartoonist Michelle Fus, arrives in May of 2024! Check out our recent interview with Michelle here. And check out the official details and cover for this next volume below…
Today Skybound Comet officially announced the upcoming retail release of Ava's Demon Book Two: Aftermath, the next chapter of the groundbreaking YA webcomic over ten years in the making by acclaimed author Michelle Fus. The original graphic novel will now be available for the first time in the book market in May 2024.
Ava's Demon is a tentpole property for Skybound Comet, an original graphic novel imprint aimed at Young Adult (Ages 12+) and Middle Grade (Ages 8-12) audiences, but sure to captivate readers of all ages. Ava's Demon Book One: Reborn (Diamond Code: MAR228458, ISBN: 978-1-5343-2438-1 | SRP: $17.99) is everywhere books are sold now.
Sequel to one of the most successful graphic novel crowdfunding campaigns of all time and a certified juggernaut in its own rite, Aftermath, alongside Fus' first collection of the webcomic Ava's Demon: Reborn, together reign as two of the top three highest performing webcomic campaigns of all time, raising almost $1.2 million across two blockbuster Kickstarter campaigns.
"Ava's Demon: Aftermath holds some of my most cherished and important work of the series," said Michelle Fus. "I am, again, so elated that Skybound and I could craft another beautiful book to share my comic with the world. It brings much desired permanency to my most lovingly crafted illustrations that I hold very dear to my heart. I can't wait to share this next installment with old and new readers, in hopes that they will hold it dear to their own hearts as well."
The second volume of the series is titled Aftermath as it picks up directly following the devastating events of Reborn, when Ava unlocked a new power within herself and unleashed a devastating attack against TITAN'S forces. As the group escapes TITAN HQ, Ava's actions have a polarizing effect on her friends, and Ava must come to terms with what she has done.
"Aftermath dives much deeper into the world and characters of Ava's Demon, and Michelle's art reaches impossible heights," said Alex Antone, Editorial Director at Skybound. "Every page elicits such strong emotion from the reader…you'll be begging for more when you turn the final page."
The Skybound Comet slate also includes upcoming releases Sea Serpent's Heir Book Two (Lunar Code 0723IM381, ISBN 978-1-5343-9993-8 | SRP: $14.99), which continues the YA fantasy trilogy by  Mairghread Scott (Dragon Age: Absolution) and Pablo Tunica (TMNT Universe), coming September 2023; and Clementine Book Two (Diamond Code MAY230179, ISBN: 978-1-5343-2519-7 | SRP: $14.99) by acclaimed writer/artist Tillie Walden (Spinning, On a Sunbeam), which continues the trilogy set in the world of Robert Kirkman's The Walking Dead in October 2023.
Ava's Demon Book Two: Aftermath (ISBN: 978-1-5343-9852-8 | SRP: $17.99) will be available at booksellers, along with digital platforms including Amazon Kindle, Apple Books, comiXology, and Google Play on Tuesday, May 28, 2024, and at comic book shops and everywhere comic books are sold on Wednesday, May 29, 2024.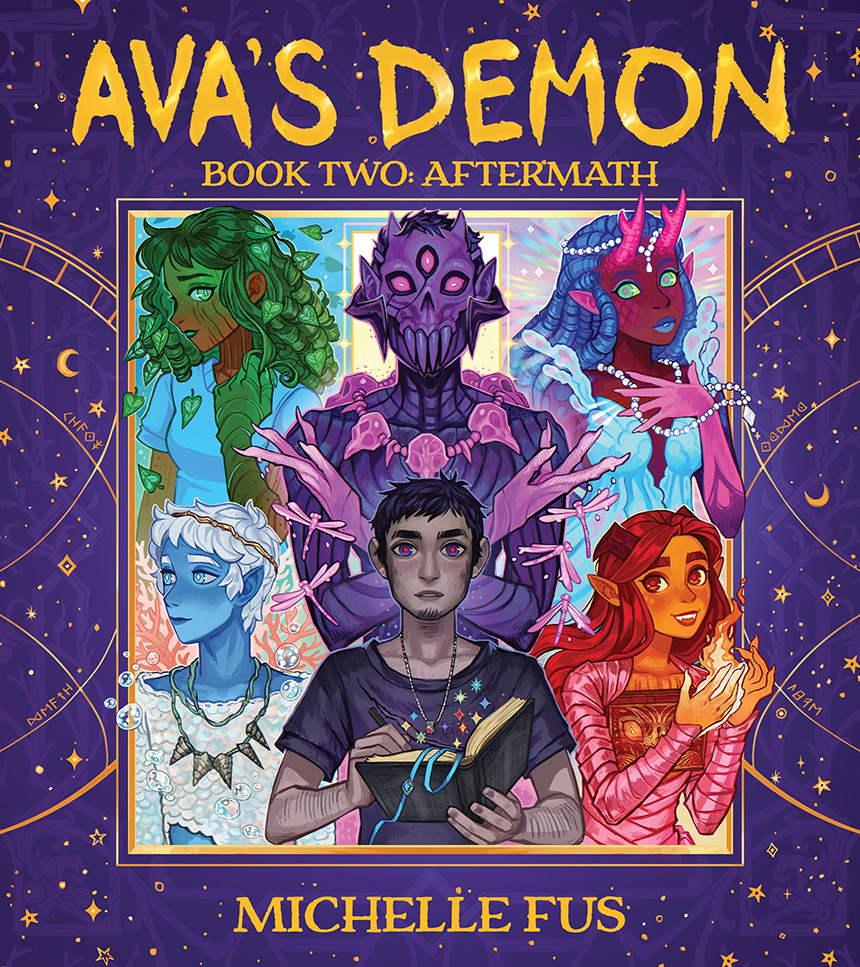 For more info and updates on Skybound Comet, visit www.skyboundcomet.com.