"Honor"
We open the second half of Season 8 with three quick Rick sequences: the first of him looking red-eyed and emotional (repeating Siddiq's "my mercy prevail over my wrath"), the second his dream of what Alexandria could be, and the third of him and Michonne burying someone. We then flash back to the moment earlier in the season where Carl got bit by a walker in the woods. Shocked at first, he quickly accepts his fate and returns to Alexandria to live out his remaining days. He pens notes to those he loves, spends time with Judith, and prepares his final resting spot in the sewer all in the span of one Bright Eyes song.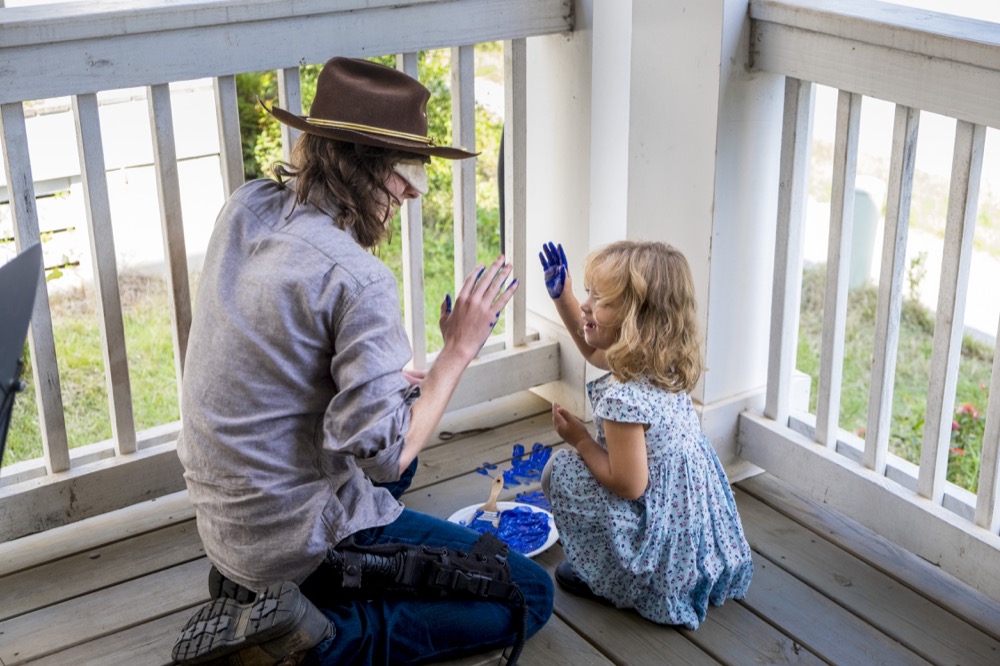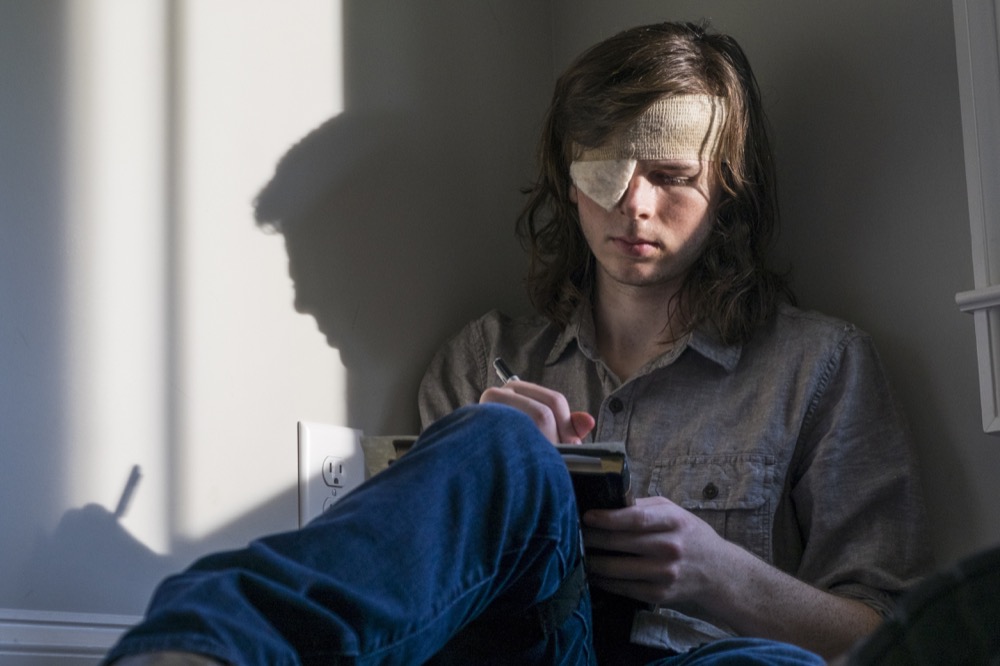 We get another quick flashback of Morgan watching Negan and The Saviors escaping The Sanctuary. They spot him and he's forced to flee. Flash forward to outside The Kingdom, where he and Carol plan to break Ezekiel free form The Saviors who took over. Meanwhile in the sewers under Alexandria, Rick struggles to process his son's impending death. Carl reassures him things will be OK and hands him farewell letters he wrote everyone. He then explains how he got bit trying to save Siddiq.
While Morgan and Carol strategize an extraction plan, Gavin reprimands Ezekiel for attacking them in the first place. As Carl's health deteriorates, Siddiq offers medicine and explains how he was a resident doctor. Rick pieces together that this is part of the reason why Carl saved him. Suddenly, Dwight appears and Michonne begs him to make the explosions above stop. He tells her he can't and that they should stay there until they're gone. Rosita thinks they should head to The Hilltop instead, and Daryl agrees.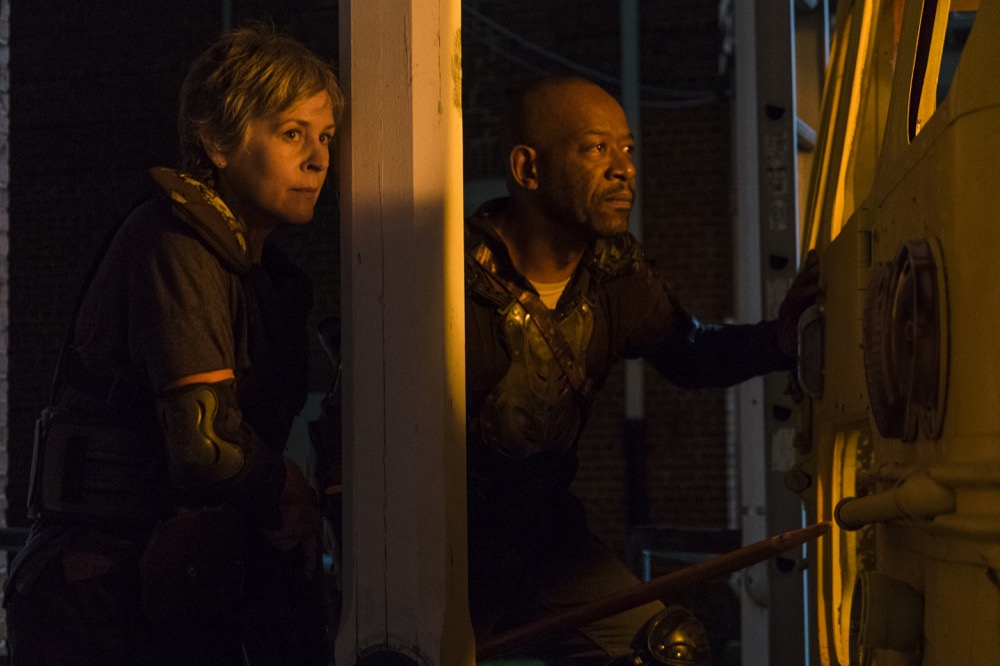 Meanwhile, Morgan and Carol take out a couple of Saviors on their way to infiltrating The Kingdom. Gavin laments his role in the war to Ezekiel, who reminds him it's not too late to walk away. He refuses and radios the Saviors Carol and Morgan killed – obviously there's no response. Ezekiel reminds him again it's not too late as gunfire rings out nearby.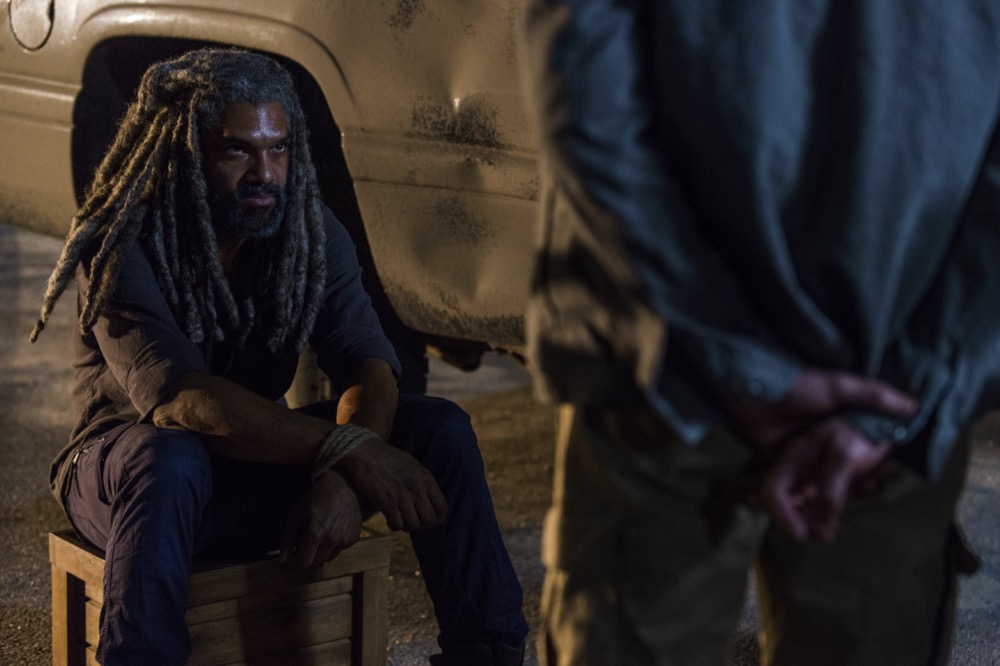 Flash forward to pink-eyed Rick looking more depressed than ever. He envisions the perfect Alexandria again, which now includes Eugene. Back to reality Rick and Michonne agree to stay with Carl in the sewer while Daryl escorts everyone else to Hilltop. Before they leave, Carl gives his hat to Judith and tells her to stay strong. Before leaving, Daryl reminds Carl he's the reason everyone was able to escape. Before they leave, Siddiq tells Carl he'll spend the rest of his life honoring him.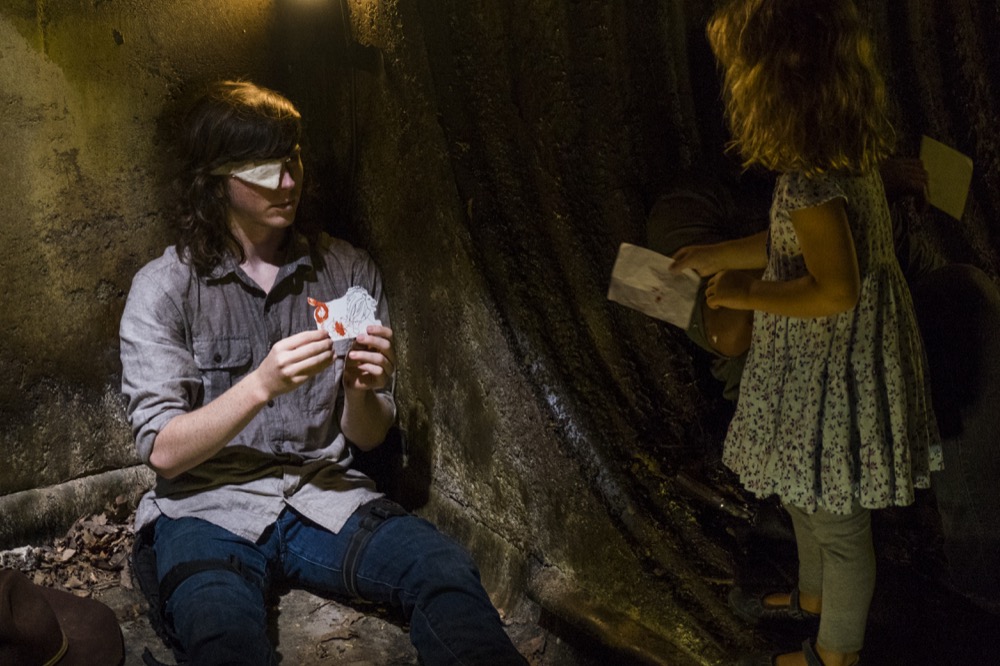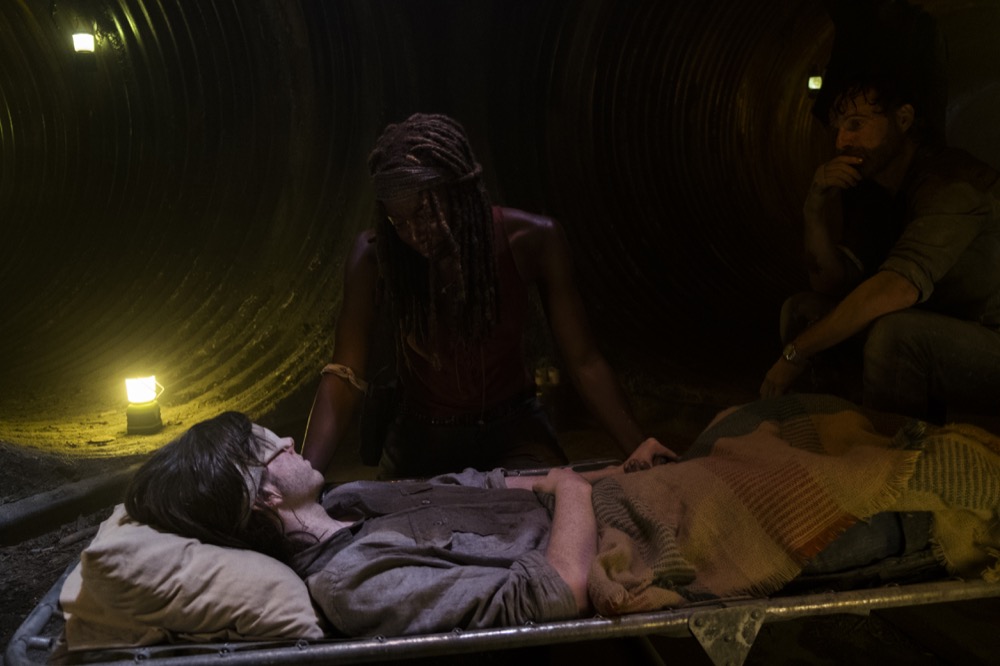 Paranoid his people are dead, Gavin secures Ezekiel in the throne room and instructs his people to guard the doors. Morgan and Carol burst in and kill nearly everyone. Morgan rips out a guy's insides and then chases after Gavin after he escapes. Morgan quickly locates Gavin, who tells him killing him won't make anything go away. Ezekiel and Carol try talking Morgan out of it, and Morgan nearly kills him until Benjamin's brother Henry stabs Gavin from behind, killing him. Carol scolds him but Ezekiel reassures him "all will be resolved."
Rick and Michonne leave the sewer and carry Carl through the burning town to lay him down in the church. In his final moments, Carl asks Michonne to not be sad or angry, but strong when he passes. He also confesses to killing one of the Woodbury soldier kids who was surrendering and how he still thinks about him. Rick forgives him but Carl insists there's a lesson in it: killing everyone isn't the answer. "There has to be something after," Carl says.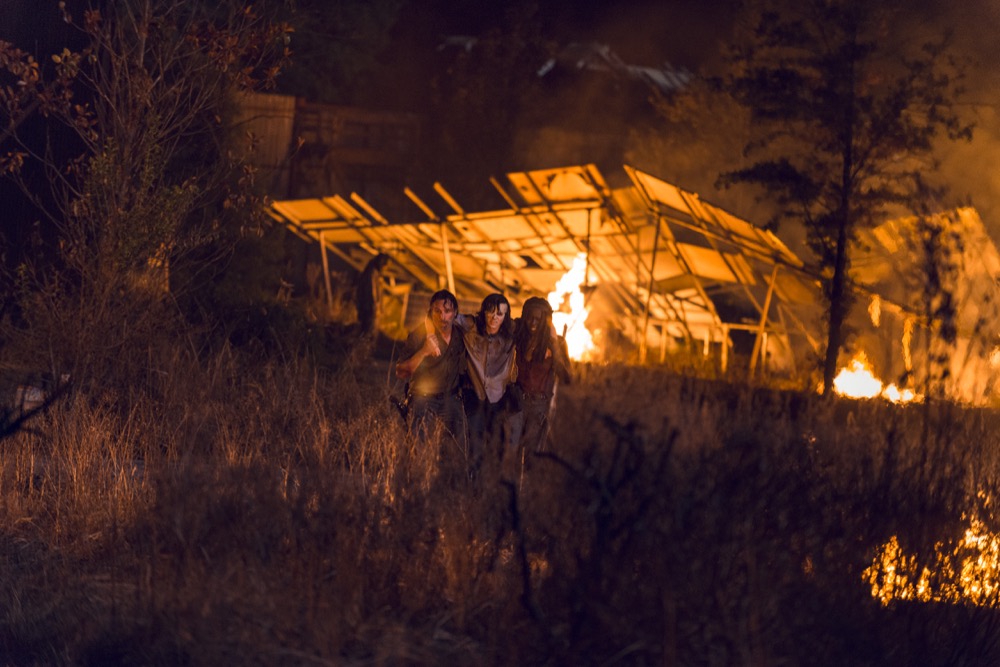 He then tells Rick how HE envisions Alexandria in the future (it was Carl's dream, not Rick's). "You can still be who you were…that's how it could be." Rick tells Carl everything he did was for him. He apologizes for not protecting him and Carl says it's OK, telling both of them he loves them. Rick sobs and Carl shoots himself with a silencer pistol in his own head, saving Rick and Michonne from the awful task.
The next morning, Rick and Michonne bury Carl. Rick envisions a new Alexandria where Negan is living happily in its walls. Before the episode ends, we get another Rick – he's sitting by a tree looking exhausted and defeated.
---
What did YOU think of this emotional Mid-Season Premiere? What was up with Rick at the end of the episode? How will Rick and the gang survive without Carl? Tell us in the comments!