"Find Me"

Daryl, Carol, and Dog ride off for supplies in what feels like a backdoor pilot for their upcoming spinoff. As they gut fish, Carol laments that what happened to Hilltop could happen to Alexandria. Daryl says he won't let it when suddenly, Dog hears something and takes off. He leads them to a cabin in the woods. Daryl daydreams a long-haired blonde lady petting Dog, before he snaps out of it and joins Carol in the cabin. She suggests they fortify the place and stay the night.

Flashback to five years ago when Daryl first met Dog as a puppy. He puts his stuff down at his camp and then spots Carol across the river. She tells him about Maggie leaving and he tells her he's still looking for Rick. Later, we see Daryl try to ride out a thunderstorm in his camp. He yells to the heavens and then enjoys the rain. A year passes and Dog leads Daryl to the cabin we saw at the beginning of the episode. Daryl storms in, kills a walker, and gets held at gun point by a woman.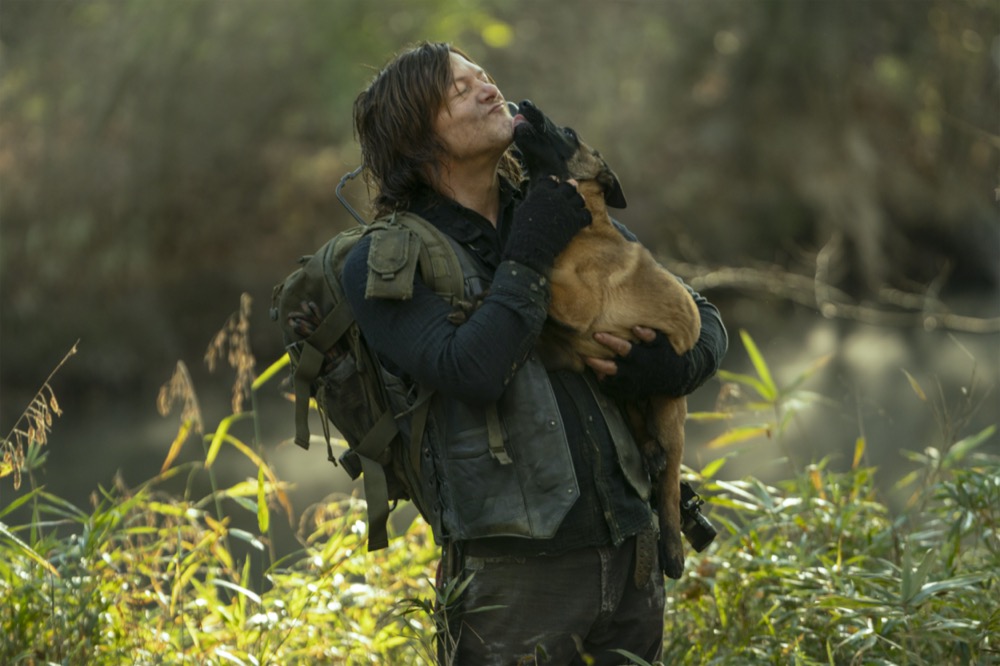 Back to the present, Dog digs up a book and note in the floorboards. Carol recognizes it and asks if "she" lived here. "It was a long time ago," Daryl says gloomily. Carol lightly prods and Daryl agrees to tell her more. Back to the past – the woman ties Daryl up and interrogates him. He assures her he doesn't mean any harm so she unties him and lets him go. He asks for her name but she doesn't give it.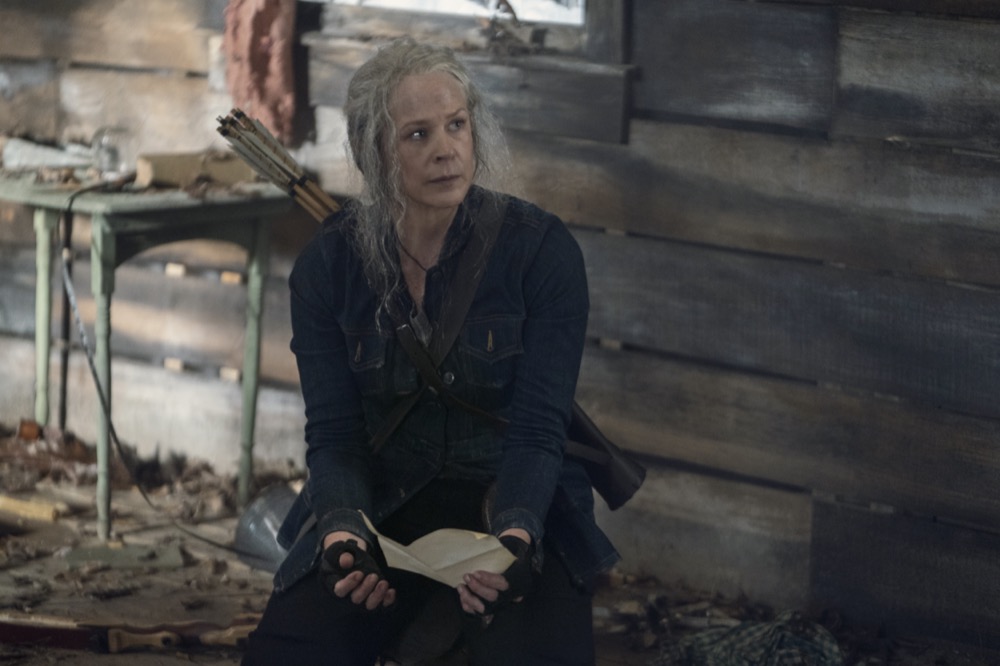 Six months later, Daryl runs into Dog again so he returns it to the woman, who's a lot more friendly now. She tells him that Dog's name is Dog and two have fun flirting. A month after that, the woman saves Daryl from a small horde of walkers in the woods. They hide at a Carl and Enid proximity in a tree until they've passed. Despite it, Daryl tells her to stay away from her camp. She angrily walks away and says her name is Leah.
Three months later, Daryl returns to her cabin and throws a fish at her door – no response. A little later, Leah finds Daryl at his camp and throws a fish back at him. The two argue about leaving each other alone but she convinces him to stay at her cabin so he doesn't catch hypothermia. That night, he wakes up to her accidentally breaking her picture frame of her and her son. "It's his birthday today," she says. Leah reveals although Matthew wasn't her biological son, she was the son of her friend that she considered a sister. She tells him they're both gone, and walks to the window to look at his grave and weep. She recalls that Dog's mom was with her when she discovered her son was bit, and that Daryl's the first soul she's seen since. He then tells her about losing Rick, but he might still be alive.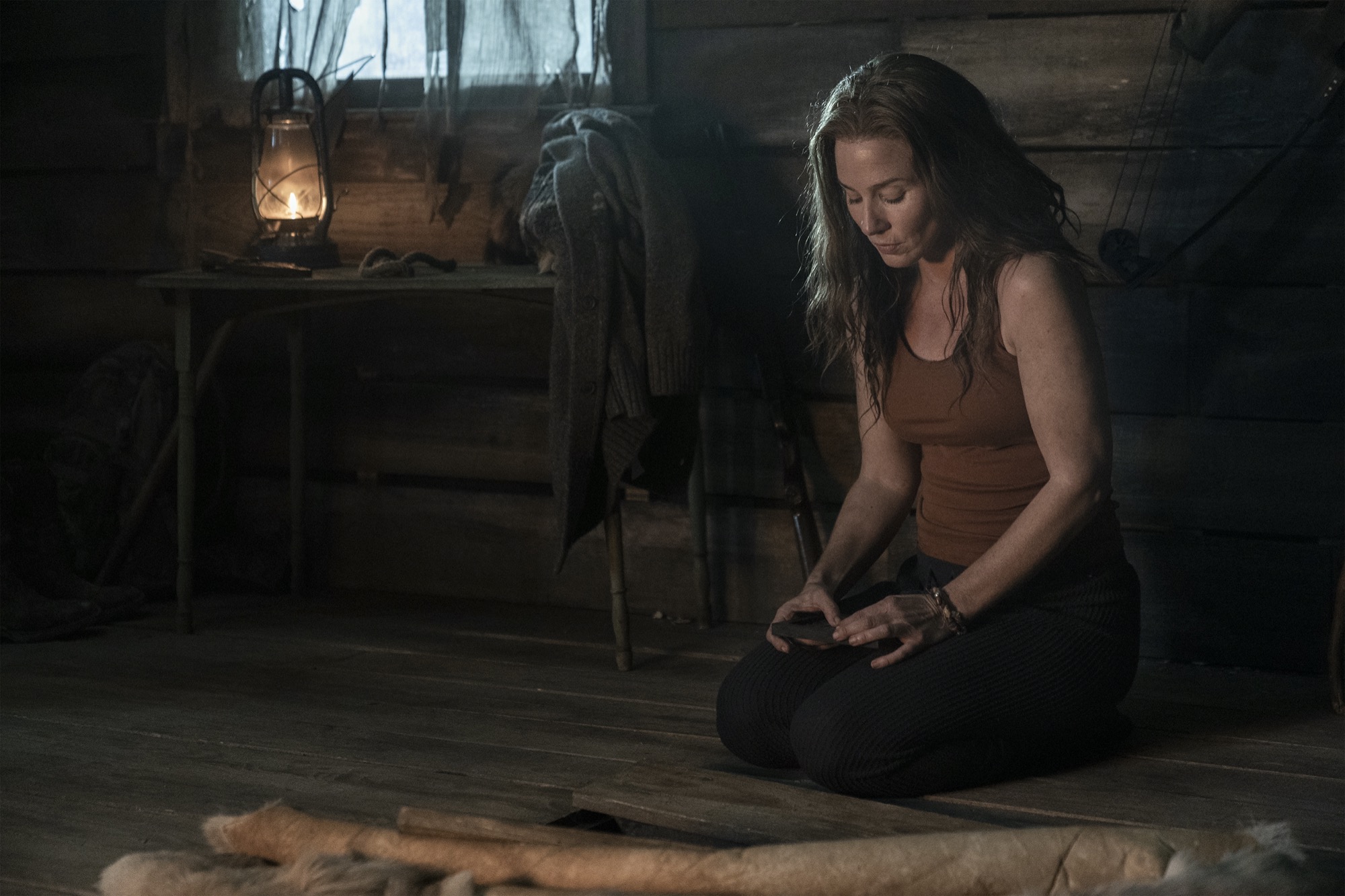 The two spend the next days together fishing, watching the clouds, and yes, even sleeping together. Over dinner, Daryl tells Leah he has to go back out to find Rick, and Leah gets emotional, demanding he choose his search or a life with her. We don't hear his answer, but given that he's moving his camp, it seems like he chose Rick. Carol appears and asks if he's coming back, but he's not. She tells him she plans on going away for a while, but she doesn't want him to lose him out here. "You ain't gonna lose me, I just got stuff to do," he says.
Before he can leave, Daryl returns to Leah's cabin, but she and her picture are gone. Dog's still there, so he leaves her a note in the floorboard: "I belong with you, find me."

In the present, Daryl laments that he should have stayed to help her. Carol asks if he thinks she's still alive but he doesn't know. She reminds him to stop blaming people's deaths and disappearances on himself, including Connie. He tells her Connie's disappearance is on her, "because you never know when to stop." Oof. Carol apologizes for Connie but doesn't apologize for going after Alpha. The two start arguing about their motivations, and Carol says he should have let her get back on the boat. "I shoulda," he says, coldly. Daryl tells her to run if she wants to, but he won't stop her again. Carol says their luck has run out, and leaves him to fix the door.
---
What did YOU think of this week's episode? Let us know in the comments!