"Home Sweet Home"

Maggie stabs a walker against a tree and then walks with Judith, assuring her Michonne is still out there somewhere. The supply wagon departs, revealing Negan behind it. "Hey Maggie," he says meekly, as she ignores him and walks away. "Well shit," he says.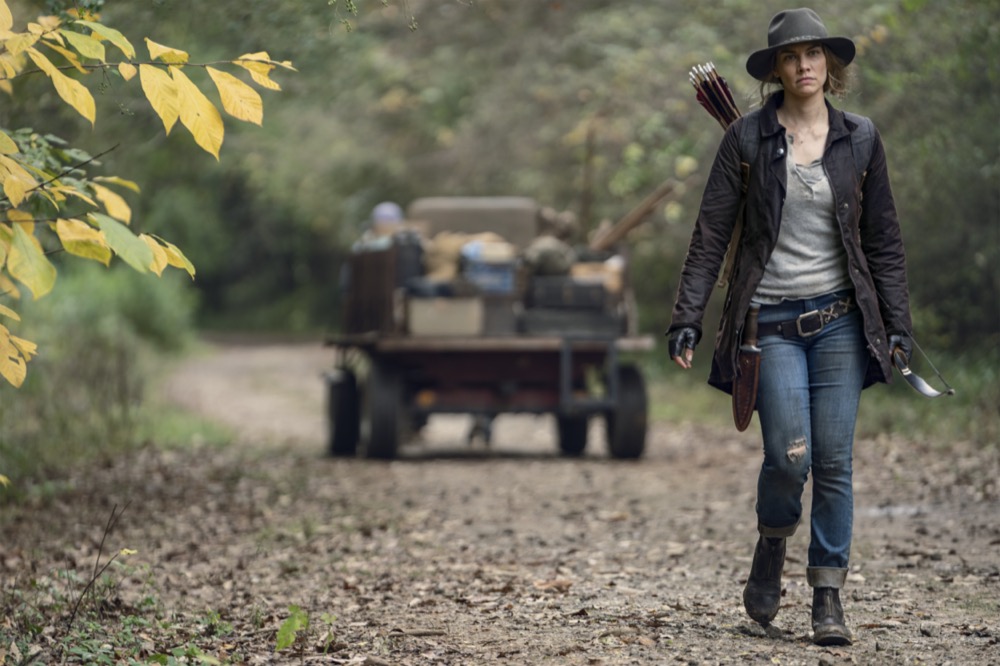 Maggie finds Carol and Daryl in the woods to introduce them to her friends, Elijah and Cole, who she was living with. With their village gone, Maggie suggests they all stay at Hilltop. Whoops. Carol and Daryl take Maggie to her former community, which is still charred. "Negan was with the Whisperers that night," Carol tells Maggie, who asks why she let him out of his cell. Carol explains he was their best shot at killing Alpha. Cole asks aloud if Maggie's now expected to live next door to the man that murdered her husband, and Daryl says they're still figuring things out. Maggie ignores it and thanks Carol for her honesty.
Kelly joins them on their trek to Alexandria and helps them clear walkers out of a small construction site they'll use as shelter. That night, Maggie tells Daryl that her group, along with Georgie, would venture out to other communities to help them better their survival skills. Unfortunately, most of the communities, including one in Knoxville, went south and she lost track of Georgie. Maggie says she almost returned until she made a detour. She recalls telling her son Hershel about how Glenn died and how he asked if Negan got what he deserved. It's then she decided to leave, which is when she ran into another community that needed her as much as she needed them. But, that also went to shit. Daryl says she can always come back home.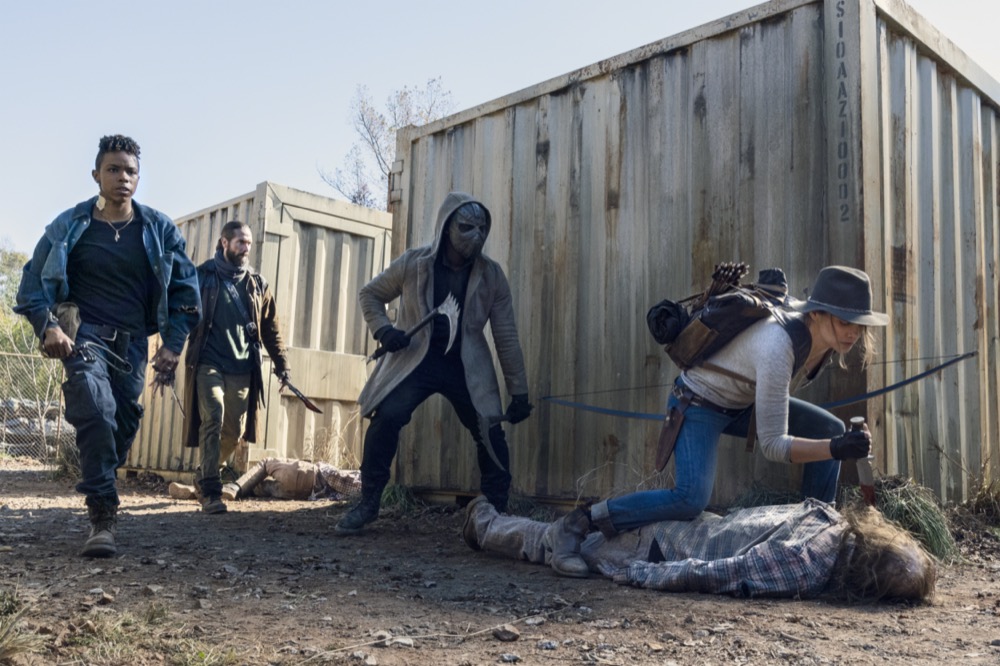 The next morning, Daryl and the gang discover Kelly missing. They track her down at an abandoned truck and Maggie scolds her for running off. Daryl explains her sister's missing so together, they continue their journey. Soon after, they hear a noise and run after it. Cole says, "shit, it's them. They found us." Maggie surveys the burned down building where Hershel was and find charred bodies on the ground. Maggie and Cole say it's "The Reapers". Daryl vows to not stop until they find them and Hershel. The gang splits up and Elijah takes a long look at Daryl as he goes the opposite direction with Maggie. He, Cole, and Kelly hear a noise and take cover. Before they can leave, Elijah has a minor panic attack so Kelly consoles him.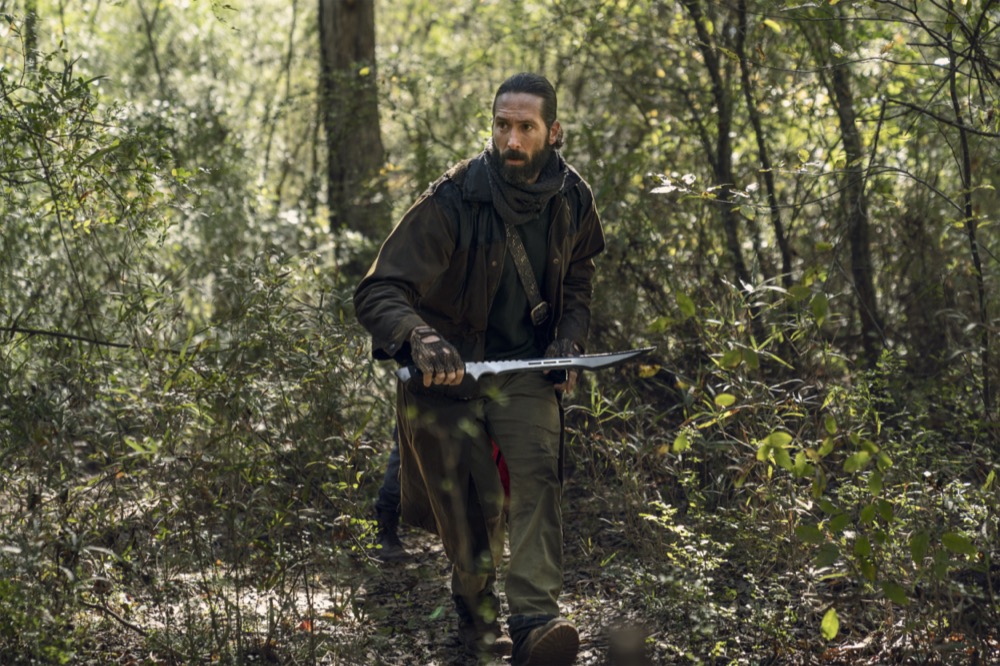 Meanwhile, Daryl captures a survivor, Maya, but Maggie tells him she's one of theirs. Two others join them and assure them Hershel's safe. Suddenly, the man is sniped in the neck, collapses, and dies. The gang sprints through the woods as the sniper continues firing. They turn back and find one of the survivors shot and dying. Daryl knows it's a trap but Maya, who also gets shot, doesn't. She gestures something to Maggie, possibly regarding Hershel. Desperate, Maggie tells Daryl to distract the shooter while she flanks. When she just finds the gun, a man in a ghillie suit attacks. Maggie backs into a trap as Daryl appears and shoots the man with his crossbow. The man pulls out the arrow and throws Daryl against a tree, knocking him out.
Daryl comes to and finds the man removing his ghillie suit. Maggie frees herself as the man approaches. Suddenly, the man's shot with another arrow, this time through the chest. It's Kelly, Cole, and Elijah here to save the day. Maggie demands information. The man drops his knife and says, "Pope marked you." He unpins a grenade in his vest and explodes, but everyone survives. Shortly after, Maggie and the gang finally locate Hershel in a tree, who's safe and sound. That night, Maggie thanks Kelly for helping Elijah and the two bond about sisterhood. Daryl comes in and asks who Pope is, but Maggie doesn't know. The next morning, the gang finally returns to Alexandria, where they meet Carol, who's helping rebuild the fence. "The Whisperers left us a parting gift," she explains. Negan locks in on Maggie, who walks past him.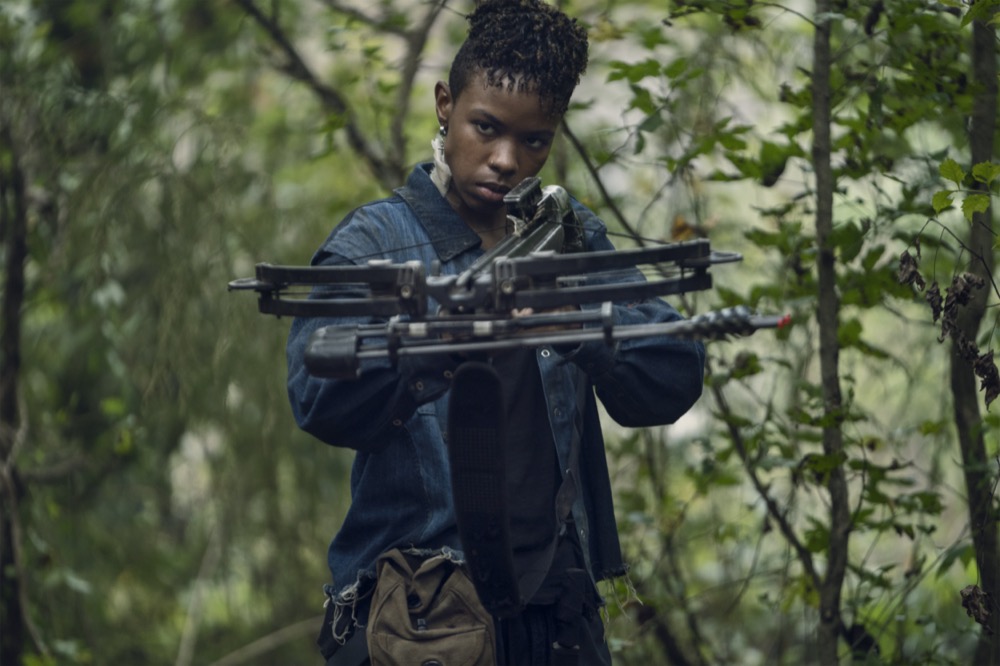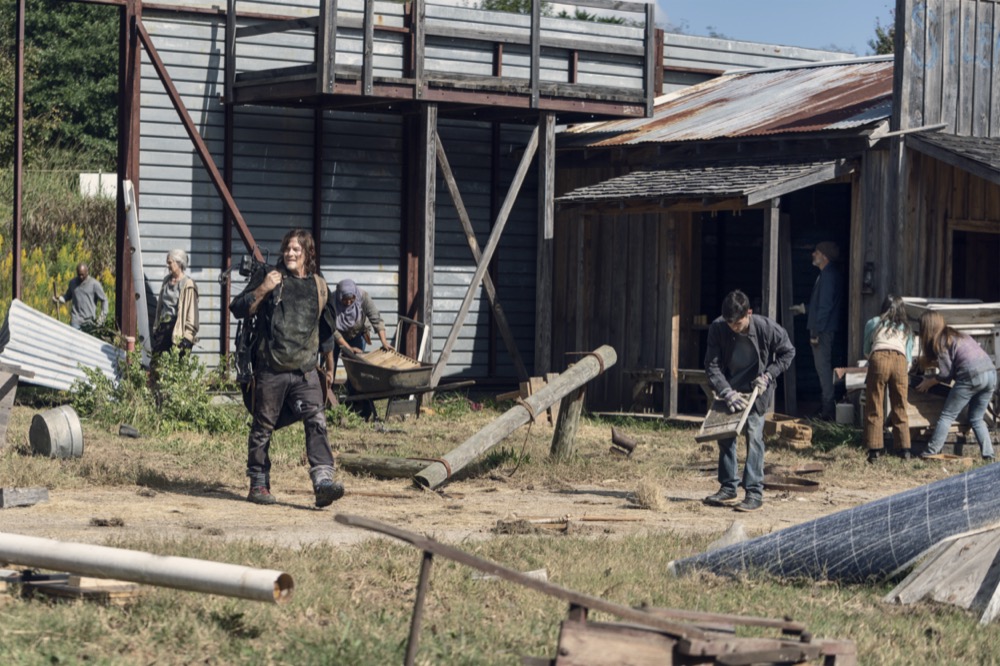 ---
What did you think of 1017? Let us know in the comments!