"A Certain Doom"

As Beta and the horde continue to surround the hospital, RJ and Gracie tell Gabriel they're scared. Gabe assures them they can win if they combine all their forces, including "the others." Cut to the others! Daryl fights walkers, Yumiko and the gang ride towards the meet-up, Virgil returns to Oceanside, Aaron and Alden meet a masked person with two blades, and a stranger opens a lock box. In it is a message catching them up on everything they've missed. That stranger…is Maggie. Walkers and Whisperers alike turn towards Beta, who says, "Begin."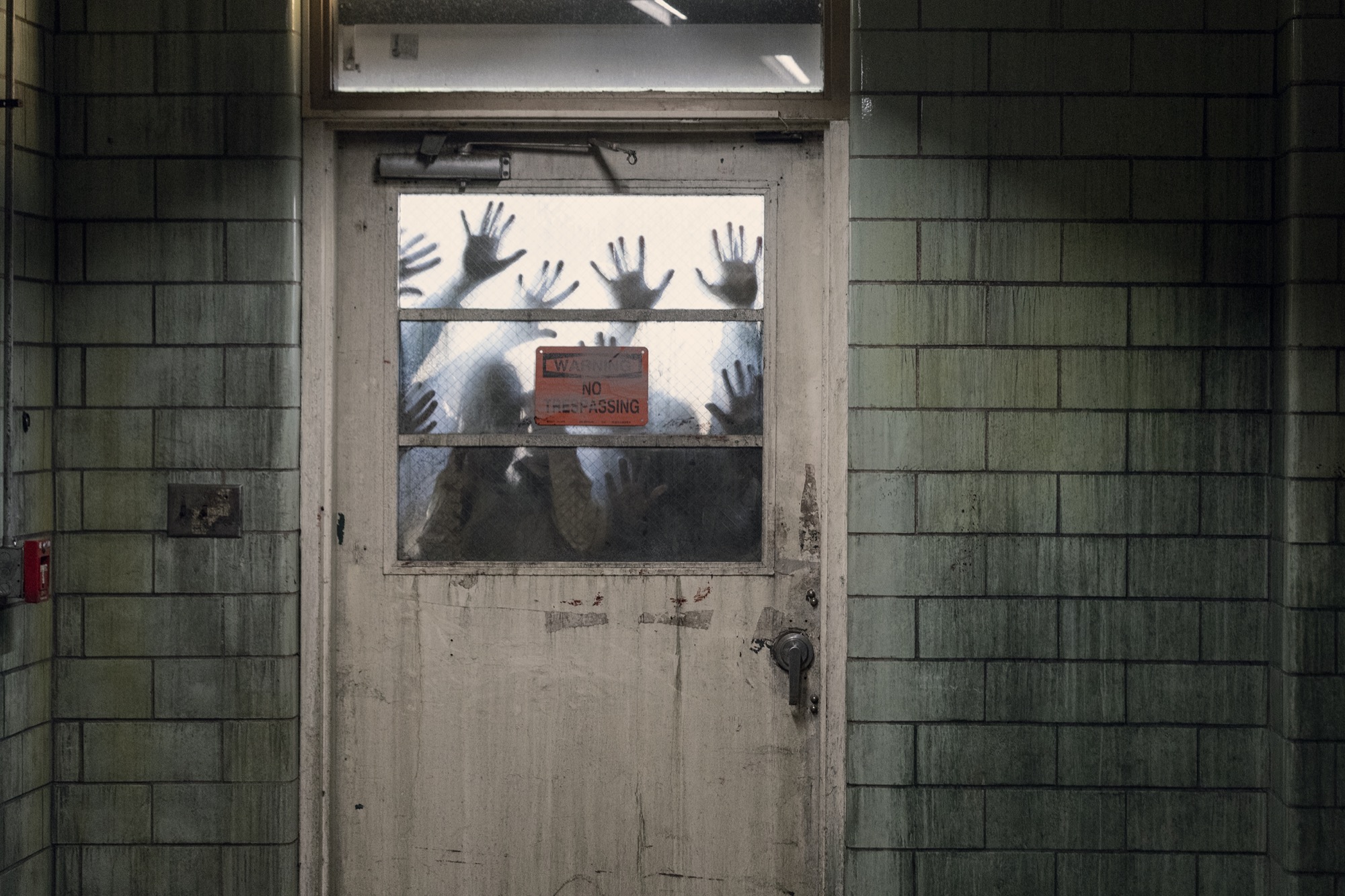 Eugene crashes his bike and laments the fact he'll probably miss meeting Stephanie. He suggests they turn around but Ezekiel refuses to let him quit. In the tower, Daryl updates Carol on Michonne and also voices his frustration that he'll never see her again. "I'm still here," she says. After Gabe goes over the plan with everyone, Diane confronts Carol about her plot nearly destroying Hilltop for good. "Diane, I know, and I'm sorry about that," Carol says, before tucking a knife in her sleeve. Lydia appears and thanks Carol for doing what she did. Carol asks her to find her own way and Lydia clarifies she's not looking for a new mom.
Luke and the others cover themselves in walker guts as Negan walks in clean, explaining to Daryl it would be impossible for him to disguise himself in a herd. "You wanna be a part of this? You got to put your ass on the line like everybody else," Daryl says. So, Jerry lets the walkers in as they slowly blend in among them.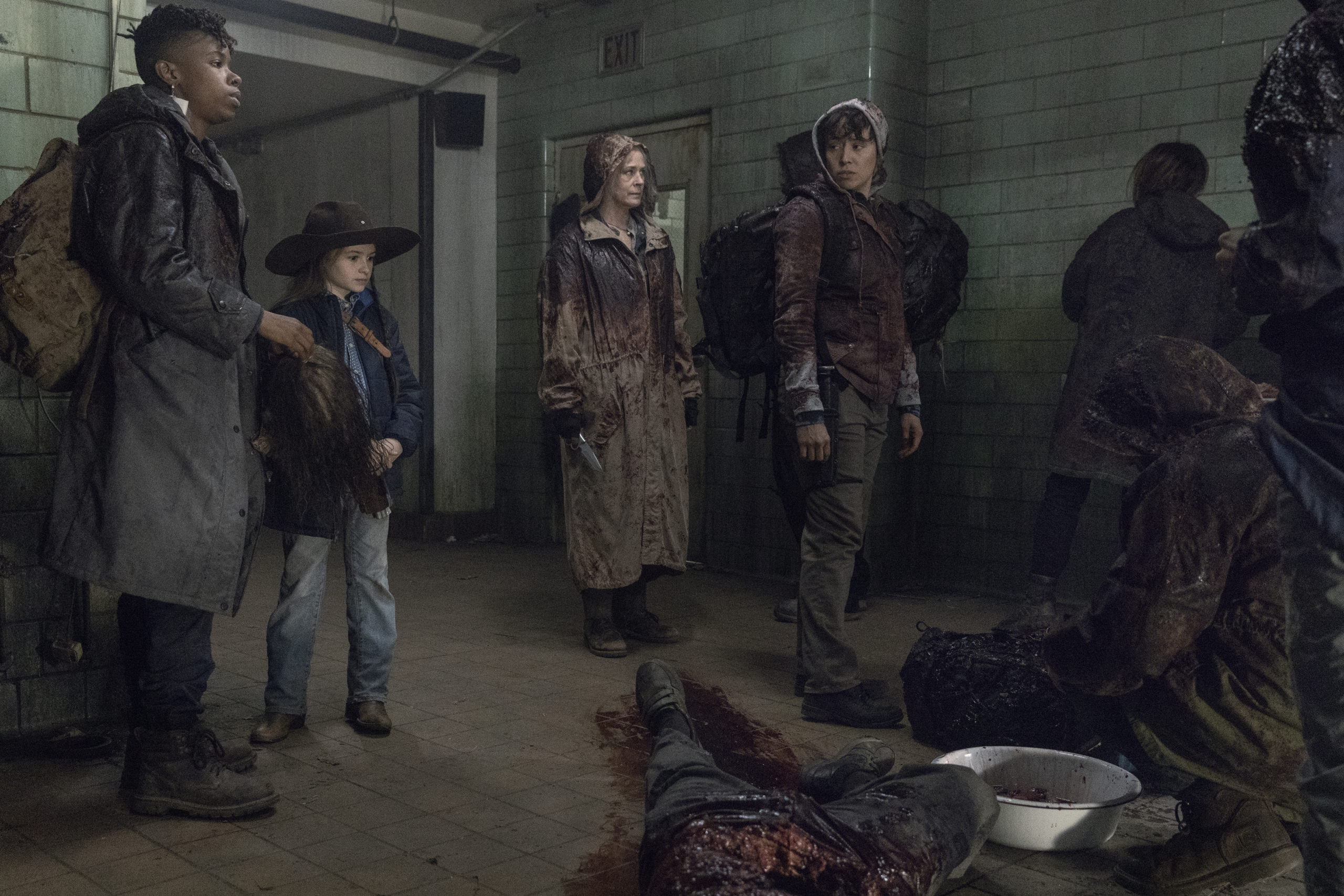 Kelly shuffles through the herd with Daryl, Carol, and the others close behind. A Whisperer unsheathes their knife but is promptly shot by an arrow and consumed. Lydia points out another one and the same scenario plays out. Beta quickly deduces what's happening and commands his people to tighten up, complicating Lydia's efforts to tell them apart. Suddenly, an explosion rings out behind Lydia – it's the Whisperers, they triggered Daryl's trip mine.
Judith warns the others, who swiftly barricade themselves in. Sensing they're probably doomed, Negan hands Lydia a Whisperer mask and tells her to escape. Outside, Daryl and Kelly finally meet Jerry and the gang in the woods as Carol and Beatrice remain in the herd. A Whisperer stabs Beatrice, they stab her, and as they escape the Whisperer stabs her again, causing them both to be consumed as Carol's forced to leave her behind. Carol then notices a "Whisperer" carrying a backpack – it's Lydia. The two of them meet Daryl and keep going. Gabriel and Judith can only watch as someone starts chopping down their door with an axe.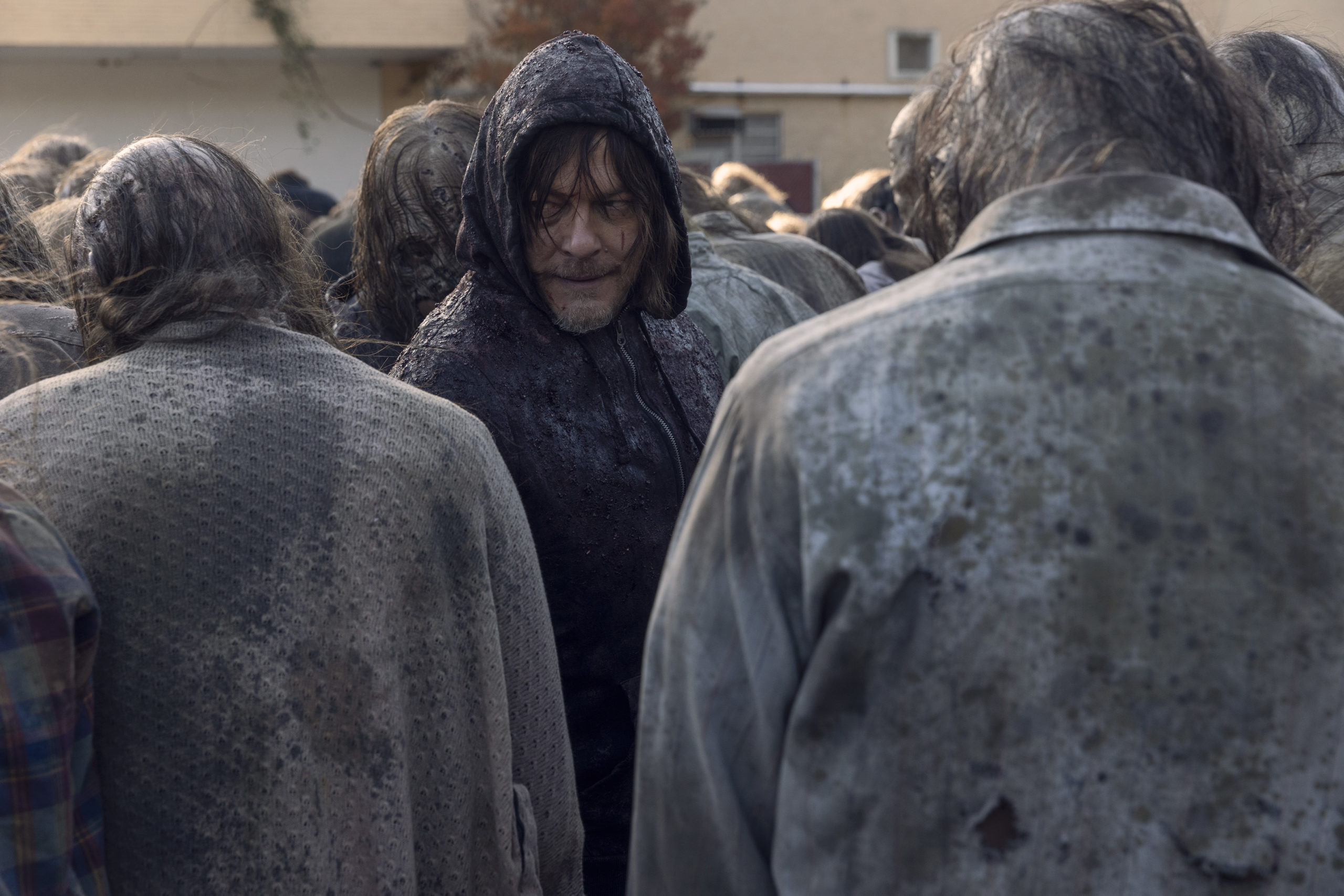 Elsewhere, the gang leads a massive caravan blasting music to lure the walkers (and Whisperers) away from the tower. Back inside, the Whisperer chopping down the door throws a flashbang inside, causing them to duck for cover. That night, the caravan continues to slowly draw the herd towards the ocean. The Whisperers catch up and take out the wheels of the caravan, causing Daryl and the gang to retreat into the woods. The Whisperers axe the speakers as Daryl and the others plan their next moves.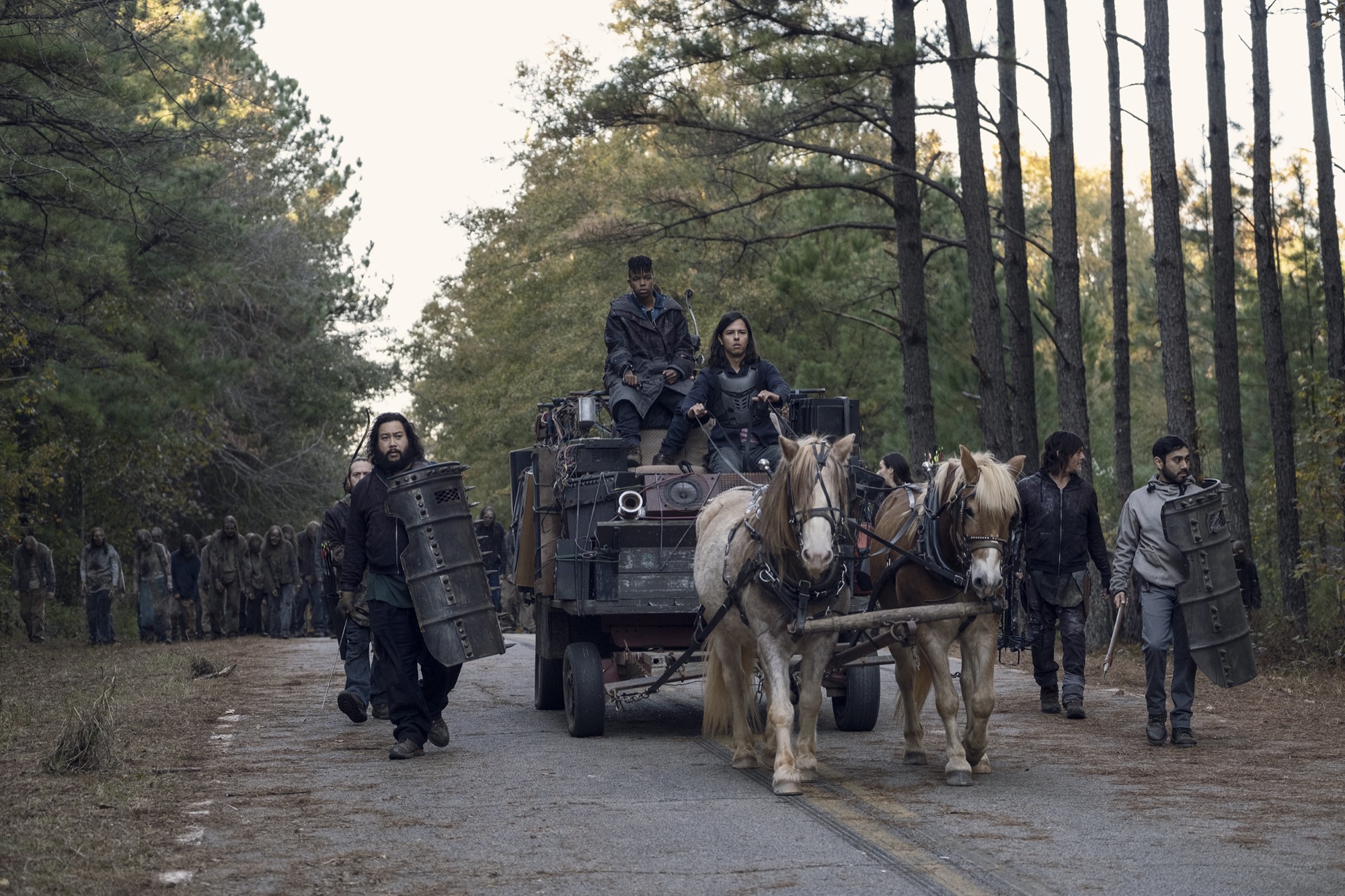 Back inside the tower, Gabriel tells everyone to leave while he stays behind. "Does Rosita know?" Judith asks him. He gives her a Spanish phrase to tell her as she, Rachel, and Scott rappel down the elevator shaft. Once they've escaped, the Whisperers break in and hold Gabriel down. Miraculously, the stranger with two blades comes in and saves him, followed by Maggie, who shoots the last one with an arrow. "It's OK, he's with me," Maggie tells Gabe before hugging him.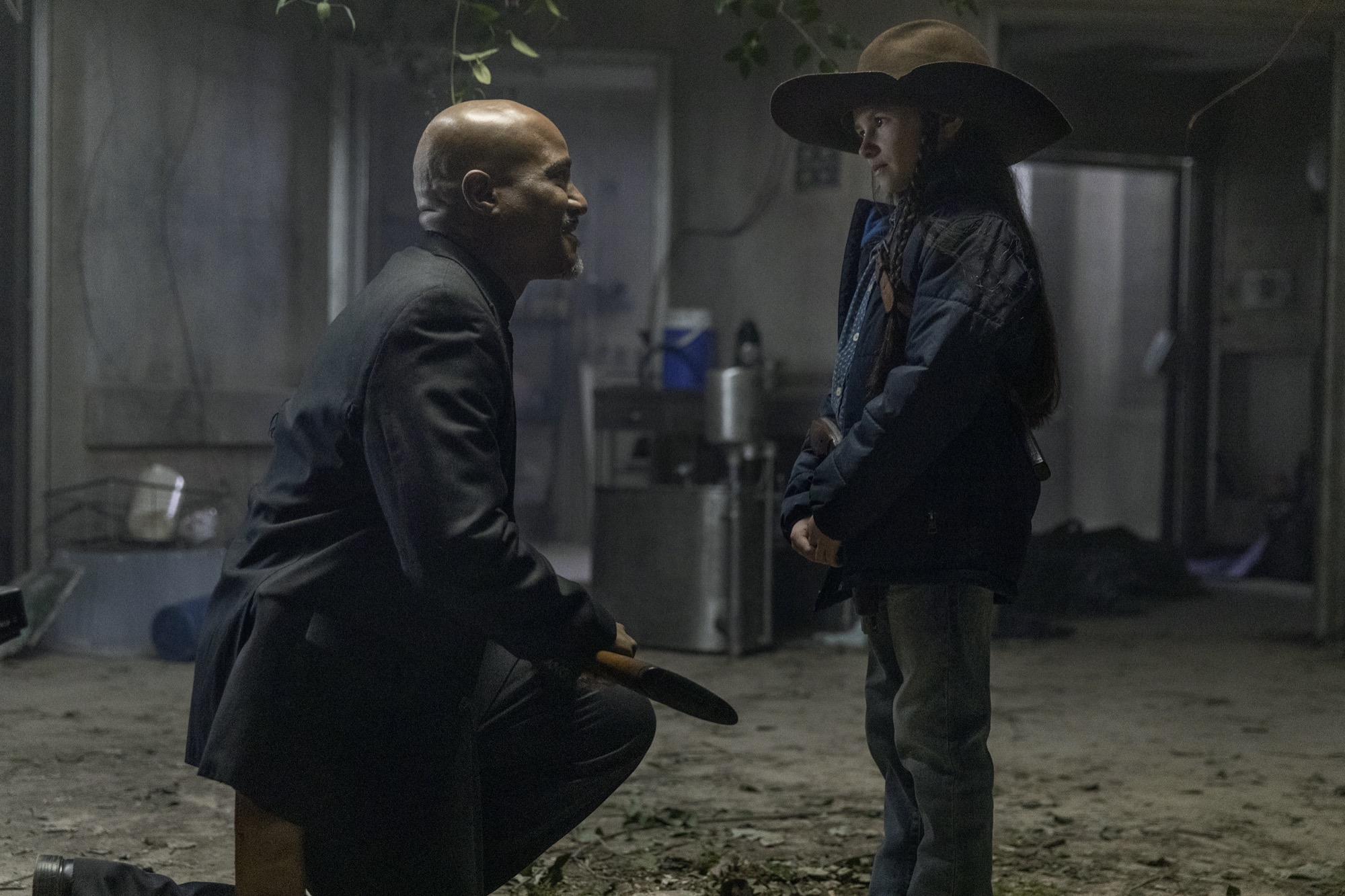 Daryl and the gang take out the Whisperers surrounding Beta. He spots Lydia and starts walking towards her when he hears, "Hey, shit head," and turns to find Negan in a Whisperer mask. Beta sprints full speed towards Negan, knocking him back. Beta takes out his knife and says, "For Alpha," when Daryl appears and plunges two giant knives in Beta's eyes. Beta painfully pulls them both out and hears the walkers telling him, "Walk with us, it's time." Beta lets them tear off his mask as they consume him. Negan recognizes him as the country star and asks Daryl if he knows who that is. "Yeah, nobody," Daryl responds.
The next morning, Carol and Lydia lead the horde to the edge of the quarry. Carol tells Lydia to go, saying, "My choice, my finish." Carol stares at the chasm and prepares to sacrifice herself as walkers around her start falling off. Lydia then grabs her hand and pulls her to safety as the walkers drop around them. Carol sobs and thanks Lydia, who tosses her Whisperer mask and old lifestyle off the cliff.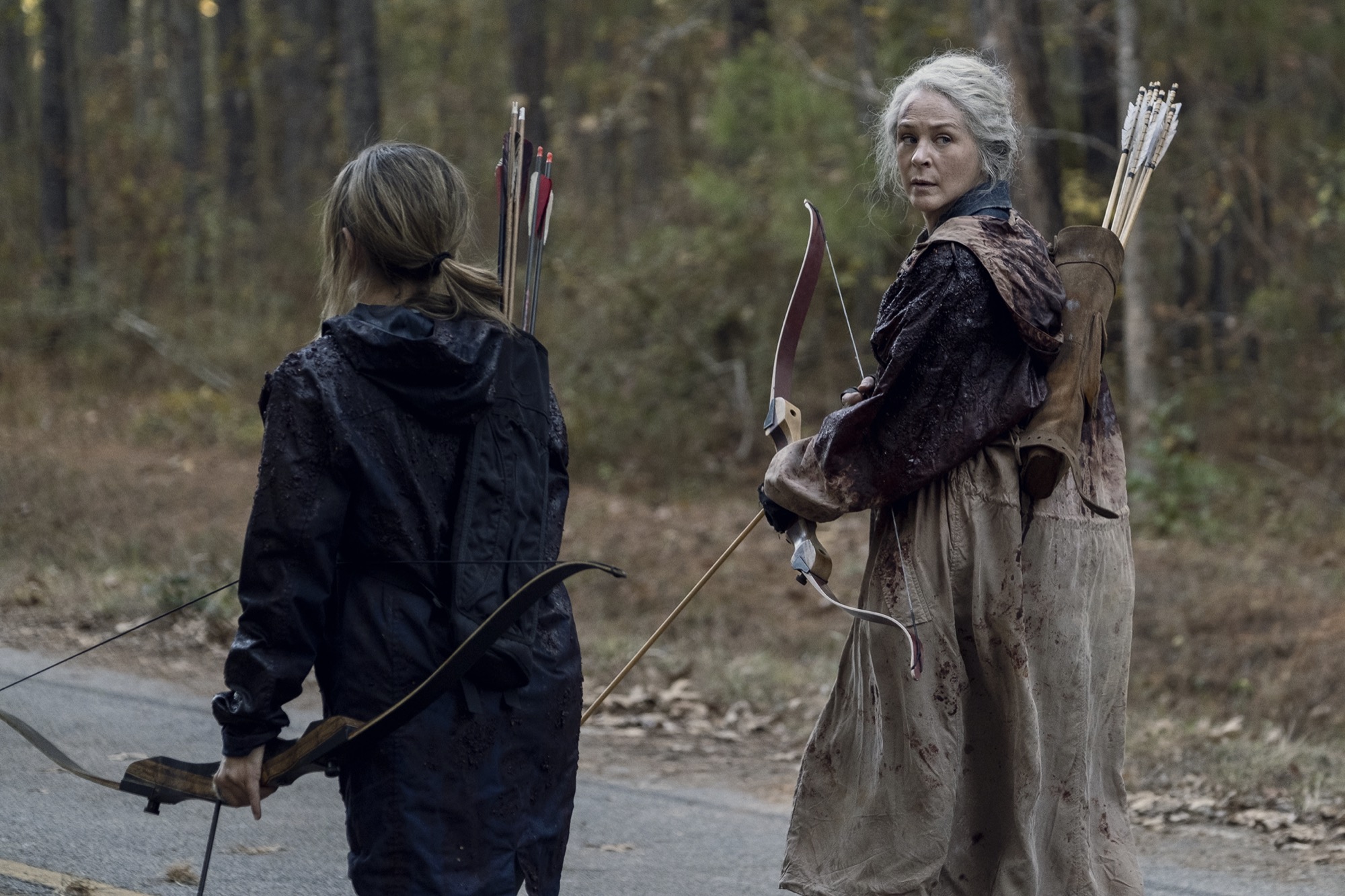 The allied communities convene in the woods. Aaron takes Gracie to meet Maggie and soon Judith appears. Maggie bends down and the two embrace. Carol and Lydia return to tell everyone the herd's gone. Lydia asks Negan, "You still here?" He smiles and responds, "For now." Daryl asks Carol if she got what she wanted and she says no, so Daryl says, "You still got me." He mentions New Mexico as an option and she says, "We still have things to do here."
Elsewhere, Connie, who was presumed dead, awakens in the forest, dirty and bloodied. She hobbles through the trees and collapses. A horse approaches and she looks up – it's Virgil. That night, Eugene, Yumiko, Ezekiel, and Princess finally arrive at the train yard, which looks abandoned. Eugene shouts into the void that they're here but hears nothing. Zeke suggests they stay in one of the cars but Eugene says it's too late. Still, he says they should keep going until they find Stephanie and her community. "Damn, you're really one horny dude," Princess jokes. Suddenly, flood lights turn on and dozens of armed white-armored soldiers surround them. A voice commands them to drop their weapons and they do.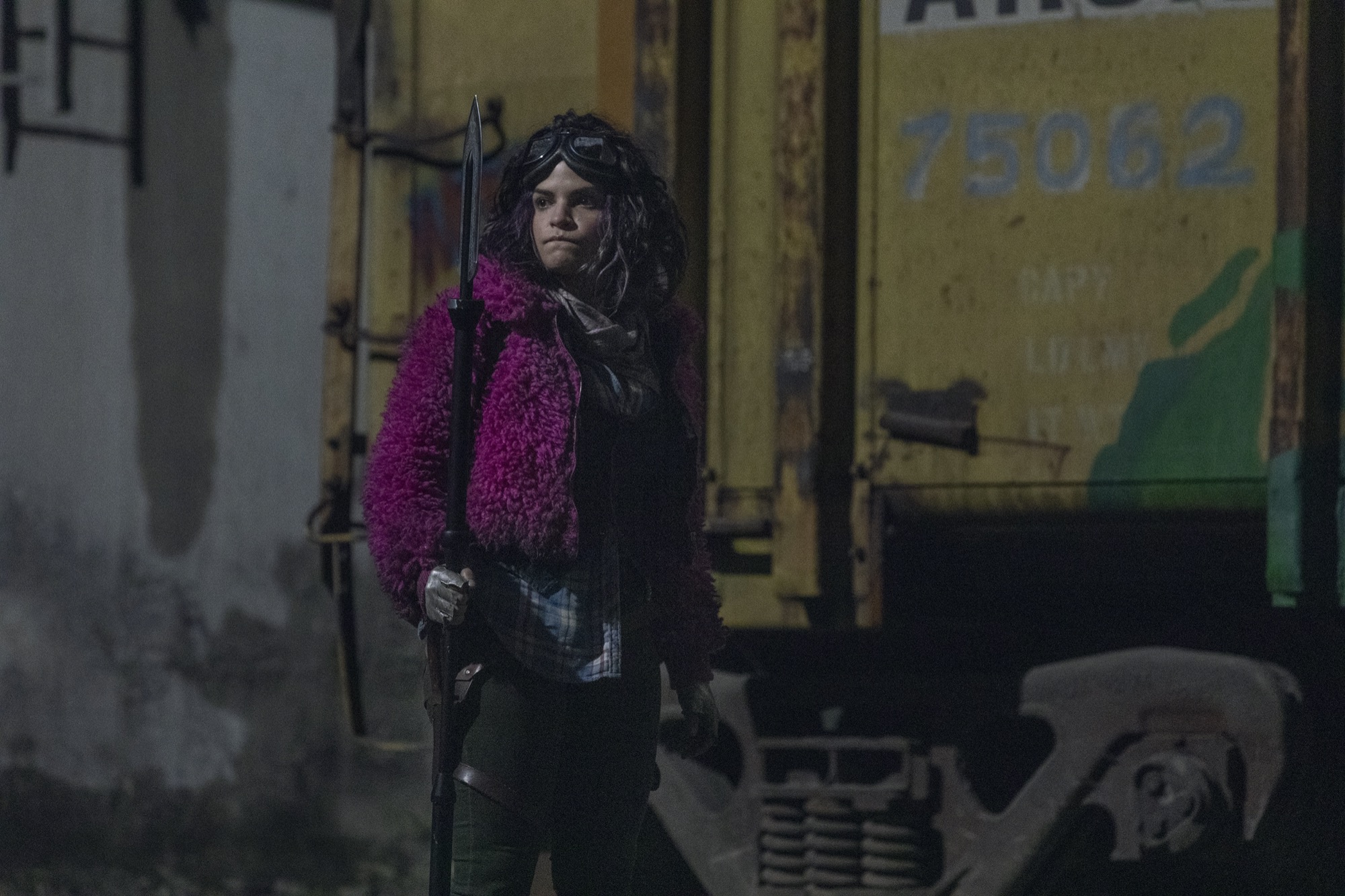 ---
What did you guys think of the finale? Join our discussion in the comments!