"What We Become"

Dream flashback: Michonne travels through the woods with her two armless walkers, just as she did when we met her in Season 3. She watches Andrea getting chased by walkers nearby, but instead of helping her, she walks away.
Back to the present, Michonne and Virgil arrive on the island to search for munitions. Virgil stops to pick some flowers while Michonne reminds him of the task at hand. They travel to a U.S. Navy Research Facility, which contains leftover supplies and a map charting out different groups. Michonne unsheathes her katana and asks Virgil where his family is, so he takes her to their graves. Michonne is furious he lied and threatens to search for the ammunition herself. Virgil stops her and reveals his true agenda – he needs her to kill his undead family in the facility for closure.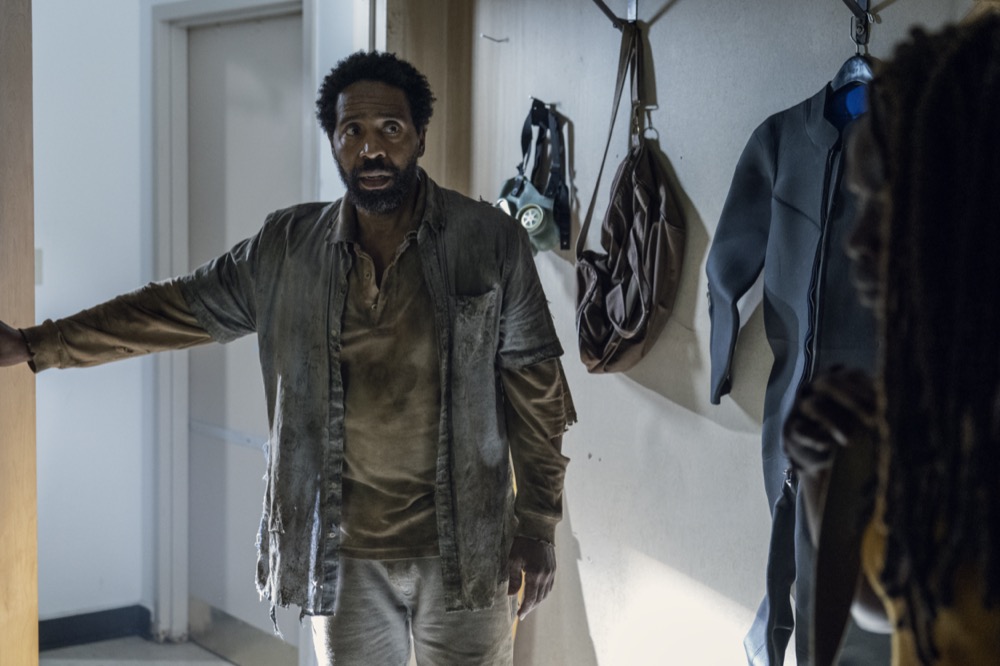 Michonne leads Virgil inside, where she kills walkers as he hides behind a gurney. Once they're taken care of, they find a room where half a dozen walkers are hanging by nooses. It's there Virgil finds his family. Later, Michonne helps Virgil bury them but demands he take her to the weapons. He asks to push until tomorrow morning and she reluctantly agrees. That night, Michonne searches the place on her own. She hears people whispering and then spots Virgil standing behind her. He locks her in the room and says, "I trusted you, and you ruined it!"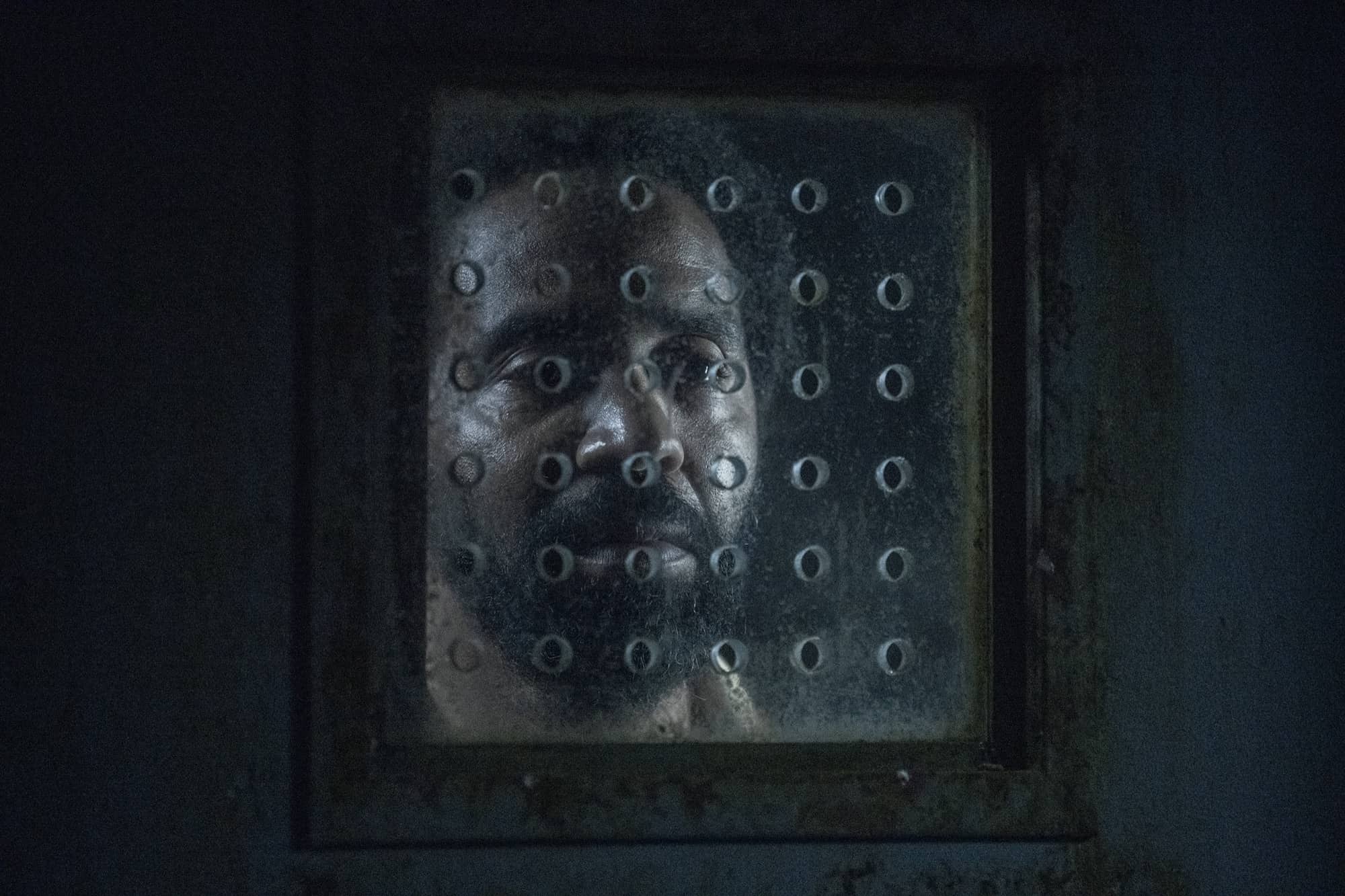 The next morning, Michonne hears four prisoners on the other side of the wall. "Don't bother trying to escape, it's booby-trapped," they tell her. They explain they used to be friends with Virgil after they took him in. Fights broke out when rations went low and Virgil's family died after they locked everyone in the facility, causing him to snap. Later, Virgil visits Michonne and she demands he let her out, but he won't. She then begins hallucinating, seeing her hooded self walk past her. "What did you do?!" she yells at him.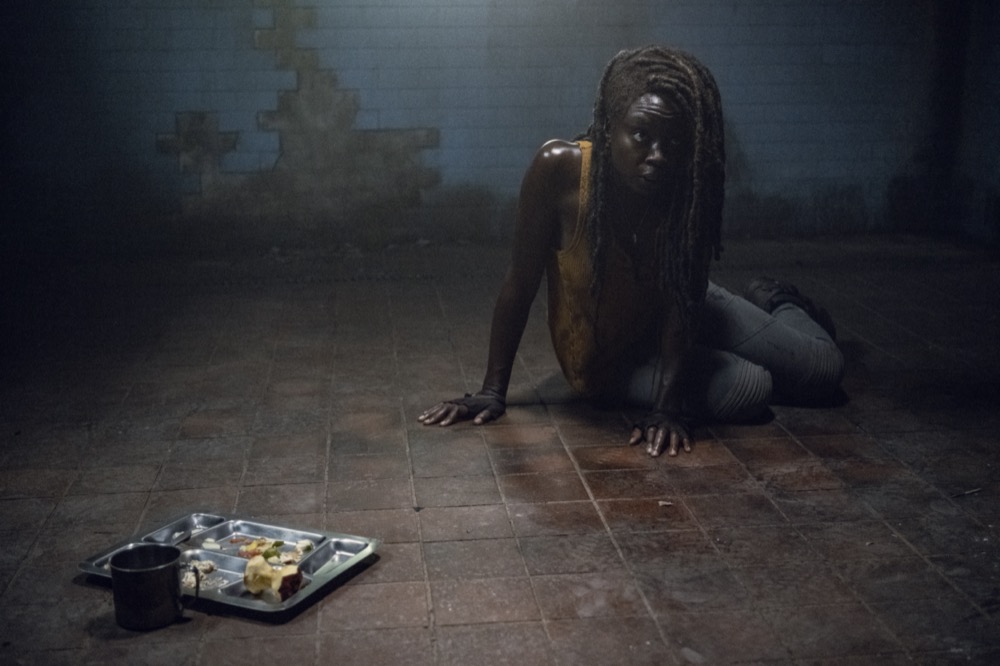 Michonne pleads with Virgil again to let her out. She hallucinates voices and then becomes extremely cold. She sees Siddiq, who tells her to let the medicine do its work. "You were supposed to protect us…you let me die, and Rick and Carl" he screams at her. Siddiq vanishes and in comes Michonne's former self, who hands her a chain. She gets taken back in time to Andrea's attack, where she chooses to walk away.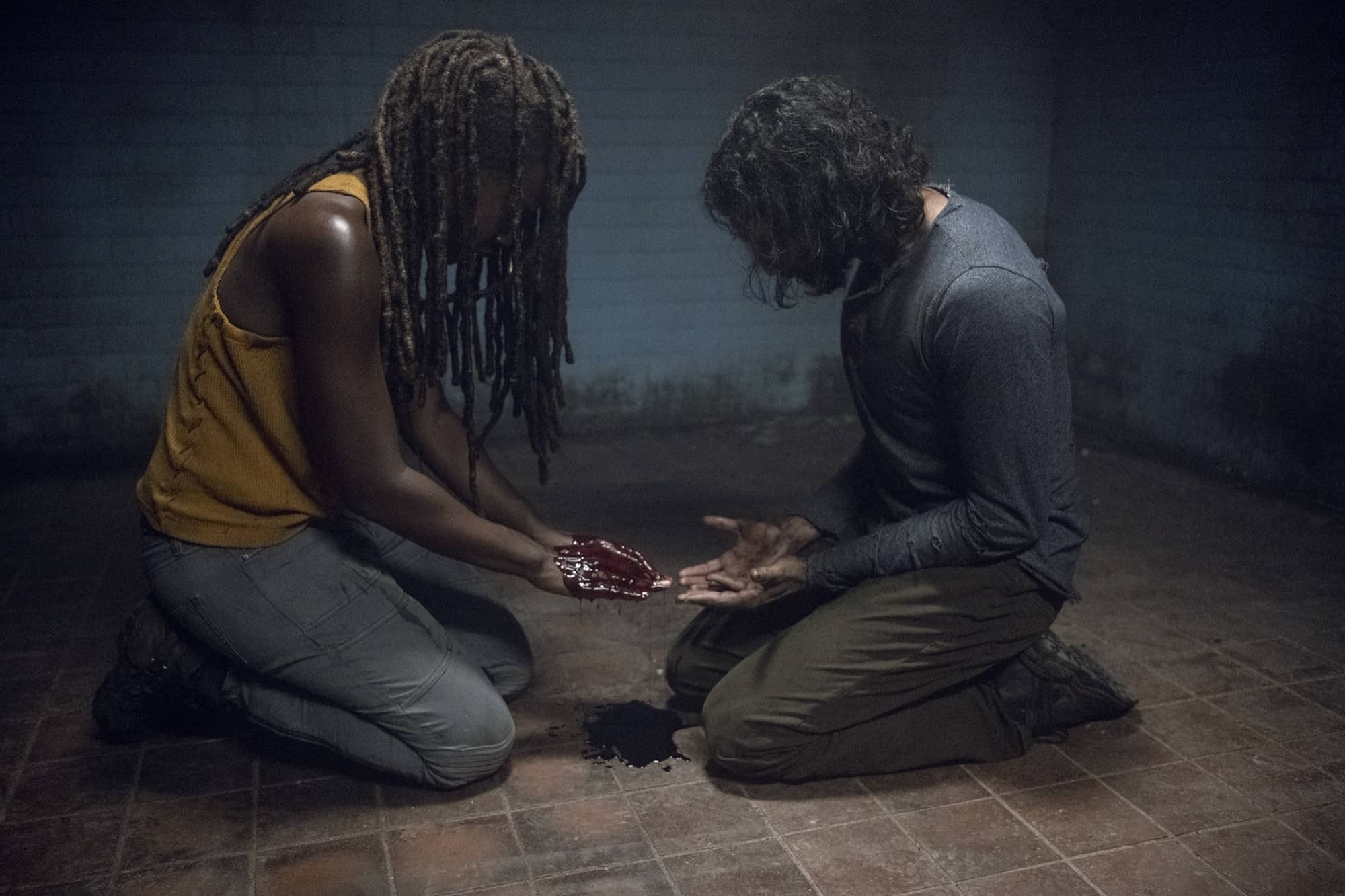 Later, she sees Daryl on the road and begs for them to help her, but he keeps going. Afterwards, she gets surrounded by Negan and the Saviors. She takes a swing at him and he pushes her down with Lucille. "I like you and your big old massive lady nuts," Negan tells her. Laura tosses her an apple and Michonne decides to join the Whisperers.
Flashback – we're back at the satellite Savior compound from Season 6. Glenn and Heath kill Laura in her sleep but Michonne wakes up and shoots and kills them. Rick takes out the Saviors and Michonne's able to escape. Shortly after, we see Negan at the lineup. He stops his eeny-meeny chant and instead lets Michonne do the honors. She then points Lucille at herself in the lineup and swings. After that, we see Michonne get shot by Daryl's crossbow in the woods. He kicks her down and then she sees Rick shoot her in the head.
Back to the present, Michonne vomits in a bucket as Virgil offers her water. She grabs the fork and stabs him in the leg as he escapes. She frees the other prisoners and they run outside, where their boat is burning.
Michonne tackles Virgil in the woods and holds a knife to his throat. He begs for his life as the prisoners yell for Michonne to kill him. Despite their pleading, Michonne can't bring herself to kill him. "Taking his life, you lose more of yourself…but mercy, you get something, peace" she says. Still, one of the other prisoners pistol whips Virgil and throws him into their room.
Michonne tells him there's "not a goddamn thing anywhere" after searching the place. He claims there might still be weapons out there and reveals when HE trips, he gets to see his family. Michonne doesn't care, she orders him to let her get her stuff back. In the room, Michonne finds Rick's boots. She holds them close before slamming Virgil against the door, asking, "Where the hell did you get these?"
Virgil takes Michonne to a docked Navy ship and says the boots washed up during a storm. She handcuffs him to the wall and begins searching. She flips through papers before finding an iPhone with her and Judith scratched on the screen along with "rick" above it. Michonne breaks down in tears and Virgil says, "Holy shit, that's you." Michonne turns to him and accuses him of trying to find her at Oceanside. He says he's never seen it before as Michonne becomes more hysterical. Virgil says he doesn't know Rick, but maybe if they can get the boat working they can find him.


Later, Michonne asks Virgil to come with her and the prisoners to find Rick, reminding him it's the last boat, but he says he promised his family flowers every day. So, Michonne and the gang sail away as Virgil stays behind.
On the journey, Michonne radios Judith and explains she's helping the islanders get back home. Judith tells Michonne that they got the horde and Alpha can't harm them anymore. Michonne then tells her she found something of Rick's and that he might be alive. "If you think he's alive you have to go find him," Judith says. Michonne refuses but Judith insists. "We're OK," Judith says, as a tear rolls down her cheek. Michonne hears that they're at the coast, so she tells Judith she's going to head North and try her on the walkie every morning. They say they love each other and stop transmission.
Michonne heads through the woods and cuts the arms and jaws off two walkers, chaining them behind her like the old days. Suddenly, she comes upon two strangers asking for help. "They'll leave without us," they say. When Michonne asks who, they point towards a large clearing, revealing a massive caravan in the distance. Michonne remembers when Rick took her in at the prison, so Michonne kills her walker pets and walks the strangers towards the caravan.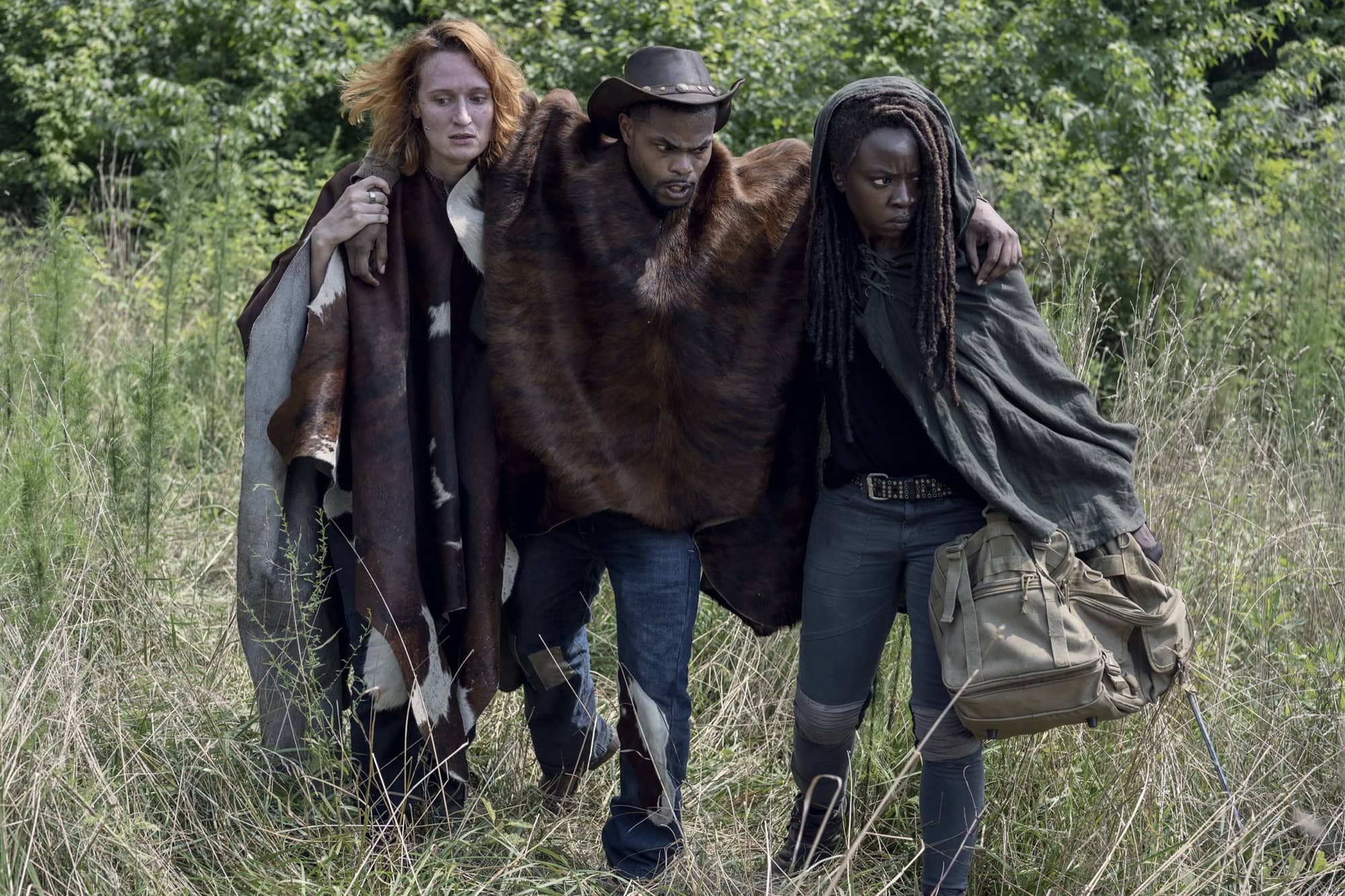 ---
What did YOU think of Michonne's last episode? Let us know in the comments!