"Walk With Us"

Alpha's attack on Hilltop continues. Daryl swings his mace, Aaron slashes his sword, and Earl releases the catapults. Lydia falls back as Ezekiel leads the women and children away. Suddenly, he notices Judith is missing. Cut to Judith, who's cutting down walkers before she stands above a Whisperer. She can't do it, so Earl finds her and leads her away. Eugene sprints towards the house as more explosions hit the Hilltop. Yumiko draws her bow and spots Magna walking among the walkers covered in blood. Carol watches in horror as the Hilltop burns.
The next morning, Negan, Alpha, and the Whisperers survey the damage. Negan puts a dying Hilltop soldier out of his misery but Alpha reminds him to go for the heart so they can replenish the guardians. She then tells Negan the job isn't done until she finds Lydia. Beta says she's not among the dead and he won't rest until he finds her. Negan calls Beta his comic nickname, "Frowny McTwoKnives," and says he's at his service. Beta orders him to herd the remaining walkers; Negan reluctantly agrees and calls him "a dick" under his breath.
Elsewhere, Alden struggles to keep Adam calm so he hands him over to Mary. Adam immediately stops crying and Kelly looks at Alden like, "I told you so." In the woods, Negan gives up trying to herd the walkers and decides to bash their heads instead. Suddenly, he spots Lydia through the trees. He chases after her until he sees Aaron, who's caring for an injured Luke. Aaron's furious to see Negan dressed as a skin. Negan tries to explain but Aaron's not having it. "Enough of your bullshit!" Aaron screams. Walkers quickly arrive so Negan leaves him and finds Lydia. She tries to attack him but he blocks it, telling her to stop.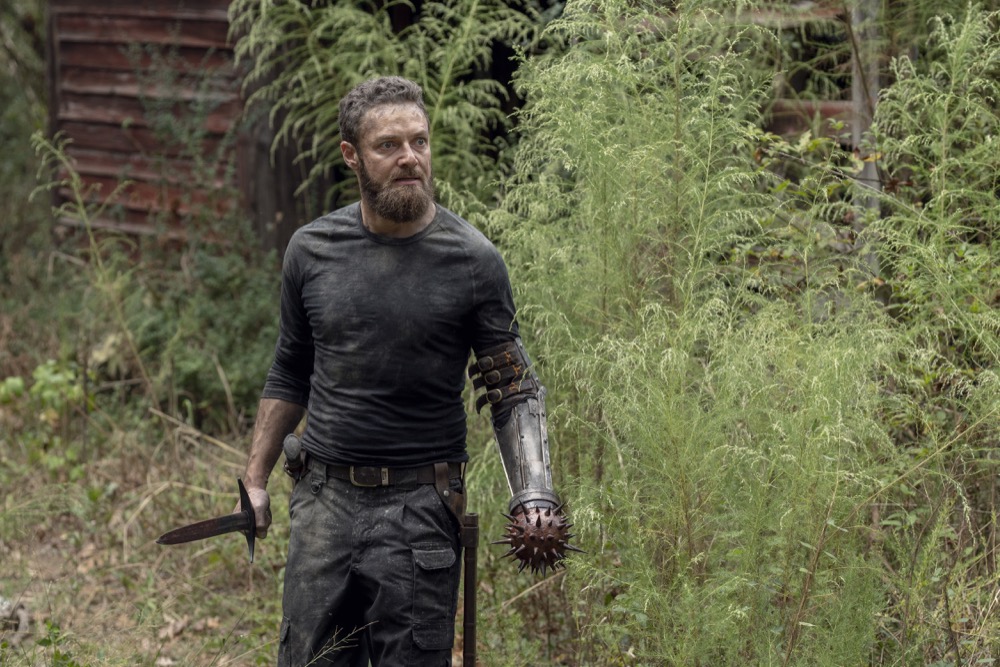 Alden asks Mary about her sister and tells her she's good with Adam. Suddenly, walkers appear and the three of them make a run for it. Alden, Kelly, and Adam hole up in a van as Mary locks them in and takes the walkers on by herself. After she's done, Beta appears and stabs her in the stomach. She hits him as he asks if she'll walk with them. "Never!" she screams before ripping off half his mask. Beta pulls the knife up through her chest and leaves her by a tree. A Whisperer spots Beta and recognizes him. "It's you!" he says, before Beta kills him. Mary reanimates but gets shot in the head by Alden nearby, causing Beta to flee.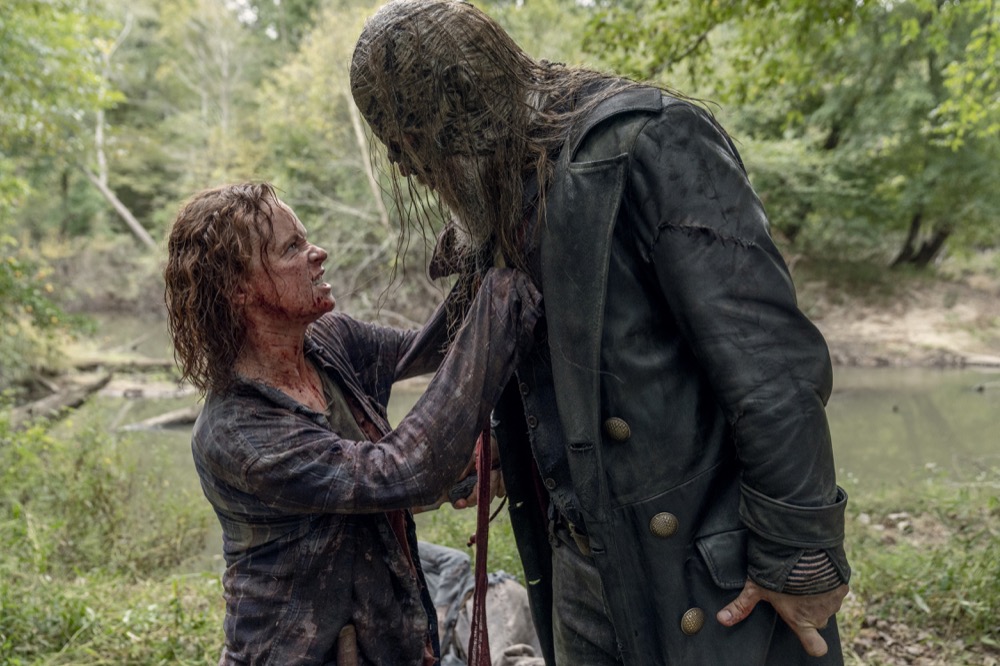 Carol eavesdrops on Magna as she tearfully tells Yumiko how she lost Connie while blending in with the horde. Carol prepares to leave so Yumiko confronts her, asking if she'll abandon her again. When she doesn't answer, Yumiko punches her in the face. Eugene then checks on Carol, who laments he might not be able to make the meeting he planned with Stephanie. "Eugene, just go to her," Carol advises. As he walks away, Carol notices a gun hidden in the leaves.
Daryl, Rosita, Jerry, and the others arrive at an empty rendezvous as Nabila breaks down over her children. In a nearby cabin, Earl comforts and gives water to Judith, RJ, and Jerry's kids. He goes into the other room, hammers a giant nail into a table, and rolls up a sleeve to reveal a bite mark. Judith sees it and says, "You lied to us." Earl tells Judith she's brave and asks her to keep the kids safe from him.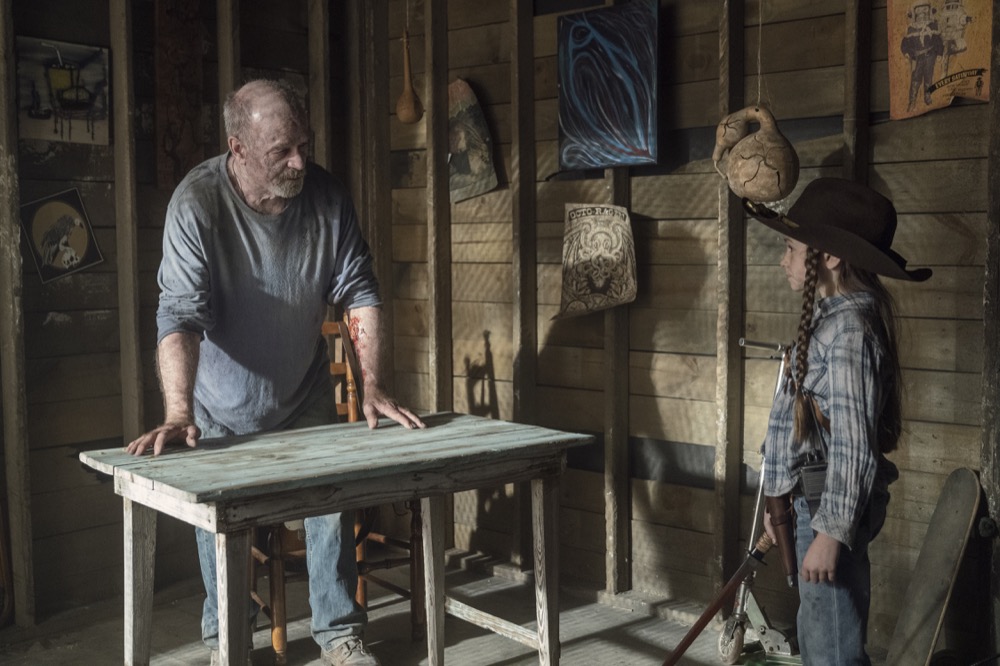 Back at (what's left of) Hilltop, Jerry and Daryl find Ezekiel alive in the rubble. He panics and tells them Earl has the kids. Back in the cabin, Earl kills himself by slamming his head into the wooden spoke. Judith inspects him as Earl reanimates and grabs her. Daryl, Jerry, and Ezekiel arrive outside and prepare for the worst. Thankfully, all the kids run out to greet them. Daryl goes inside to find Judith sitting next to Earl's body. He takes away her katana and puts his arm around her.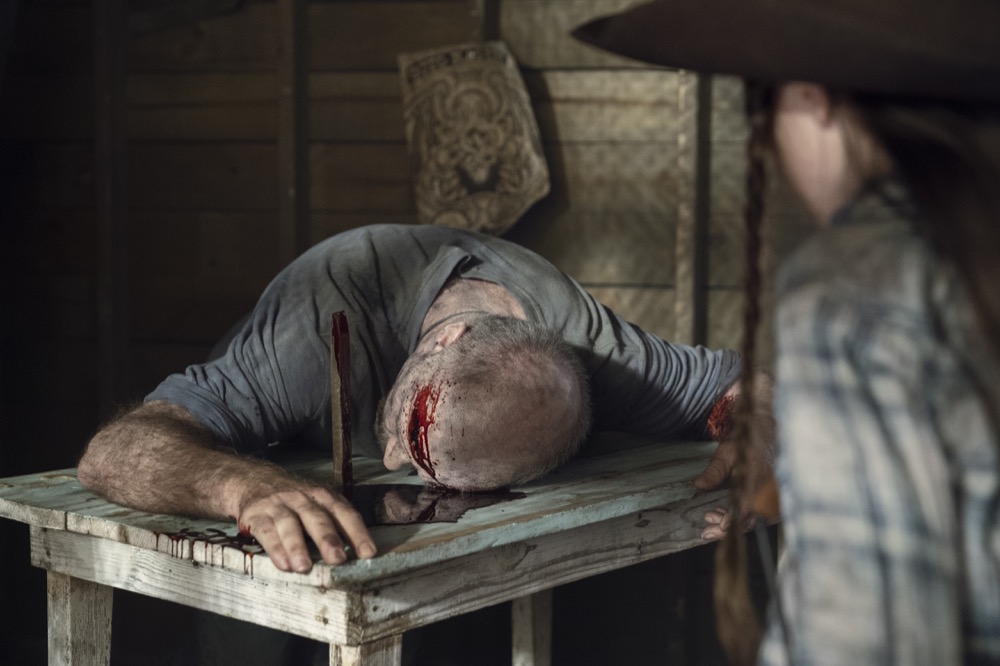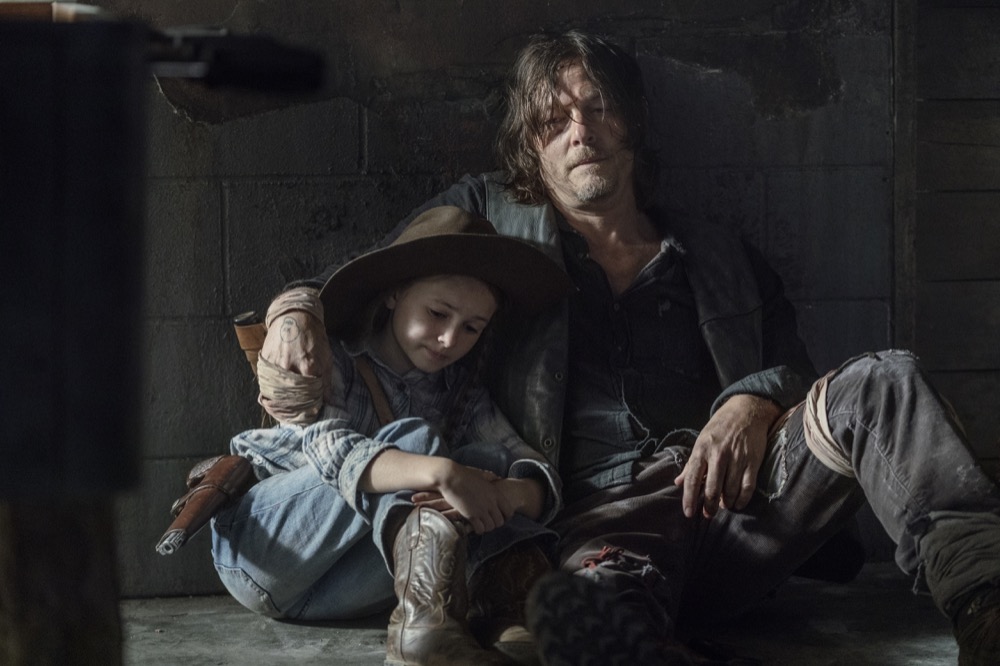 Negan tells Alpha he found the thing she's looking for. Alpha washes her face and happily follows him towards her daughter. On the way, Alpha praises him for coming through again, asking him to be her lion. He then tells Alpha he lost his wife from pancreatic cancer, causing him to stop feeling things. Then, Negan flips it and accuses Alpha of pretending, calling her whole philosophy bullshit. She says Lydia getting killed is her destiny.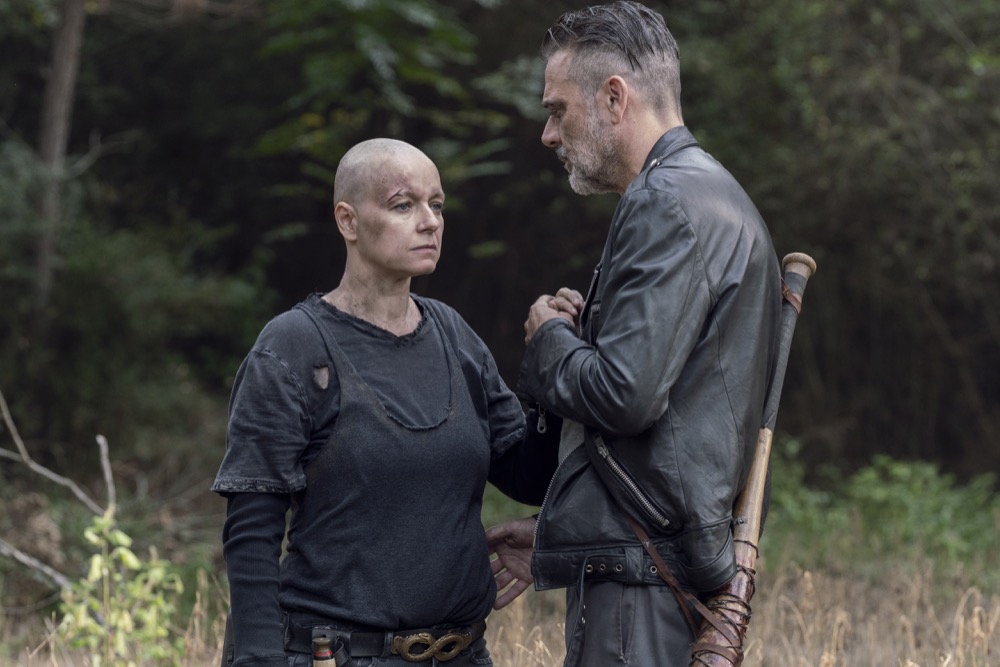 Lydia starts freeing herself from her restraints. Negan kisses Alpha before she heads to the cabin. Alpha opens the door and doesn't find anyone inside. Lydia simultaneously opens her door and doesn't find anyone outside. Alpha turns around and Negan slits her throat, holding her as she bleeds out. He kisses her one last time before she finally dies. Later, Negan tosses Alpha's reanimated head onto the ground at Carol's feet. "Took you long enough," Carol says.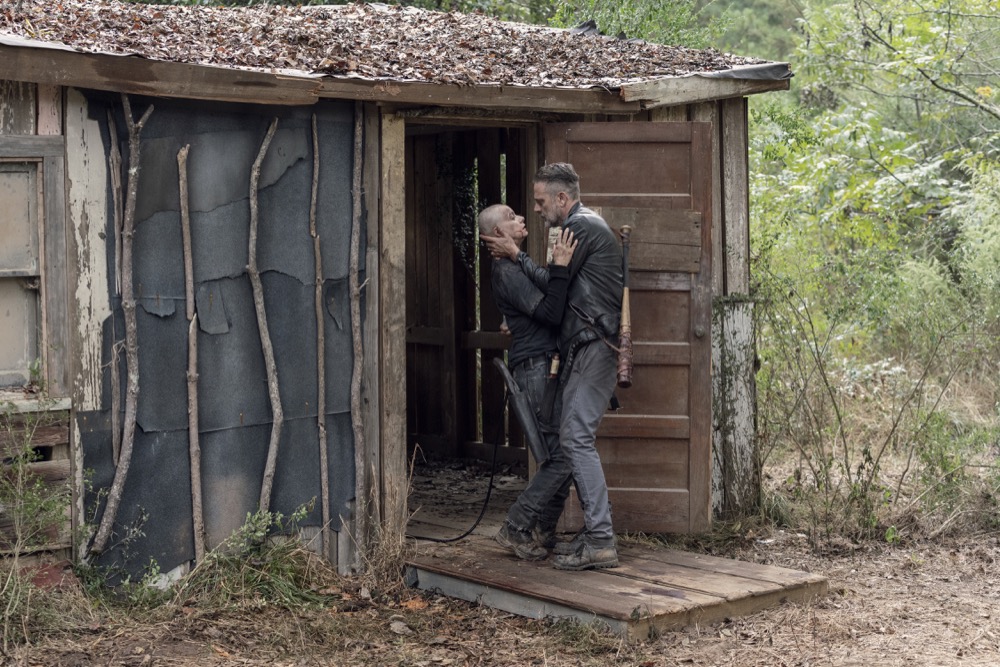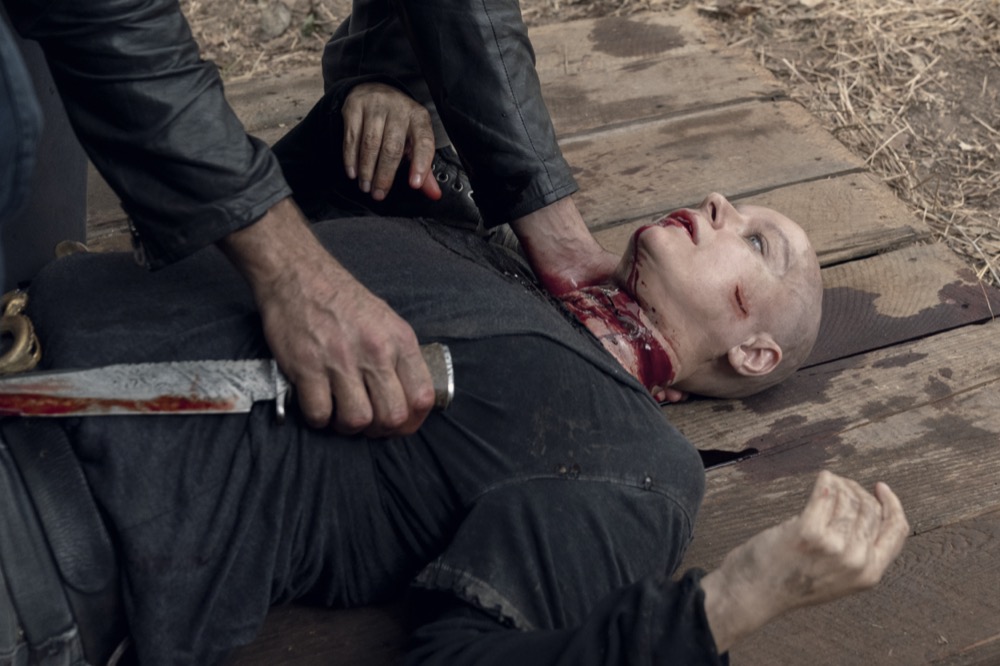 ---
What did YOU think of this week's insane episode of The Walking Dead? Sound off in the comments!