"Morning Star"
Beta nails tree sap bags around the forest as Negan and Alpha whip each other to become "stronger." Shortly after, Alpha, Beta, and the rest whisper their chants as they head towards Hilltop.
Eugene and his radio pal Stephanie continue to flirt over the airwaves. She mentions seeing a falling satellite, meaning they're only a few hundred miles away max. "Virginia, I'm in Virginia," Eugene blurts out. She doesn't return the favor but she does promise to talk to her people about a future meet-up. Outside, the Alexandria crew arrive at Hilltop and Earl immediately quizzes Aaron about Mary. "You keep her away from my kid," Earl scorns.
Ezekiel finds Carol at Daryl's old hide-out in the woods. "Thought you needed some comfort," he says before promising to stay with her until she decides to return. Back in town, Kelly challenges Yumiko on Connie and Magna's fates while Daryl finally returns with Lydia. She warns them their cave mission is off: "My mother's coming."
Rosita hears Stephanie on Eugene's radio and demands to know who it is. Panicked, Eugene climbs down and tries to get Stephanie to answer – but it's quiet. Eugene angrily tells Rosita she made him break his promise to Stephanie and orders her to leave. In the woods, Negan makes a plea to Alpha: instead of killing Daryl and the gang, make them bend the knee. Back at Hilltop, Yumiko sends out scouts while Daryl leads a caravan of children towards Oceanside for safety. On the road, they encounter a massive roadblock with Yumiko's scouts hung on trees above them. Remembering the Savior tactics, Daryl tells them, "It's Negan, he's with her now."
Daryl returns to Hilltop with the sobering reality that with the roads closed, they can't turn to Alexandria or Oceanside for help. They're on their own. Carol finally returns to Hilltop and meets with Ezekiel in his bedroom. She discovers his cancer and kisses him, which quickly leads to more. Downstairs, Alden scolds Mary for trying to see her nephew Adam. Aaron tries cooling him down but Alden stands his ground. Back upstairs, Ezekiel and Carol get dressed after their romp. Zeke asks if she only got with him because they could die tonight. "We're gonna die tonight?" she jokes.
Outside of Hilltop, Rosita finds Eugene tinkering with an electric fence and asks about Stephanie. "She likes you," Rosita says, before asking Eugene to kiss her. He gets 90% of the way there but can't bring himself to do it, confirming he's really fallen for Stephanie. In town, Carol tries to clear the air with Lydia by promising to kill her mother. "That won't save us," Lydia warns. "I'm sorry your kid died and you hate the world," she continues. Outside the gates, Yumiko makes peace with Kelly just as a hoard of rats run towards them from the woods. Alpha's close.
Eugene sings an a cappella version of Iron Maiden's "When the Wind Blows" into the radio as Ezekiel gives Lydia Henry's armor, Aaron hands Mary a spear, and Judith tries (unsuccessfully) tries to reach Michonne on radio. After a brief pause, Stephanie sings back to Eugene. She apologizes for disappearing and Eugene explains Rosita is just his best friend. He tells her he's unsure the next time he'll speak with her, prompting her to tell him to meet her at a train yard in Charleston, West Virginia in one week. "I will be there," he says. Rosita then tells him it's time.
Downstairs, Daryl asks Ezekiel if he's OK. "Nah, I got cancer," Ezekiel says tersely. Despite their past, Daryl makes peace with him, telling him the people around here need him. They then make a deal – if something goes sideways, the other one of them will get the children out. Zeke leaves and Judith admits she's scared for RJ and the others. She then gives Daryl his angel wing vest back, now equipped with a bright blue wing she sewed on. He thanks her and then makes her promise to go with Ezekiel if she can't find him.
Carol looks on at the paintings of her lost friends and then meets Daryl at the cemetery. She asks him not to hate her and he tells her, "I'm never going to hate you." He grabs a mace and limps to the front lines, where Aaron and the others are in formation with their shields. The horde arrives and briefly gets stopped by the electric fence, which quickly gives out. Aaron commands them to split up and kill the ones at the fence one-by-one.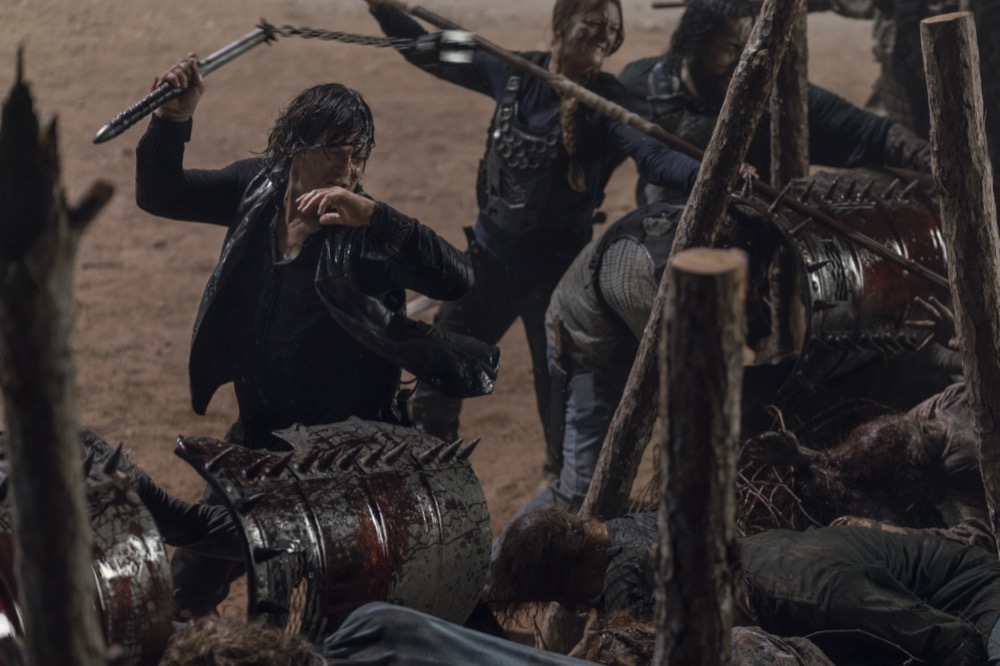 Beta orders the Whisperers in the back to launch the bags of tree sap onto our heroes. Alpha then commands her people to unleash fire arrows, causing some on the front line to burst into flames. Negan, now wearing a Whisperer mask, tells Alpha he thought he wanted them to join her. "They will///as a part of my horde," she says. Aaron order everyone to retreat as Negan and the Whisperers send their fire arrows at Hilltop directly, causing Daryl and the rest to be trapped.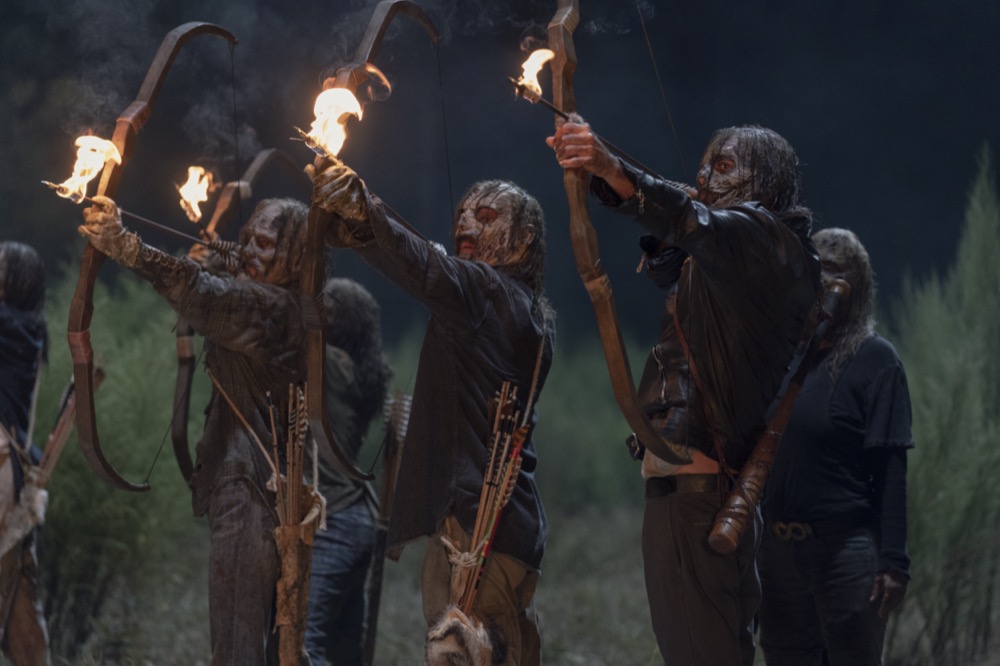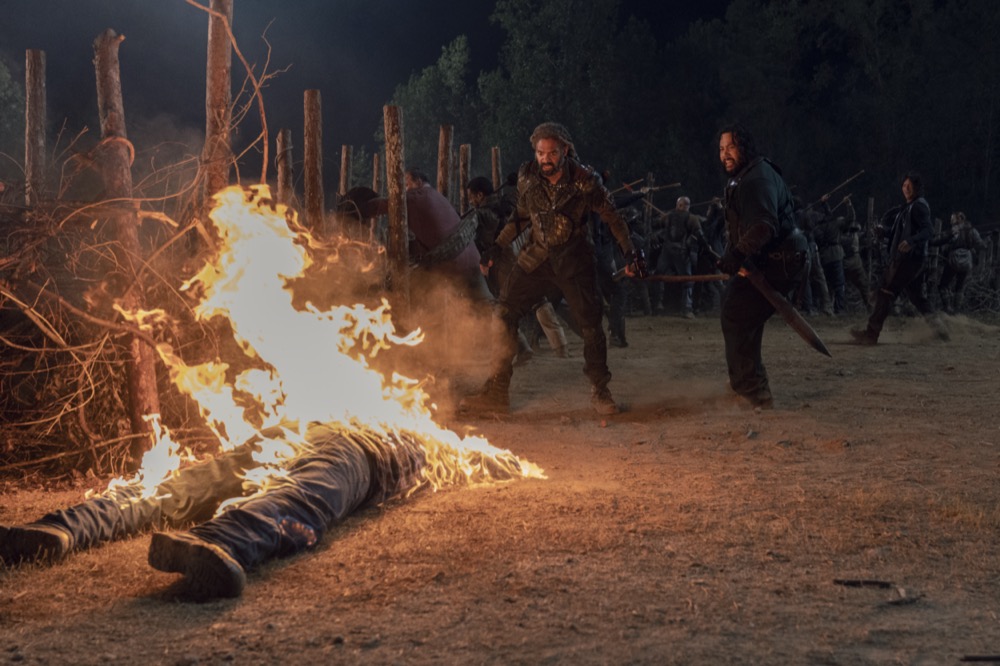 ---
What did YOU think of this week's insane episode of The Walking Dead?