"Lines We Cross"
---
Training Day

A satellite careens out of orbit and zooms towards Earth. A walker washes up on shore and Judith cuts it down before re-joining Michonne, Daryl, and the others in a combat training exercise. Aaron leads a shield-wielding front line to a washed-up boat where Jerry and Ezekiel repeatedly open the hatch to let walkers out in waves. The archers take out the first wave, the spear-wielders the second, and the melee weapons third. The walkers quickly break down the door and the small army combines all methods to finish them off.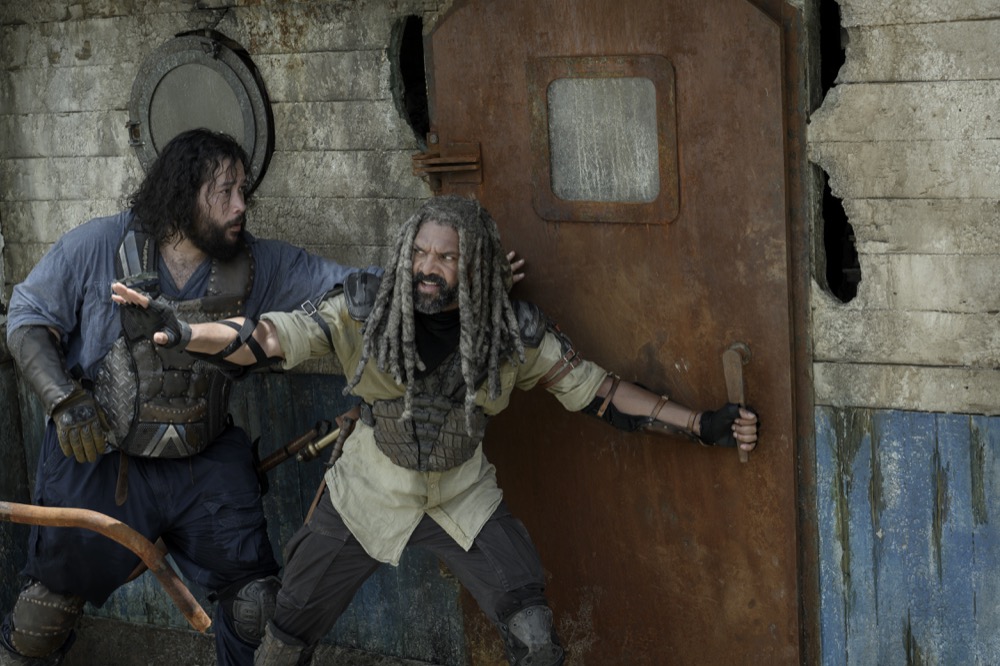 Later, the crew arrives at Oceanside. Luke flirts with a girl named Jules while Michonne and Daryl laud the results of their training session. "Tara would have been proud," Daryl says. Judith and RJ dump out their sea shells and a Whisperer mask falls out with them.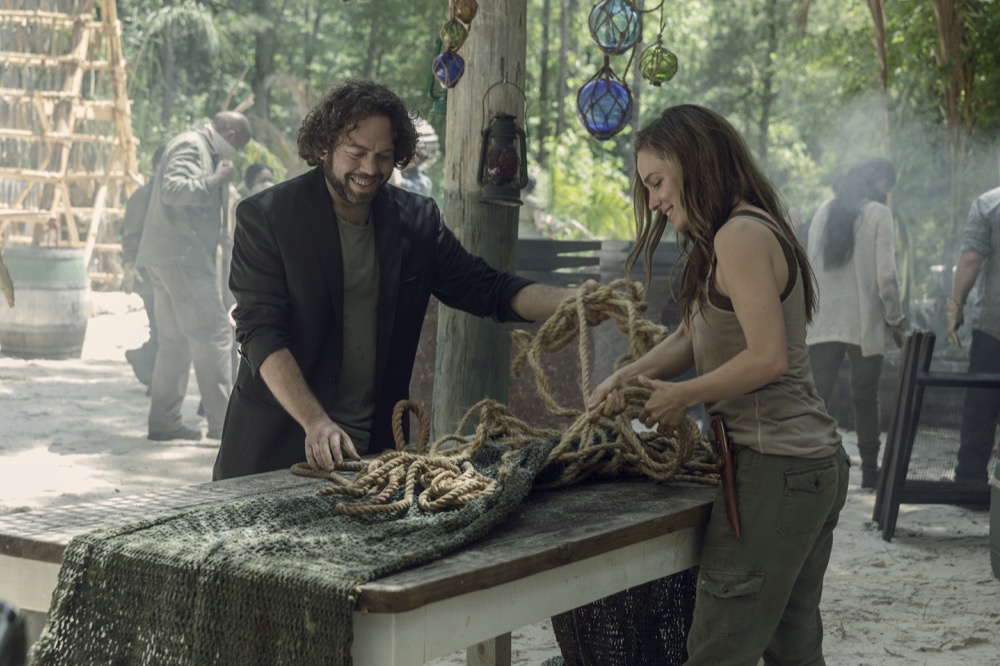 ---
Stories We Tell

Aaron radios Gabe at Alexandria to warn him about the mask, suggesting they go on lock down. Michonne instead advises they stay vigilant while they split up and look for more signs of the Whisperers.
On the hunt, Aaron asks Michonne's if they're the good guys, reminding her they're the villains in other people's stories. Suddenly, he spots walkers on a bridge and rushes in to kill them. Michonne saves him and angrily reminds him not to cross into their border. Aaron reminds her about the people they've lost to these people but Michonne reiterates still need to be careful.
Yumiko radios them to come quick, they found something. They catch up with her and find an abandoned campsite full of corpses and a walker skin. The team returns to Oceanside and Michonne tells Aaron they have to choose to be the good guys, even when it's hard. She overhears Judith telling RJ the story about "a brave man" who sacrificed himself on a bridge to save his friends. She tears up and walks up to hug them, telling them she'd do anything to protect them. Suddenly, an explosion rings out nearby and everyone looks up to witness streaks of fire cascading from the sky.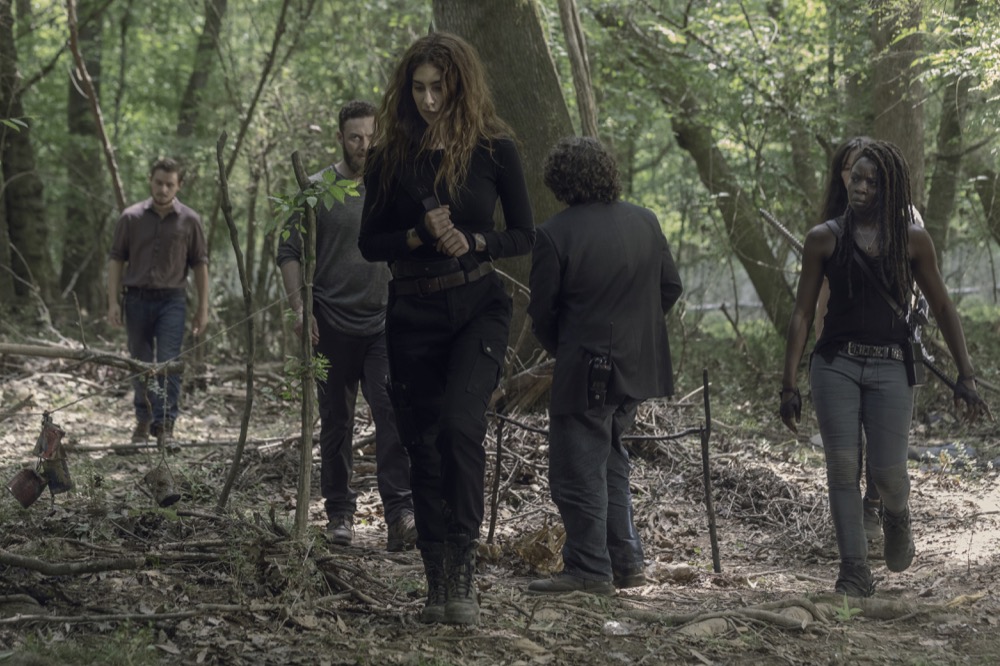 ---
Certain Uncertainty

Time to meet Rosita's baby Coco. While Rosita trains, Eugene measures and charts out Coco's behavior. He reveals his findings to Siddiq while Father Gabriel looks worried. Nearby, Lydia gets frustrated while learning to read with the children. Gabe, Siddiq, and the others barge in and ask to use the room for a meeting. Lydia leaves and angrily trains with a staff, which catches Negan's eye. He asks what's wrong and a new guy, Brandon, reminds Negan to keep his distance from her. Lydia tells Negan everyone's on alert because they found a skin and he playfully warns her to watch her back.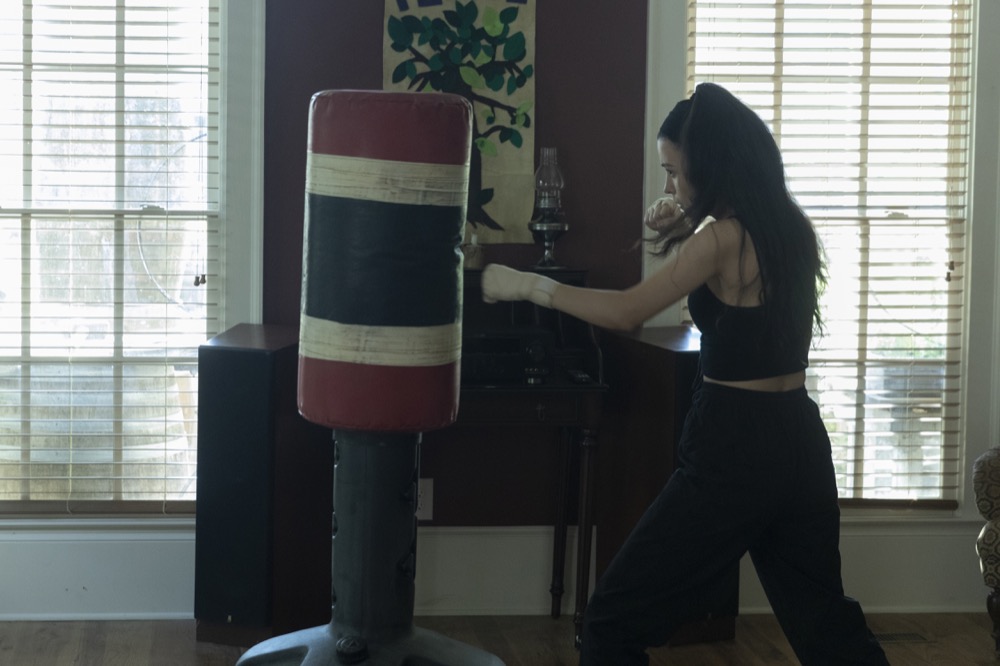 Later, Siddiq becomes ill and experiences flashbacks from the time he was captured by Alpha. Another doctor, Dante, checks up on him and Siddiq assures him he's fine. Back in his cell, Negan advises Gabe to temper the coming dangers to his people as to not cause a panic. Gabe instead instructs his people to lock up the walls and double security. Suddenly, the same explosion rings out and Eugene sprints to the radio to contact Oceanside, demanding to speak with Michonne.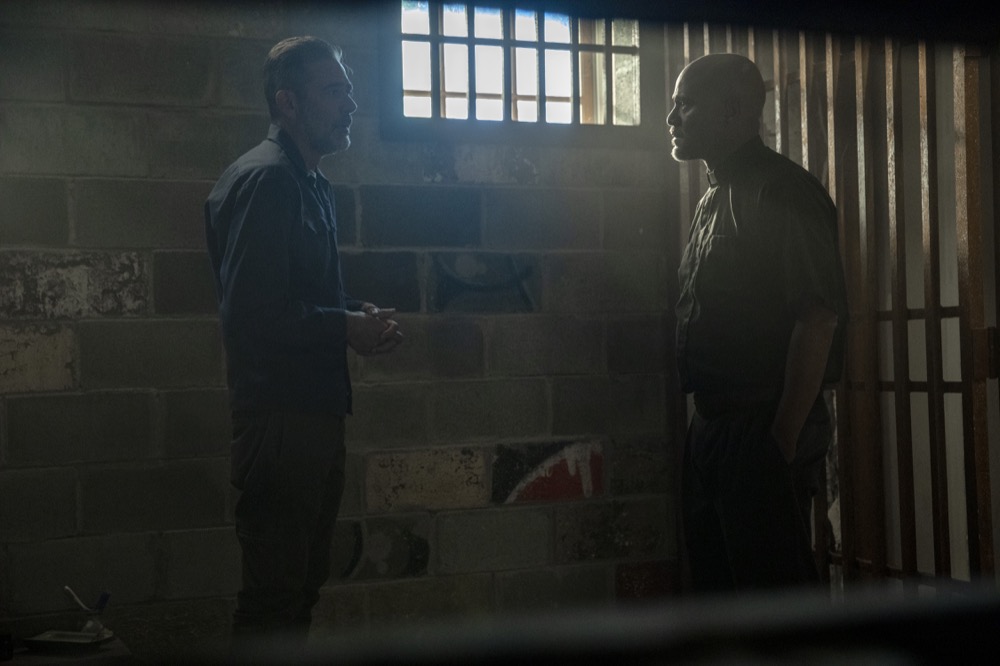 ---
Together Again

Back on the beach, Kelly tells Connie she's worried her gradual hearing loss will prevent her from translating for her. Connie assures her she'll be fine when Daryl waves at them from afar. Kelly gives Connie a look suggesting she and Daryl are into each other but Connie just rolls her eyes. Ezekiel makes small talk with Daryl on the boardwalk and Connie walks up to return Dog to Daryl. Suddenly, Carol sails up to them in a boat.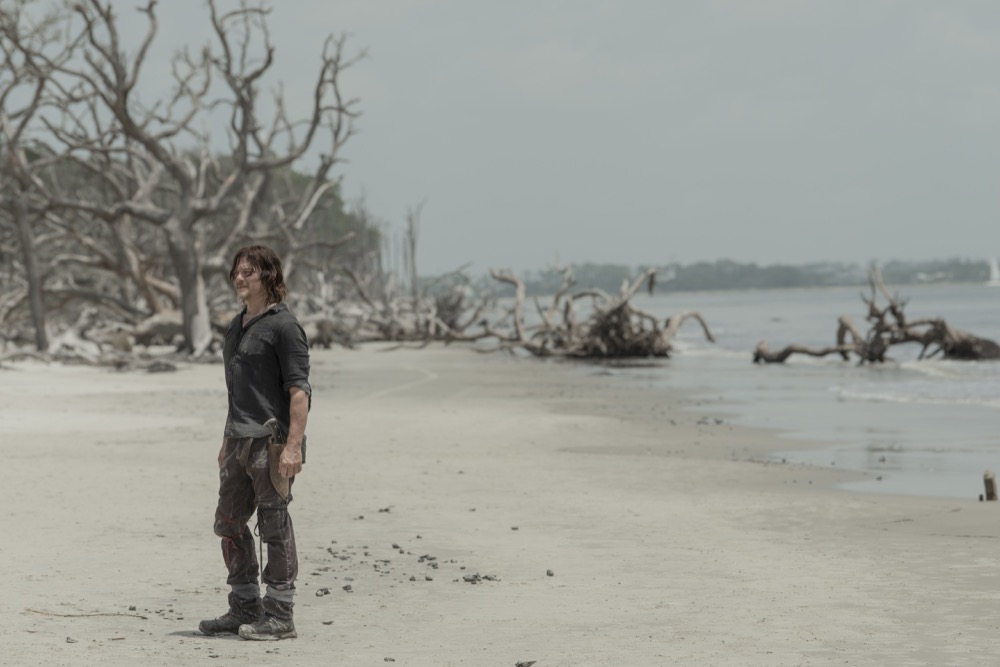 She lands and Ezekiel awkwardly welcomes her. Contrastingly, Daryl lifts her up in a hug. The two of them walk to Oceanside while Carol catches him up on her travels. She tells him how happy she is that the Whisperers are gone for good, but Daryl tells her that's not the case. He asks if she wants to help them look for more but she declines, telling him she's only here temporarily. Daryl then drives the two of them off on his motorcycle.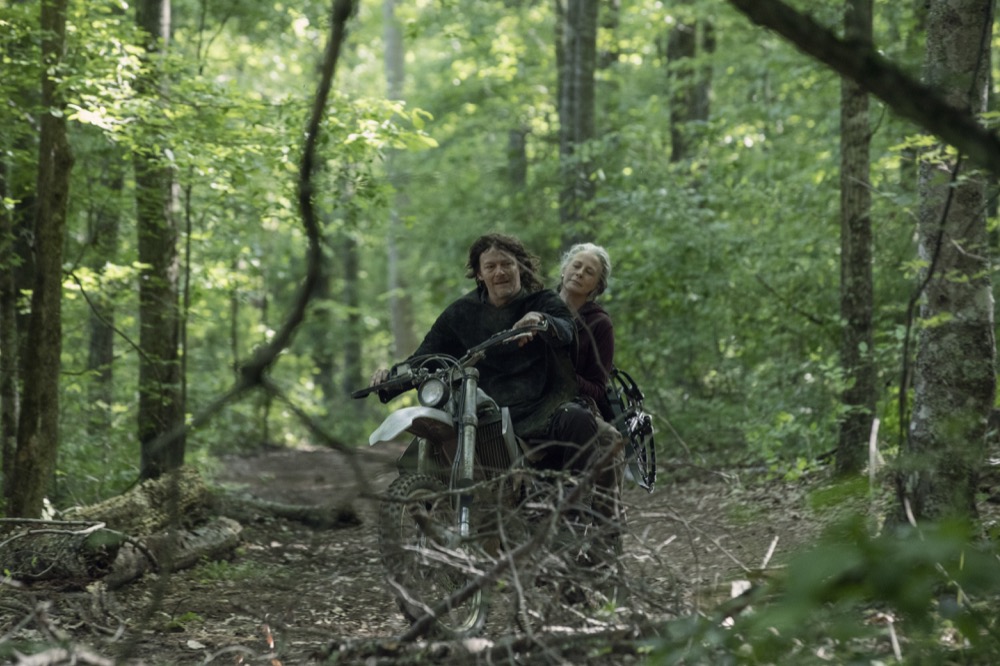 Later, Daryl stops Carol from shooting a deer because it's on the other side of Alpha's border. She reluctantly agrees but reminds him they never agreed to the border. Afterwards, Daryl apologizes and the two make up. Carol suggests they make friendship bracelets. After pondering the meaning of life, Carol proposes they run away together. The familiar explosion again rings out.
---
Where There's Smoke

That night, everyone convenes and agrees to cross Alpha's border to put out the fire the Russian satellite caused. Some use makeshift fire extinguishers while others dig trenches around the fires. The fight continues through the morning, when a horde of walkers arrive.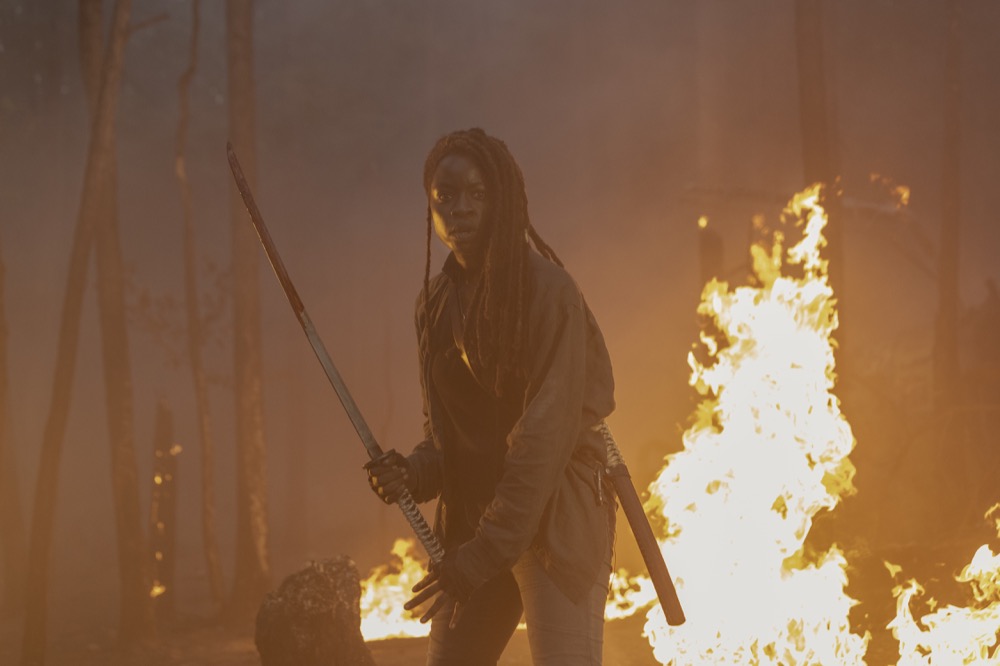 ---
Embers

Daryl, Michonne, Carol, and Cyndie team up to kill the undead. Carol slits the throat of the one of the undead and uses its blood to help put out one of the fires. Finally, all the walkers are killed and all the fires are extinguished. Eugene asks Michonne if he can scrap the satellite for parts and she grudgingly agrees, making everyone help out. Daryl takes Carol to the gorge and asks her to stay. Carol gazes into the gorge and sees Alpha emerge from the woods. She looks up and stares daggers into Carol.
---
What did you think of the Season 10 Premiere? What's in store for Alpha and Carol? Let us know in the comments!