The Walking Dead Season 7 hype train has officially left the station. Entertainment Weekly and AMC just released some tantalizing first images from October's Season Premiere: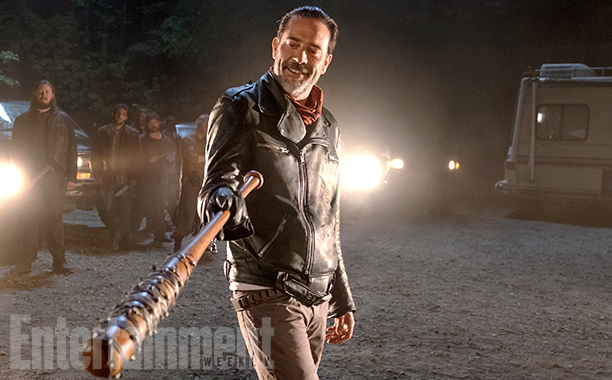 Although this picture of Jeffrey Dean Morgan's Negan looks like it was taken from the Season 6 Finale, it actually reveals a LOT about the Season 7 Premiere. This snapshot CONFIRMS the episode will pick up right where the finale left off…the death of a major character at the hands of the maniacal Negan and his bat Lucille. This comes as HUGE news because many fans have speculated the death scene would be delayed for a future episode or implied in another context. NOPE. Time to stop hanging from that cliff because this episode will NOT hold back.
If you need MORE proof Executive Producer (and Director of the Season 6 Finale and Season 7 Premiere) Greg Nicotero told EW, "Yes, who was at the receiving end of Negan's bat will be revealed in the first episode."
BUT WAIT…there's more! AMC also tweeted out details about the Season 7 trailer AND included this amazing key art:
Eeny, meeny, miny, moe. You are it.
The #TWD Season 7 trailer arrives Friday, July 22 at #TWDSDCC. pic.twitter.com/ux0A74OSLt

— The Walking Dead AMC (@WalkingDead_AMC) July 14, 2016
Here's the image in full:


---
Are we finished or are we done? NEITHER! Here's ANOTHER exclusive sneak peek from Season 7 (courtesy of EW)…this time of Morgan looking more cleaned up than we last saw him. But where is he, exactly? Speculate below!
---
So there you have it! Season 7 trailer dropping July 22nd, the Negan death WILL be revealed in the Season Premiere, and we'll all have to collectively hold each other as a society in the aftermath. Strap in.
---
Can't wait for October? Quench your Walking Dead thirst by re-living the Season 6 Finale through the eyes of horrified fans: