Episodes of TWD always lend themselves to speculation (especially since the creative team loves messing with fans) but Season 5 Premiere has seen more than it's share. Let's run down the list of some of the stuff we've seen and whether or not it's true. In case it's not obvious, SPOILERS loom large.
THIS DUDE IS NEGAN
This started well in advance of the premiere because Greg Nicotero specifically wanted to mislead you. He's awesome like that. They included a shot of the Terminus butcher winding up on Glenn to get people talking.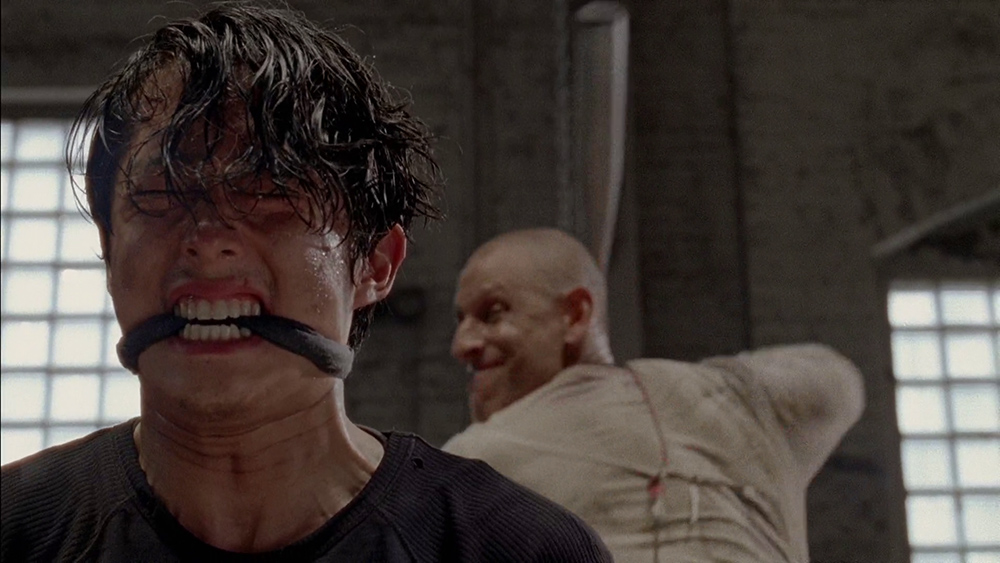 Needless to say, this dude is NOT NEGAN.
FALSE.
THIS DUDE IS DEFINITELY NEGAN
We see this hulking, hard-talking, rapist in the end flashback, threatening Gareth's people as they cower in a shipping container.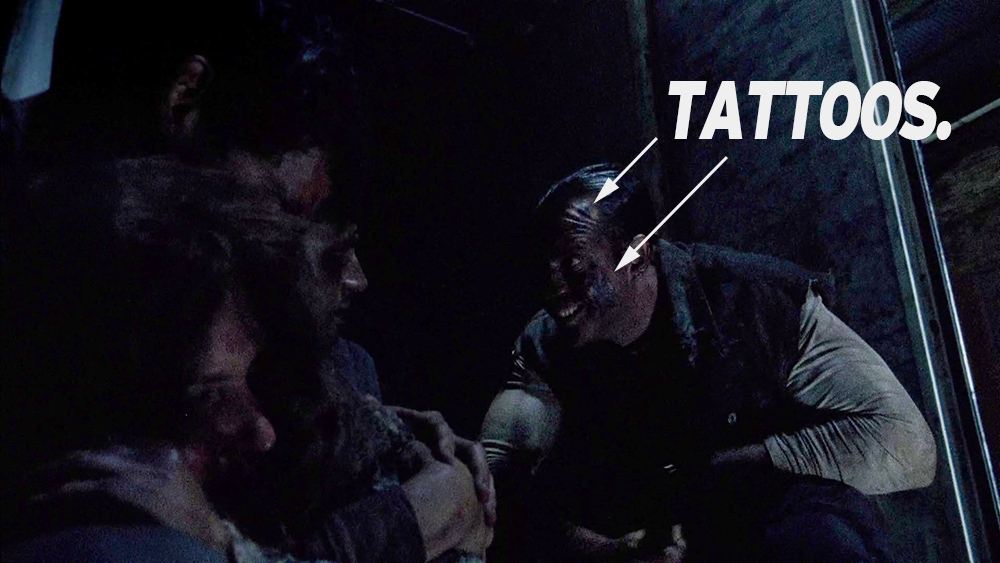 This is NOT NEGAN. He's given importance because we see him earlier in the episode, he's the tattooed crazy guy that comes running out of the shipping container and grabs Glenn: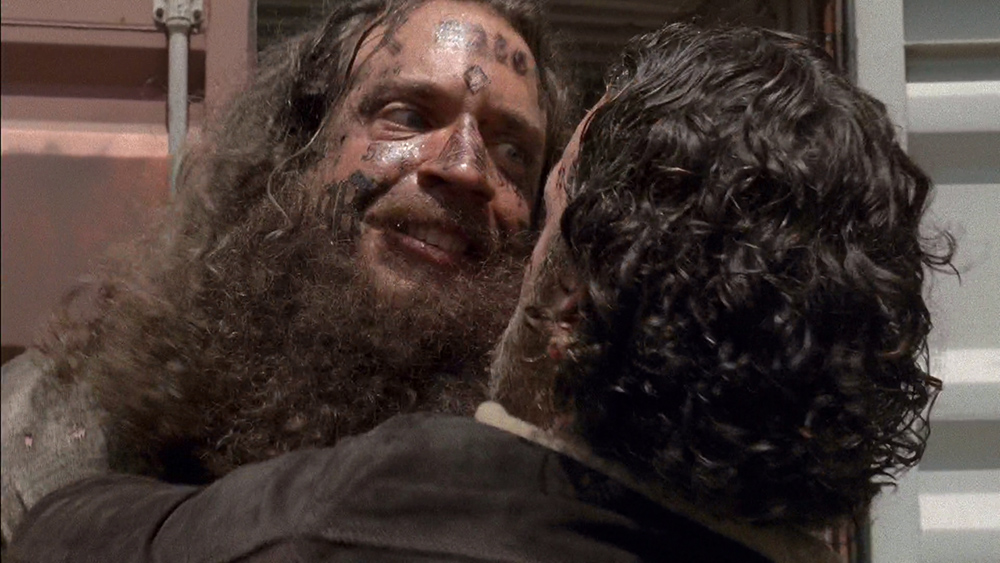 This end flashback should be more of a "Oh crazy, that weakened crazy guy with the face tattoos has been locked up all this time!" but due to some low lighting it turned into "HOLY SHIT! NEGAN!" This has been confirmed directly by Robert Kirkman, Scott Gimple, Greg Nicotero, the key grip, my mom, everyone.
DEFINITELY FALSE.
THE RETURN OF SAM
Remember Sam, one half of the scared couple locked upstairs in episode 404 when Rick and Carol go on a supply run (and Rick kicks Carol to the curb)? Well he's back! Lots of you spotted this one, and right you are. Sam is plunked down, first in line at the trough in the opening scene. Hence the knowing look he and Rick exchange. No time to say "Hello" though.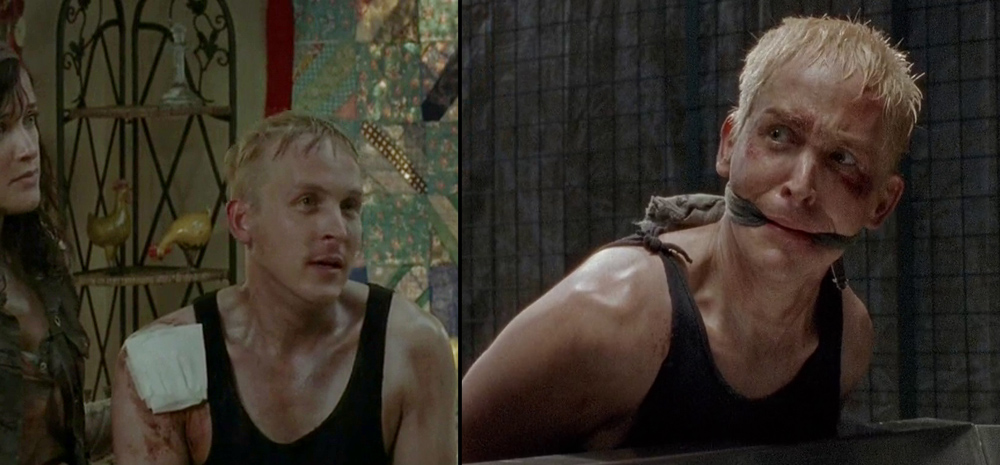 Bonus: Carol finds the watch that Rick gave Sam in the loot room.
CONFIRMED.
FAMILIAR CORPSE
If that corpse on the slab looked familiar, it's because he was the guy that Rick used as a human shield in the Terminus shoot out in episode 416 (who gets shot pretty much immediately).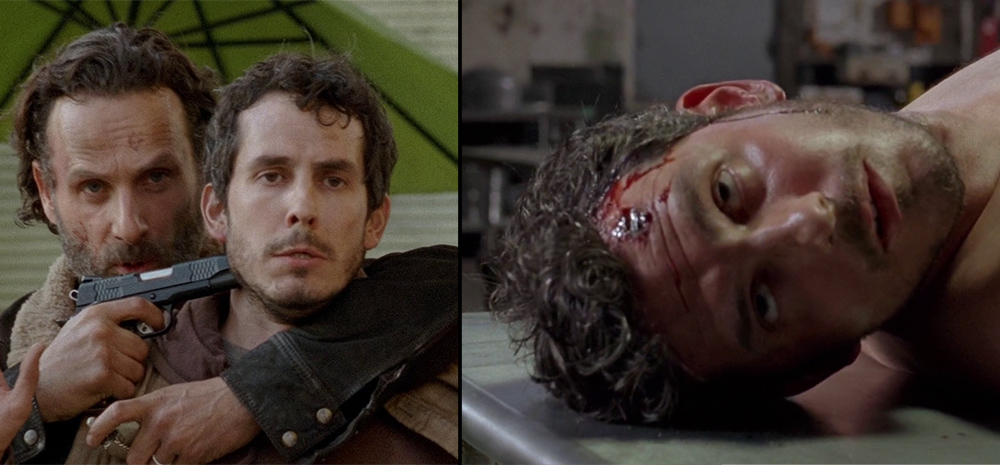 This is not only confirmed by Scott Gimple on The Talking Dead, but he even reveals that it was Gareth's brother. Do you think Gareth would have eaten his brother or would he have opted for a salad that meal?
CONFIRMED.
ANDREA RETURNS AS A WALKER
We've seen a BUNCH of this one. The walker that Carol kills early in the episode because Tyreese can't has some clothing that is VERY similar to Andrea's and is rocking hand cuffs.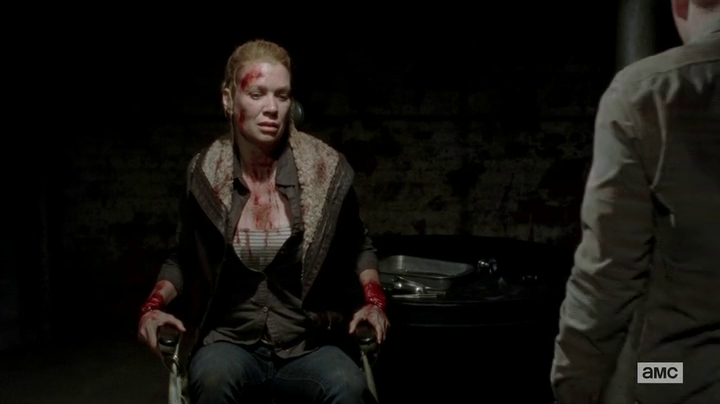 The Walker Stalkers asked Nicotero about it, who said that it is definitely NOT Andrea. Just a coincidence. Sorry. Also, Andrea was wearing full, non-lacing boots. This walker had boots that were unlaced and loose. And the stripes don't match. And the cut of the t-shirt is different. And the color of the button-up is different…
CORRECTION: Jackaford Bittick points out on Facebook that I'm a moron and Andrea took off her boots to try and pick up tools with her feet. Hence, she would be barefoot.
FALSE. BUT STRANGE.
CREEPSHOW HOMAGE
Ok, I don't think ANYONE caught this, and if you did, you go into our Cool Book (or maybe our Never-Play-Trivia-With-These-People Book).
Here's the crate from one of the stories (called "The Crate) in CREEPSHOW (directed by George Romero, 1982):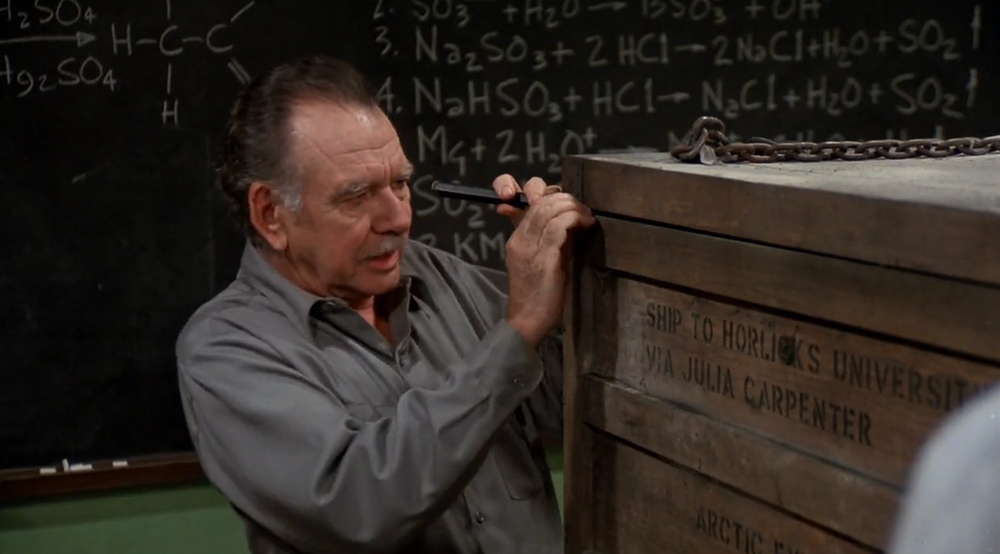 "SHIP TO HORLICK'S UNIVERSITY
VIA JULIA CARPENTER
ARCTIC EXPEDITION"
And here's a crate in the premiere: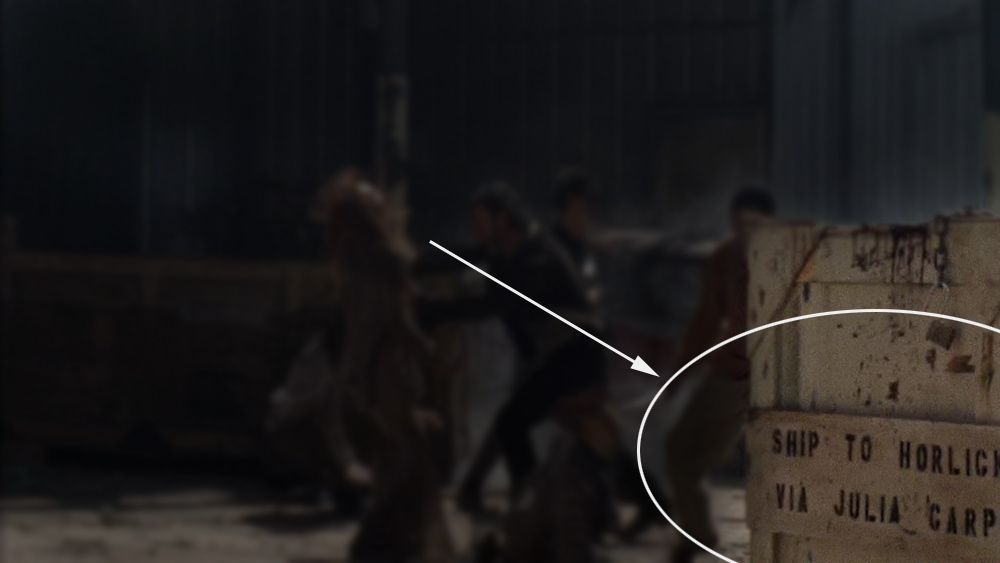 Greg pointed out this Easter Egg in The Walker Stalker interview.
If you've never watched CREEPSHOW, give it a view. The Crate segment scared the CRAP out of me when I was little. But the whole movie is just campy fun if you're not 5 years old.
CONFIRMED.
SMOKE SIGNALS
This one isn't a rumor so much as a callback to episode 414, "The Grove." In that episode, Mika tells Carol that the fire's still burning. When Carol says, "It could have gone out," Mika tells her that black smoke means the fire is still burning. SCIENCE!
In the premiere, Rick wonders if Terminus is still burning. Carol looks at the smoke and says, "It is."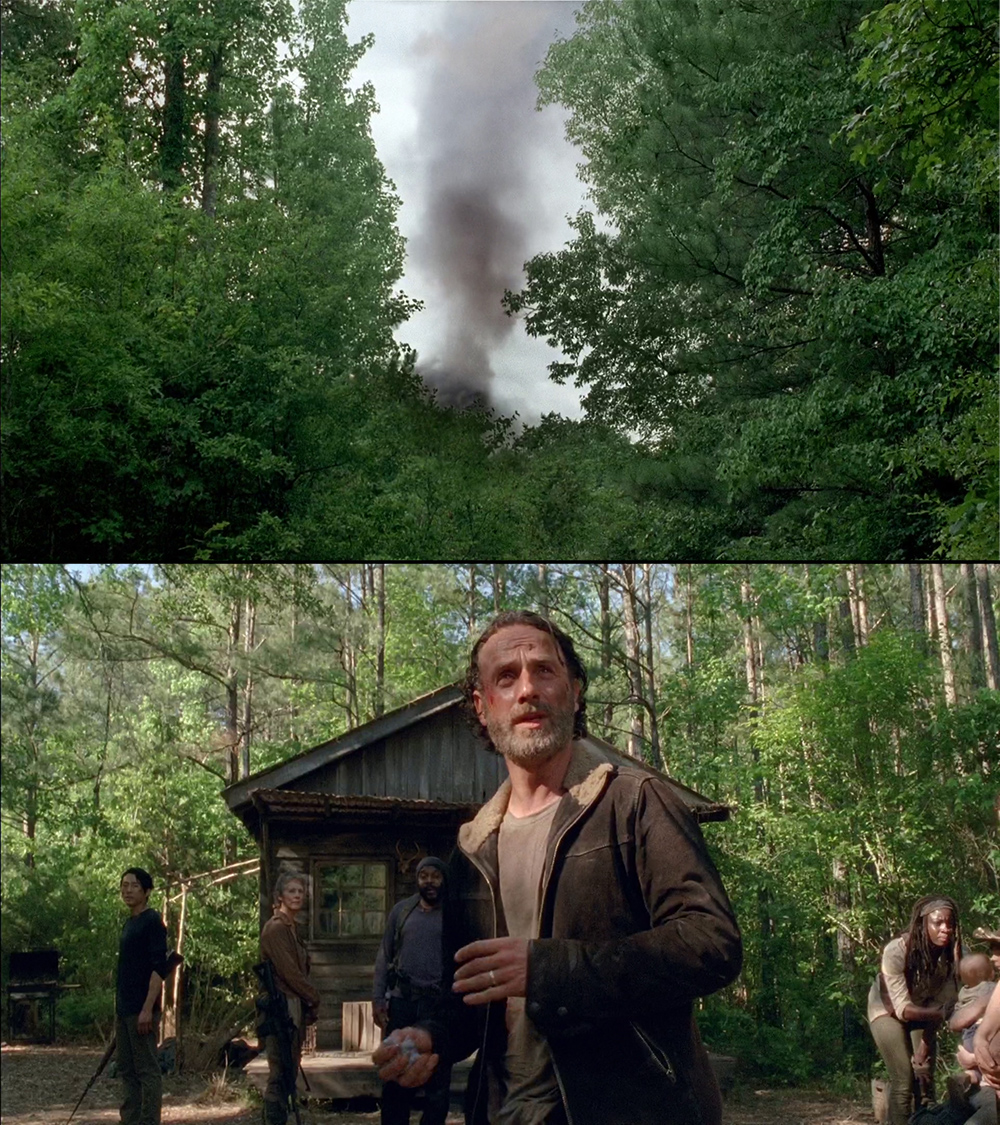 CONFIRMED.
IF HE WERE LEFT-HANDED…
Ok this isn't really a rumor or speculation or Easter Egg, but I keep seeing this one in our Twitter feed. It invariably states that "If the guy with the bat had been left-handed, Rick and his crew would be dead!"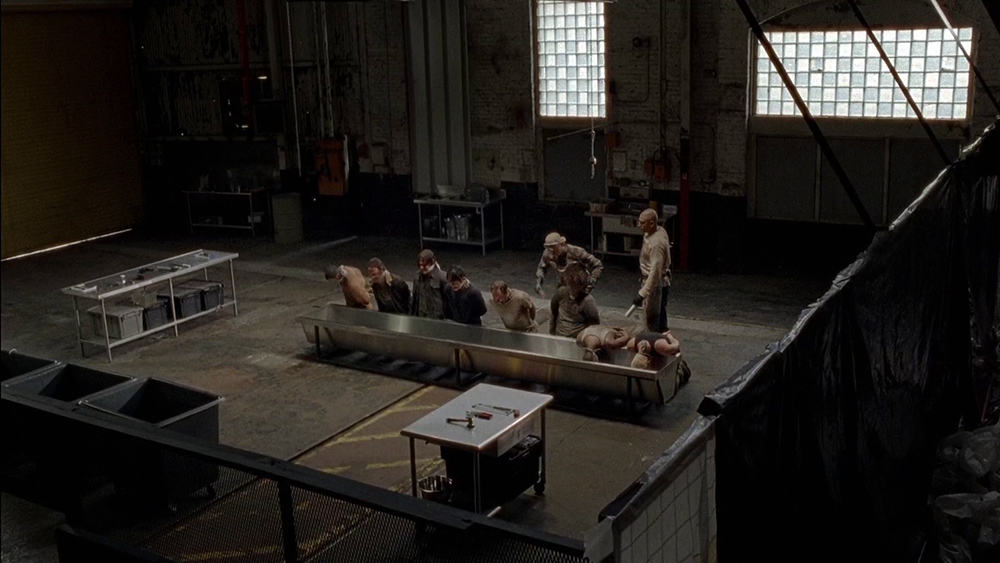 I find this odd because, A) just because the dude is left-handed doesn't mean he would be start from the other side. And B) Gareth was clearly using the others to intimidate Rick into telling him where the weapons are.
FALSE.
MORGAN IS MONTHS BEHIND RICK
In the final post-credits scene (fun fact, this wasn't shown at the premiere in order to keep it secret) we see Morgan, seemingly following Rick and his crew. Notice the sign when Rick marks it vs when Morgan shows up:
Rick: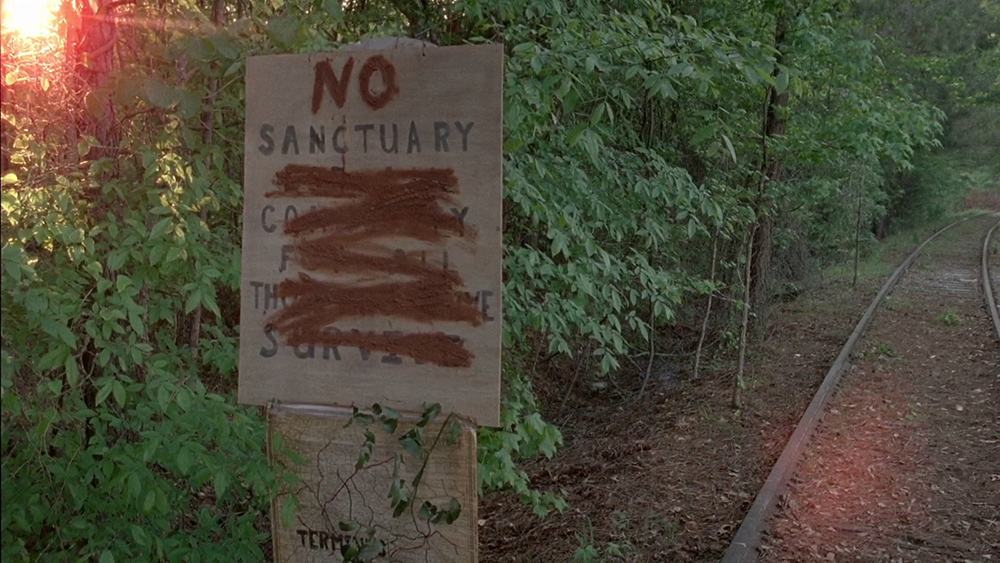 Morgan: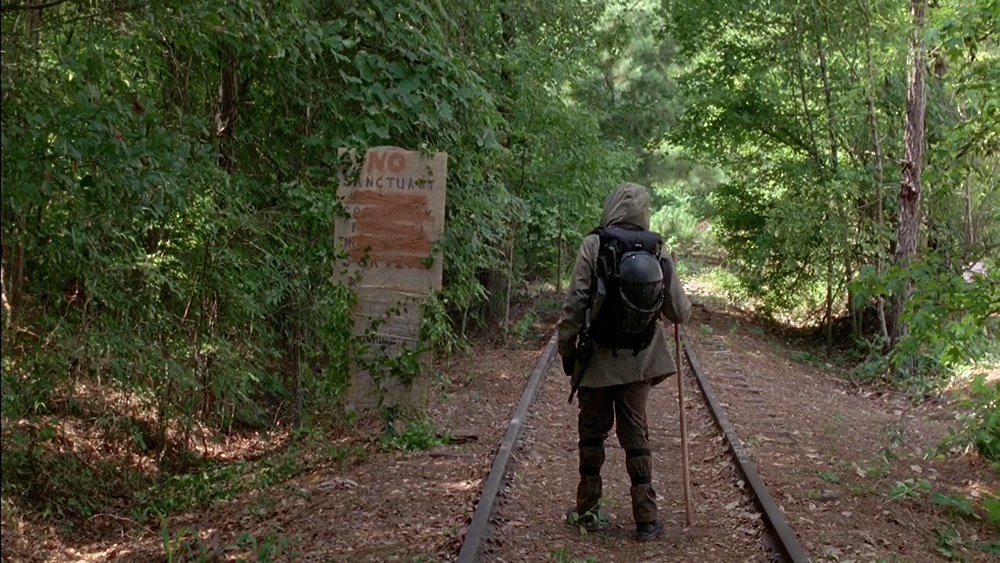 People are saying that the extreme growth when Morgan arrives indicates that he is MONTHS behind Rick. There is some credence to this. Multiple producers have pointed out the growth on the sign but I take that to mean that Morgan is a few weeks behind at most, not months and months behind. A) There is already some growth when Rick leaves, and B) vines can grow pretty fast. It isn't like the seasons have changed. I think the crew was more worried about showing that Morgan wasn't RIGHT behind them then they were trying to show how much time has passed.
UNKNOWN.
THOSE TREE MARKINGS ARE HOBO MARKS
And last, back to Morgan's scene. When he leaves the tracks, he does so to follow circled X's on the trees. Who is leaving them?! Well we don't know yet (Nicotero says we'll find out soon), but I've seen a lot of people say that they're Hobo marks.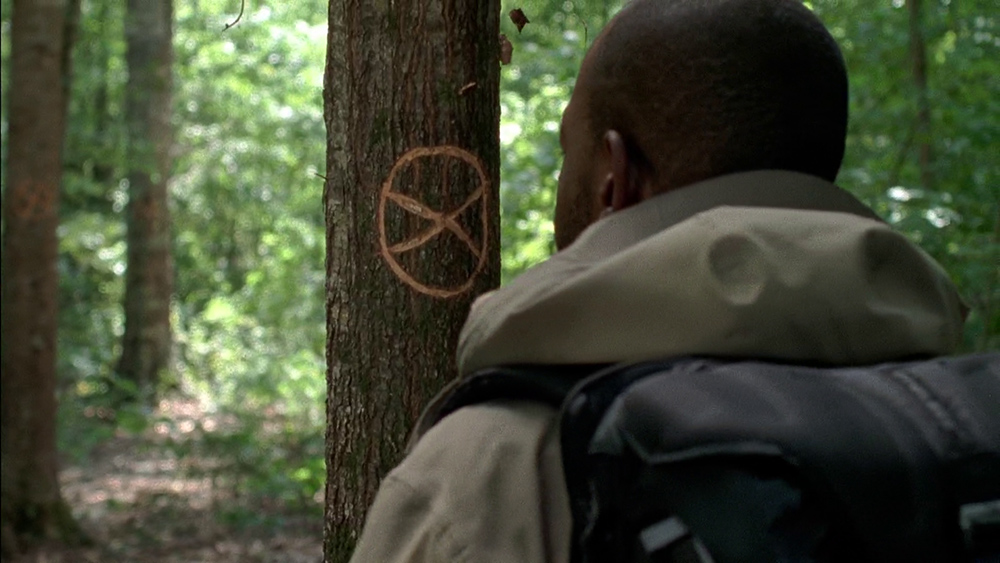 Very interesting idea. For those not in the know, Hobos would leave secret marks in various locations to indicate certain things like, "good place to catch a train," "abandoned home," or "safe to camp." Here are a bunch of them.
I have two problems with this.
1) Who the F**K knows Hobo markings?
2) If they ARE Hobo markings—which are likely regional—the X is almost always used as some sort of safety indicator, at least in the legends I've looked at, although IANAH*.
Ok, so anyway, the trail is marked. Maybe for Morgan, maybe not. And Hobo markings or no, here is what you, the Internet, have been guessing:
1) Rick is leaving them for Morgan. Because it matches the X's Morgan was putting on the map on his wall in "Clear".
2) Gareth is leaving them. (Not sure why).
3) Tyreese's hostage that he beat the stuffing out of, but whom we never see dead is leaving them for Gareth.
4) Father Gabriel is marking the path to his church, as they look a bit like crosses (although not really).
5) The tattooed face guy left them because it matches the tattoo on his temple.
I will say this: they look awfully fresh if Morgan is weeks or months behind, but maybe that's a production issue. Another thing that bugs me, there's like 3 all REALLY close together (like every other tree).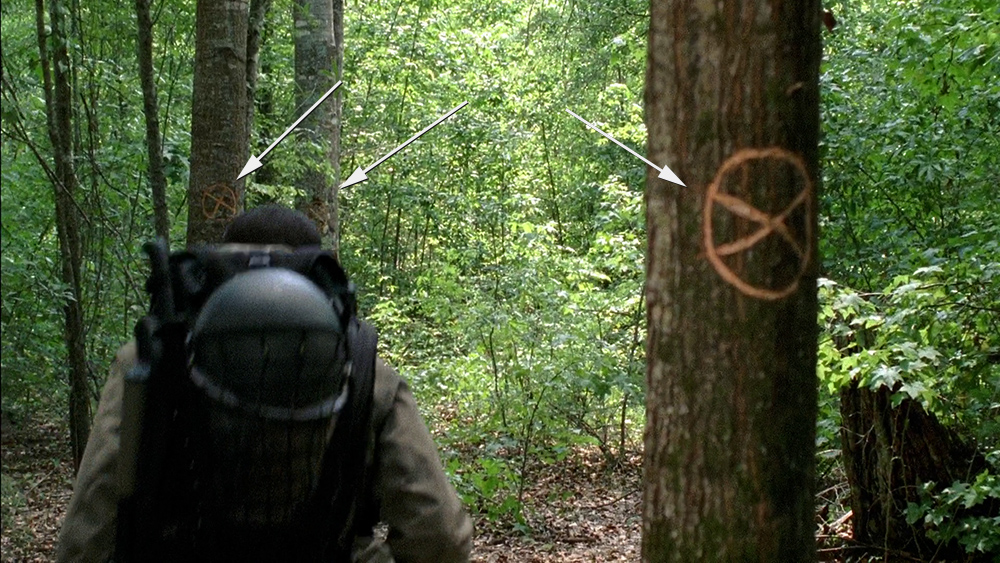 Doesn't it take a good amount of time to carve a circle? I think whoever is carving these could space them out. Or maybe it's just some Hobo with OCD.
UNKNOWN.
Hope you enjoyed this! Tell us what we missed in the comments!
*I Am Not A Hobo