Unless you're Patrick Star, who literally lives under a rock, you've probably heard of the new Walking Dead companion show Fear the Walking Dead. This whole week we've been familiarizing you with characters, plot, and expectations. So for this week's "This Week" we've decided to make it themed around Fear the Walking Dead (mostly because Arabian Nights was taken by a local high school dance committee). So in anticipation for the Fear premiere, here's all your Fear news:
---
HEY! It's Brian, crashing Johnny's party! We want to save you money (and we're self-serving) so first we're going to mention that we're running a sale Friday through Sunday! 15% off in our TWD store! And we've introduced a new GEAR PACK that comes with TWD Hat, shirt, messenger, and bandage tin! And the first 250 people to order it will get a random, limited edition TWD comic for freeeeee! Cool, huh?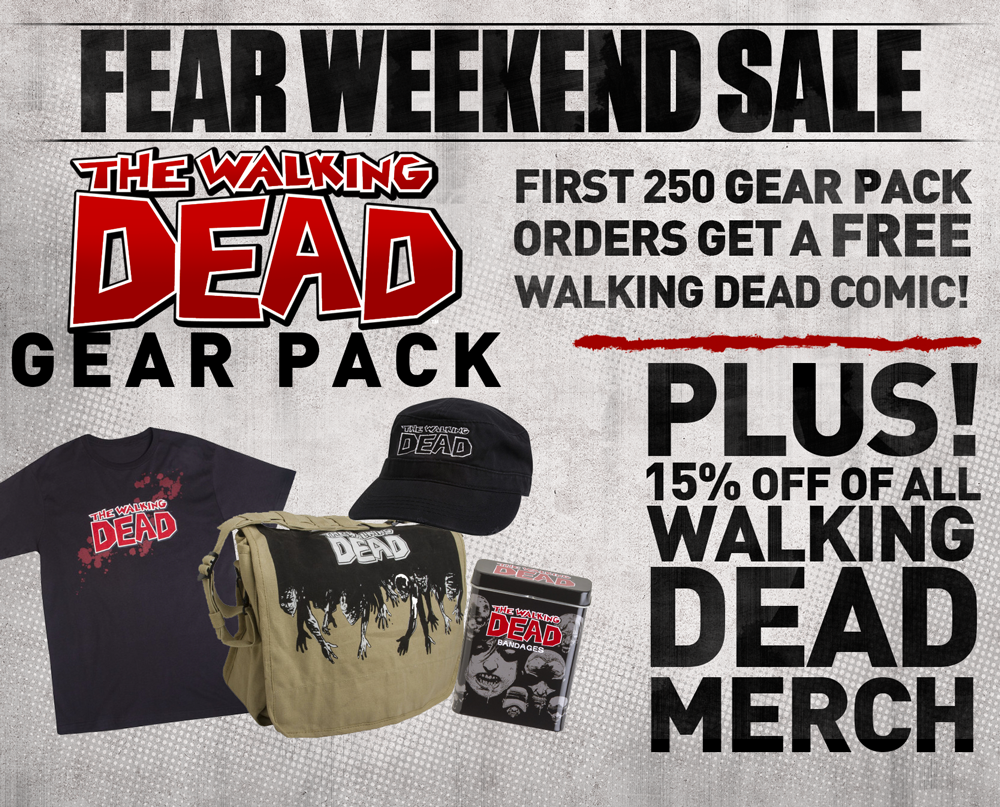 Ok, sorry Johnny, back to your post!
---
What better way to begin an opening line than watching the opening three minutes of Fear The Walking Dead?? In this scene we meet one of the main characters, Nick, who just woke up from a night of doing heroine to discover his friend Gloria is not what she seems. I think we've all been there.
---
Remember that scene in The Matrix when Neo was taken to that room where he could download karate skills? Well we have an even better version of that system in this 10 Things You Must Know About Fear The Walking Dead article. We answer your questions, bust myths, and massage your brain with our hands of knowledge. Or something.
---
Time for some Walking Dead news! This week we finally got to go under the skin of issue 148, which most of you have commented that it looks like a doozy. We'll still have to wait awhile for it to come out, but that shouldn't stop you from speculating who YOU think is on the cover and why.
---
In The Walking Dead, walkers are easier to spot. They're typically covered in blood, missing a body part, or EATING YOUR FACE! Anyway, the infected are a TAD fresher at the beginning of the apocalypse. So basically, be careful who you swipe right on.
---
There's been a lot of questions about this #WoodburyIsWaiting trend on Twitter and Instagram. Dozens of people (including Robert Kirkman) have been receiving mysterious packages with clues and puzzle pieces inside. What does any of it mean? We have no idea, but make sure to follow the action here.
---
Fear is everywhere. It's in LA, it's in Atlanta, and now it's on the cover of TV Guide. Take a gander at the awesome Fear-themed TV Guide Magazine out this week. Not only that, it'll actually tell you when Fear is on TV this Sunday! For all you kids out there, TV Guide is a physical paper form of the info menu on your TV. Technology has really come far!
---
Have you ever wanted to touch something Norman Reedus has touched? We're not here to judge. You could WIN the same phone he's touched, taken pictures on, and played around with Danai Gurira (Michonne) and Andrew Lincoln (Rick) on. ALL you have to do is donate $15 to her Gurira's charity and you could be walking around with the aforementioned phone. And if you don't win, you can now sleep at night knowing you donated to a great cause.
---
If episodes are the main course, then deleted scenes are dessert. Check out this tense scene from Season 5 where Rick calls out Father Gabriel for his cowardice in the face of danger. If there's ever a time to call someone out, it's probably after they admitted they left their congregation to die outside of a church while they hid behind a pew.
---
Some zombies/walkers/infected from Fear the Walking Dead are hard to spot because of how fresh they are. Others, however, are missing half of their face. NSFW (Not Suitable For Walkers).
---
Let's end this post on a positive note. Walking Dead creator Robert Kirkman has penned a letter to fans expressing his excitement with Fear the Walking Dead. It's a new journey that will add to the amazing Walking Dead universe and Robert hopes you love it. Make sure to check out our Episode 1 Synopsis coming at you SUNDAY NIGHT. Until next week!