Fear the Walking Dead's fourth season jumped years ahead of the Season 3 Finale, which concluded with a dam explosion that seemingly left only Madison alive. Although we've seen that Alicia, Strand, and Nick survived, the fate of the other characters are still in question. Chief among them is Daniel Salazar, the former Salvadoran soldier-turned barber-turned apocalypse survivor who was left for dead in the dam. So will we ever learn about Daniel's fate?
Fear the Walking Dead's new co-showrunner Andrew Chambliss told Entertainment Weekly, "Yeah we have no inkling of that yet, but I think the thing we will say without giving away too much is that we definitely will be seeing Daniel Salazar in the Walking Dead universe. It's a very big world, and we will hint at what may have happened. I think we get a little bit of a sense of it even from kind of Strand's struggles and we can tell that he's carrying a lot of his past with him. It's not just what he did to the Clark family when he made the deal with Proctor John at the dam, but he also shot Daniel Salazar in the face. So that's part of the emotional baggage that he's carrying with him, and we will dig into how he feels about all that as we continue to see his life in the stadium."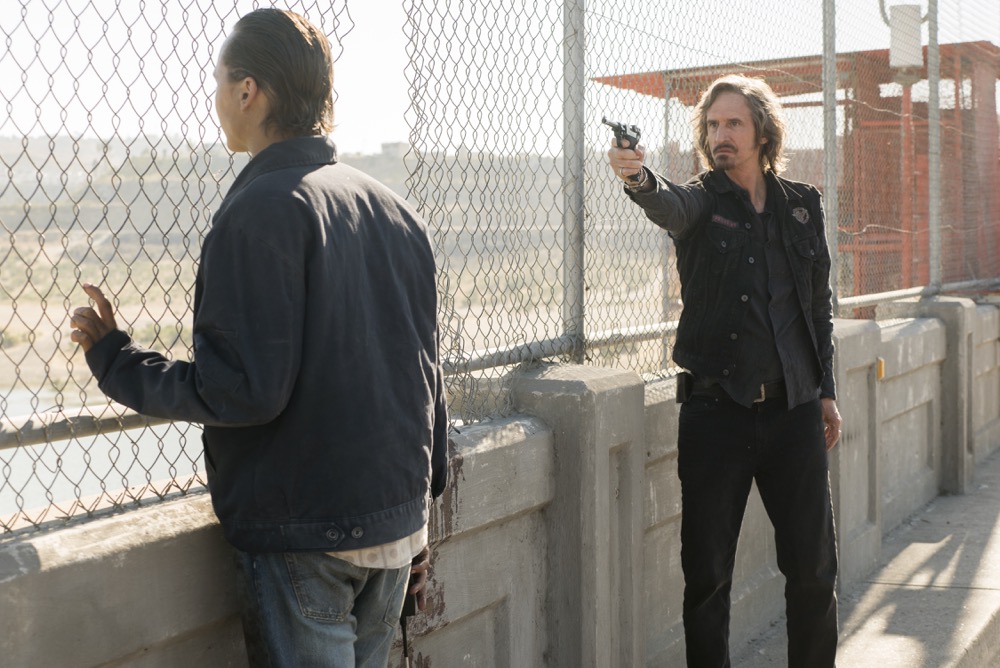 If you're new to Fear, Proctor John was a villain we met at the end of Season 3. He tried to take over the dam, Strand double-crossed him, and in the end Nick blew it all up. So if we don't see Daniel per se, will we see Proctor John? "He's not part of season 4," Fear co-showrunner Ian Goldberg told Entertainment Weekly. "I think you see in episode 402 we introduce our adversaries, the Vultures, that show up outside the stadium, and that's the group that the Clarks will be up against for the first half of this season."
Seeing Daniel again would be surprising – after all his story seemed to wrap up in Season 3. He survived the plantation fire, traveled to the dam where he became second-in-command, and finally located his daughter Ofelia (even though she died in his arms). Although Strand shot him in the face and he was supposedly on the dam when it blew up, Daniel DOES have a penchant for escaping death…
---
Head over to Entertainment Weekly for the rest of the interview with Fear's showrunners. Fear the Walking Dead airs Sundays at 9PM on AMC.