If you follow Skybound on Facebook, Instagram, Twitter, or TikTok then you've no doubt encountered the social media sorcery of Breanna Sarpy. Skybound's Social Media Manager keeps fans updated on the latest comics, games, TV, and movies from their favorite entertainment company every day in her own inimitable style. As part of our ongoing series of interviews celebrating Women's History Month, we asked Bre for the lowdown on how she went from fan to professional nerd. Here's what she had to tell us…
What's your origin story?
I've always had a love for all things nerdy AND reading (thanks to my parents). I started going to comic book conventions in 2013 and quickly realized, all my favorite things were there! Eventually, I was able to land a job as an executive assistant at an indie publisher. I got bit by the comic bug and haven't recovered since! I even met my husband at Wondercon in 2015 so cons and comics are a huge part of my life.
How did you come to work as a social media manager at Skybound?
Once I landed the job at an indie publisher, over the next four years I worked my way up to Manager of Digital Marketing & Advertising. It took a little extra education, GREAT mentorship, and a little bit of luck. All of those powers combined helped me find my way over to Skybound!
What do you like best about working for Skybound?
The people and the diversity in the lines of business. Comics Publishing, TV, Film, Video Games, Tabletop Games, Merch! There's always something new to learn and something to be a part of.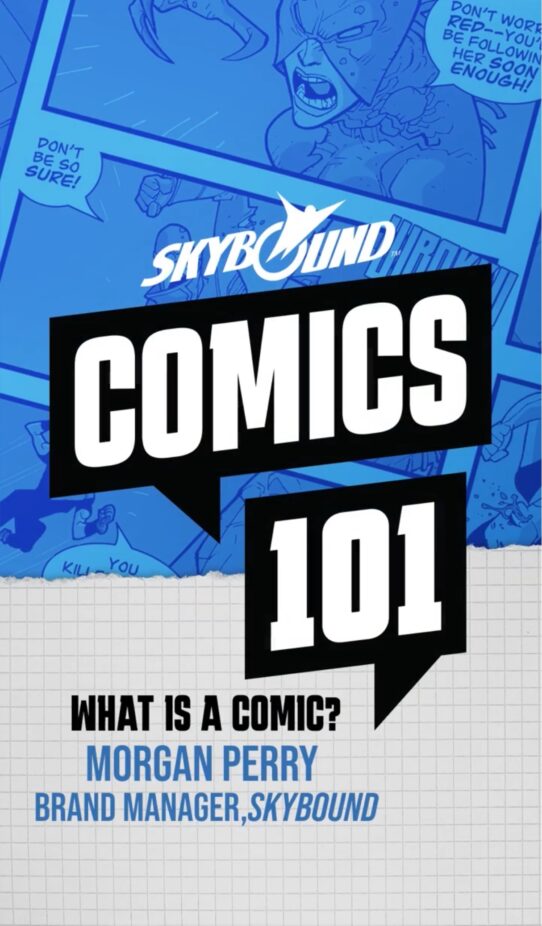 What Skybound project are you proudest of?
Comics101! It was a brainchild between Morgan Perry and me. I'm so excited for this initiative and for Skybound to be a place where people can be introduced to the world of single-issue comic books and graphic novels.
Do you have any other favorite Skybound titles?
Dark Ride, I Hate This Place, Ava's Demon
What other pop culture do you nerd out over?
Pleeeenty! Disney, Star Trek (TNG and Picard), Star Wars, The Mandalorian, Batman Returns, Wonder Woman, Jurassic Park, The 1999 classic film The Mummy, Doctor Who, Animal Crossing, Disney Dreamlight Valley….
Do you have any advice for young women considering a career in your field?
Learn everything you can about every job title that you hold. I was told "learn everything, no one can take your knowledge away from you." Keep learning, keep growing, keep getting better.