We're celebrating the Early Access of The Walking Dead: Betrayal on Steam here at Skybound! To improve your odds against being backstabbed by a fellow human and slaughtered by a horde of walkers, we've compiled a handy list of tips and tricks. Check them out below, along with a helpful video illustrating each of them…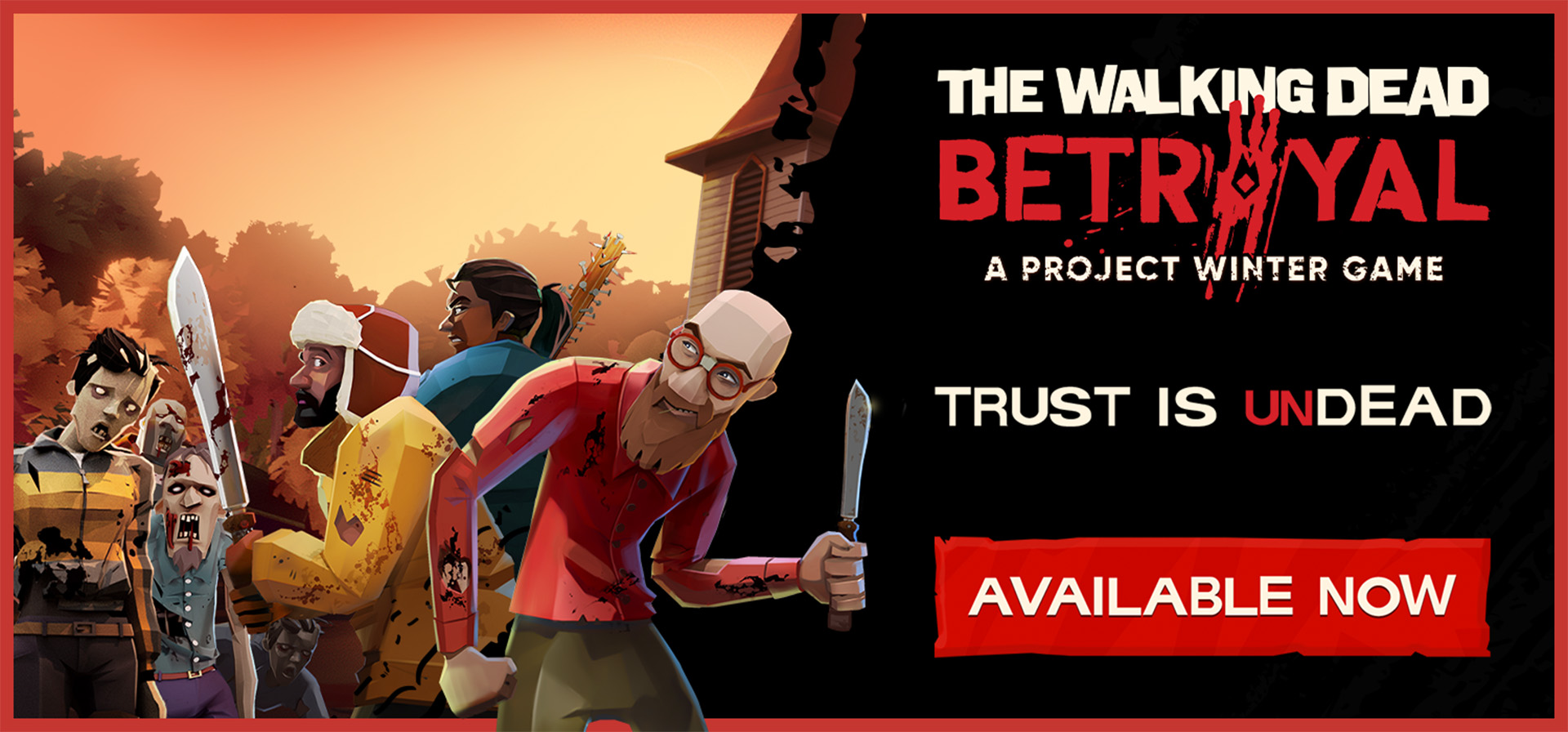 How to Escape
Complete the Mission Objectives. These involve finding wire, wheels, and other supplies to repair the cart.
Repair the Bridge. This requires additional supplies, so make sure your team of survivors heads to the bridge with at least one of each supply, like barbed wire, wooden spikes, and glue.
Run Across the Bridge to Win! Unless you're a trader. In which case, you can't.
Combo Your Melee by Hitting Multiple Swings in a Row to Get a Critical Hit
Critical hits are the only way to kill walkers. Missing a swing stops the combo counter.
Start by Checking the Map
Maps tell you where you are, where other players are, and where resources can be found.
How to Create a Flaming Spear
One of the quickest ways to have a high-powered weapon for defeating walkers, farming materials, and keeping the traitors off your back is the flaming spear. You can make one in the first minute of each round by just grabbing a spear from the objective barn in the safe zone, destroying a fence, and then grabbing the two materials dropped.
One of these can be crafted into a combustible. It looks like a little bag with a flammable symbol on it. And then you can use that combustible to change the spear into a flaming spear. This boosts the base damage and causes the spear to do damage over time to anything that has been struck by it. You can also use the combustible to change any weapon into a flaming variant of that weapon.
As it's very easy to come by this item, it's a great way to upgrade your weapons and start destroying walkers, or other survivors.
Understand Your Role
The best way to improve your escape odds is to learn your role and play accordingly. When you start in the Church in the Safe Zone, there's a table where you can check out each role.
It's good to learn both your role and other roles as you start, as you can understand how to gain any advantage you can and call a potential trader's bluff.
The Confidant – The confidant is shown the name of two players five minutes into the game. One of the names is a guaranteed traitor and the other is a survivor. This is important but unprovable information. But if the confidant dies, examining their body for the first time reveals the identity of one of the traitors.
The Tailor – The tailor can make skin suits from walker piles. These allow you to pass walkers without suspicion and loot high value areas. Keep in mind that only traders and tailors can create skinsuits, so someone using a skinsuit can be either highly helpful or suspicious.
The Negotiator – Negotiator votes towards exiles and leaders count twice. This role is meant to give traders another incentive to play deceptively, to stay on the negotiator's good side.
The Bodyguard – The bodyguard is given one player to protect at the start of a match. They do not know their ward's role. The bodyguard gains health while they are in proximity to their ward. This role is meant to give traitors an excuse to stay near each other or a particular survivor, and provides opportunities for traitors.
The Turncoat — If a turncoat is exiled, they become a traitor, but their infection threshold is increased to 99%. This means that any bite from a walker will infect them. This role also means that survivors face consequences for exiling the wrong player.
The Daredevil – The daredevil regains health from placing traps. This gives traders an excuse to place traps out in the open, and there can be more than one daredevil.
The Scavengers — Scavengers have a higher chance of finding a more useful, rare item inside caches or settlements.
The Traitors – There are always two traitors in a standard match with six or more players, and in a match with five players, there is always one traitor. Traitors start with red radios that allow them to communicate with each other undetected. They get traitor-only crafting, sewer entrances to fast travel, can jam entry gates shut or open, and complete objectives to gain stat boosts. Killing survivors is effective, but you may have more success with subtlety. Sabotages, traps, breaking open areas filled with walkers, and stealing from the objectives are great ways to slow down survivors. Stay undercover as long as possible, and if you're going to do something suspicious, try and make sure nobody else is around.
Mouse and Keyboard Controls
The W, A, S, and D keys are for movement. Use E to interact with and pick up items. Use Q to drop an item. Use spacebar for proximity voice chat. Use left control for radio voice chat. Left click is for attacking or using an item. Right click is for throwing an item or aiming a ranged weapon. The scroll wheel scrolls through your inventory.
Controller
Left Bumper is for proximity voice chat. Left Stick is for movement. Use Left and Right on the D Pad to scroll through your inventory. Use Right Trigger to attack or use an item. Use Right Bumper for radio voice chat. Press B to drop an item. A is for interacting or picking up an item. Right Stick is for throwing an item or aiming a ranged weapon.
Now, you should have all the information you need to survive in a game of The Walking Dead: Betrayal. Good luck!