BIG NEWS: SUPERFIGHT is officially going digital and will be hitting STEAM on July 21st, 2016! But you don't have to wait that long: Head to SuperfightLive.com to sign-up for Closed Beta access and a free DLC deck at launch!
We've been working closely with Pipeworks Studios and 505 Games to create something TRULY unique with the digital version of SUPERFIGHT while keeping 100% of the fun of the physical version. With streaming video and live voting we think fans are going to have a BLAST with this release.
The STEAM version of the game has been designed from the ground up for live cam and Twitch support, including allowing the audience to decide the winners. "I couldn't be happier with the job 505 Games and Pipeworks have done with Superfight. They have delivered my baby into the digital world in a way I never expected or thought possible. Current and new fans of the game are really going to love their work and this new way to fight," said Darin Ross, creator of SUPERFIGHT.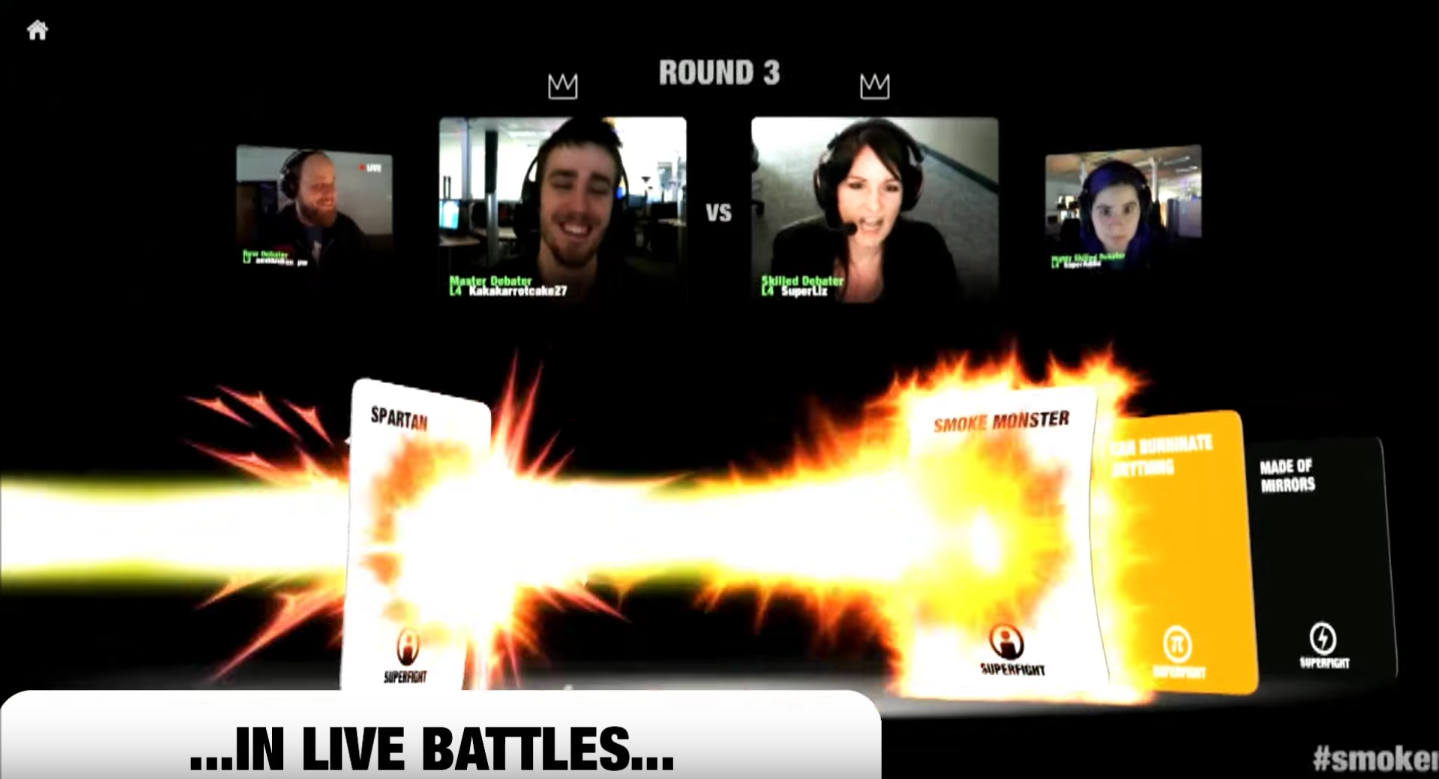 SUPERFIGHT features technology built to enable cutting-edge Twitch integration and bring players an unparalleled community experience through several innovative features:
– Integrated 4-way live video puts players directly into the game.
– Link to your Twitch account and broadcast to Twitch to allow viewers to determine the winner by casting votes directly in Twitch chat. You can also instantly load your favorite SUPERFIGHT Twitch streams and cast your vote directly within the game
– Earning XP, new cards, titles, and more is easy by playing, broadcasting, and viewing matches
– Players can play with Steam Friends while earning Achievements, Trading Cards, Badges, Emoticons and Profile Backgrounds
– Fans can expect expansion decks themed around content like The Walking Dead, R-Rated Decks, and Anime as well as new features and mechanics like locations and challenges
Remember, you can experience it early @ SuperfightLive.com to access to the beta and to receive a free digital DLC deck of SUPERFIGHT cards at launch.
---
What do YOU think of Superfight going digital?? Tell us in the comments below!