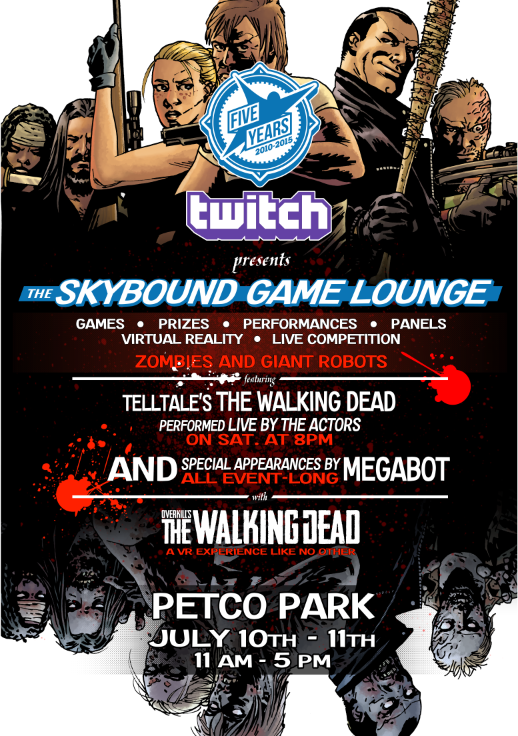 Hopefully you guys are well aware of all the awesome stuff we have going on at our area of the Walker Stalker Fan Fest at Petco Park this week. As we mentioned previously, we've partnered with Twitch to bring all of that goodness to you at home. So what does that mean for you? Well, it means that if you can't make it to San Diego this week, you can still get your SDCC fix. We're firing up the live stream Friday at 2pm on our Twitch channel for some Superfight action (and giveaways, of course) and then hitting you hard on Saturday from 11am to 10pm where the day's events will include video game reveals and tournaments, virtual reality demos, and a special live performance by the actors of Telltale's The Walking Dead at 8pm. Also taking part in the festivities will be an array of popular Twitch personalities, including Bajheera, Swiftor, Ezekiel_III, Wootystyle, Pokket, and Clevagurl with Marcus "djWHEAT" Graham, Twitch's Director of Programming, hosting the show.
Among the Skybound gaming partners being showcased are the following:
• Other Ocean: Worldwide Premiere of #IDARB DLC arena packs based on Invincible and The Walking Dead
• Pipeworks Software and 505 Games: Live gaming tournaments showcasing the interactive features of the upcoming SUPERFIGHT LIVE online/mobile game
• Starbreeze: Overkill's The Walking Dead Virtual Reality Experience
• Team 17: Worldwide Premiere of The Escapists: The Walking Dead!
• Telltale: Screening of "Best of Moments" from Telltale's The Walking Dead with a special Live Performance with the actors from the game
• Digital Domain: As part of the joint venture between Digital Domain and Immersive Media, fans will be able to spectate the live theatrical experience online of The Walking Dead Escape utilizing their 360° immersive technology entitled IM360. It's a virtual reality experience that takes you inside the zombie apocalypse.
• MegaBot MkII: This 15-foot tall, 6 ton mech robot will be making a special appearance aside the Twitch stage.
• AMD: They will be showcasing a special Gaming Booth and providing tournament prizes and giveaways throughout the day.
You guys definitely don't want to miss the Twitch stream because AMD and Steelseries are hooking it up BIG time with the giveaways!
CLICK HERE TO VISIT OUR TWITCH CHANNEL!!! And be sure to tune in Friday afternoon and all day Saturday!
And if you're in San Diego or nearby, COME JOIN US!