Hey gang, it's time for another comparison of the comic to the show! A little late this week but, hey, it's not my fault! It's busy here at Skybound HQ. The OUTCAST writer's room stopped by, AMC picked up The Walking Dead Companion series for TWO seasons, and Lizzy is galavanting around the frozen northeast slinging Superfight. But enough about me, let's get to it:
Dinner Party


The dinner party is a big deal in the comic as well as the show. In both instances it shines a spotlight on the group's new reality. Is Alexandria really a safe haven? If so, will easy living make them weak? Who the hell ARE these people to be so care-free?
In the comic, Michonne is the one who has an outburst when she realizes that the Alexandrites worry about the most trivial things. In the show, it's Sasha that blows up.
Another difference:
Gun Heist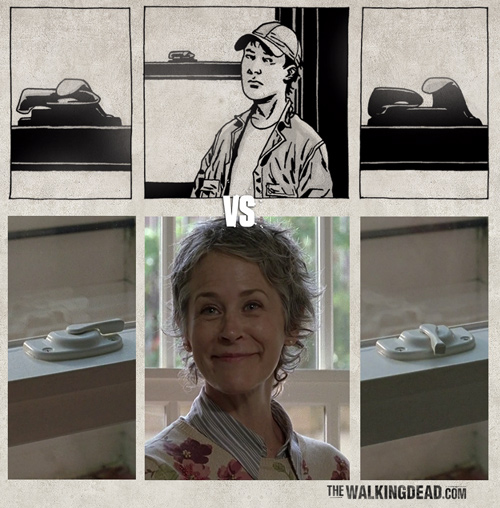 In the show Carol visits the armory earlier in the day to undo the window latch and then sneaks out of the party to collect; in the comic, Glenn uses the party as an excuse to feign drunk and when he stumbles out of the party, he scouts the armory and sees that the window will be the best way in. He doesn't actually undo the latch until the next day, and then promptly steals some sweet biscuits. And also some guns.
Spencer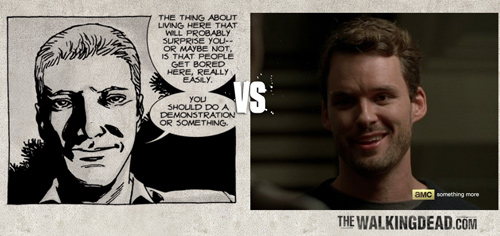 Ah Spencer. In the comics, Spencer is the only son of Douglas Monroe. Here in the show he has a brother, Aidan. Now, Aidan is an ass hat in the show. We haven't seen Spencer's levels of douchebaggery, so it's entirely possible the Monroe's only have one intolerable son. But Spencer's intro in the show is pretty similar to his first appearance in the comic as well.
Michonne Hangs It Up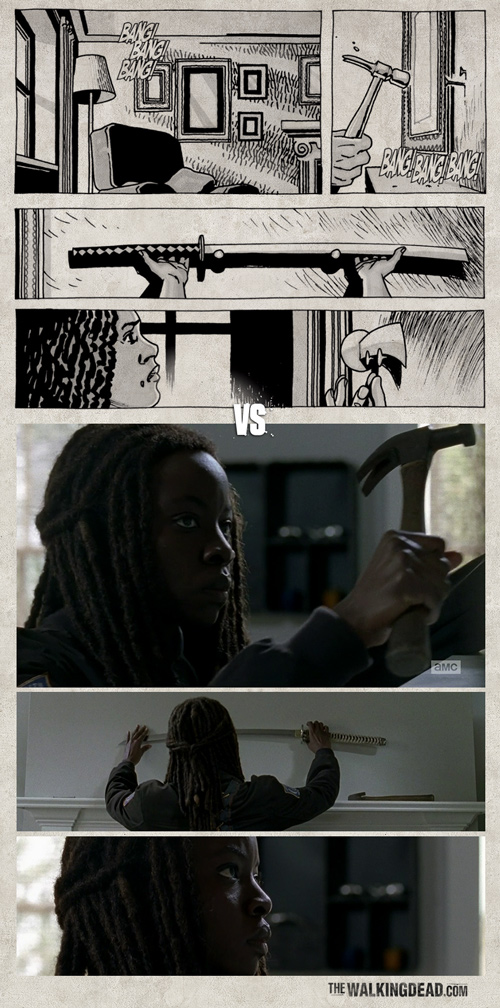 Michonne commits herself to Alexandria in pretty much the exact same way in both the show and the comic. Odds that sword stays there?
BUTTONS?!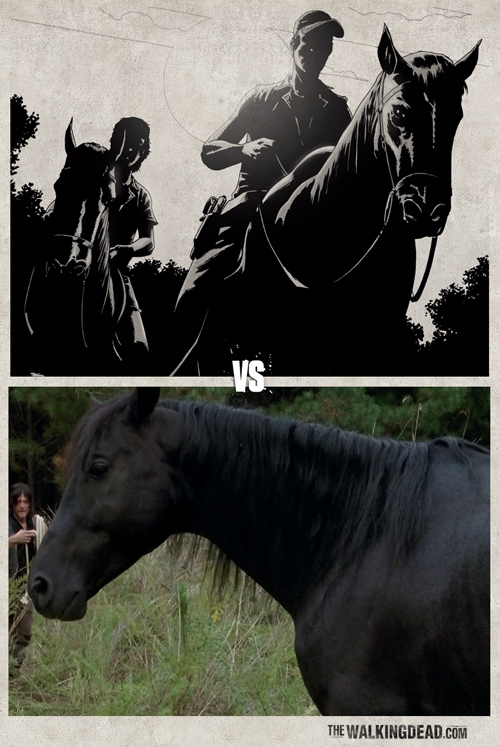 I'm almost entirely sure that one of the two horses in the above panel is Buttons.
BUTTONS! We mention buttons ALL the time around here at Skybound. Poor, lost, and forgotten Buttons, beloved horse of the Greene family. Buttons was on the Greene farm and made it all the way to Alexandria before never being mentioned again (outside of Letter Hacks anyway). In the show, Buttons never existed before this episode. I'd like to think that Buttons some how magically transferred from the comic to show. Although, wait, that would mean Buttons got ripped apart and then shot in head. Hm. Nevermind. #LongLiveButtons
At least now maybe you'll get the joke when we include Buttons in one of our polls (one of our favorite things to do).
Ok, you're up. Plop the ones we missed and/or didn't have time for in the comments down below!

PLEASE CHECK OUR RECAP AND DISCUSSION FOR THIS EPISODE: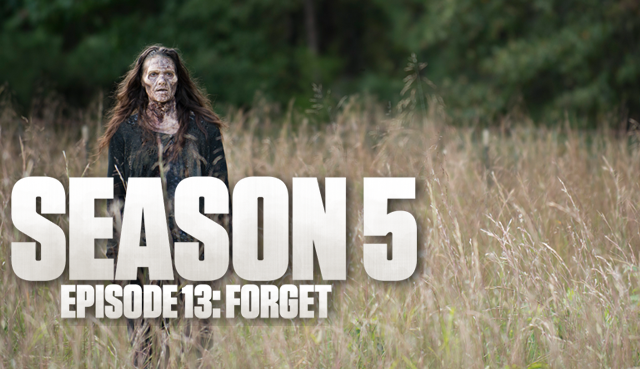 THE WALKER STALKERS DISCUSS THIS EPISODE: