Well, we've been teasing with our Image Expo news since late last week and it's time to spill. Are you sitting down? Yes? Oh. Well, pretend you weren't and sit down.
First, the faction teasers we've been posting are all part of the upcoming 12-issue arc "All Out War." It is going to get bloody. That starts in October. And we'll have something more with those faction images down the road (the mystery doesn't end folks).
Second, coinciding with the new arc is some personnel additions: we've got Dave Stewart on cover colors. You know Dave from Hellboy, B.P.R.D., Captain America, Daredevil, Star Wars, and tons of other major titles. We've also added Stefano Gaudiano on inks. Stefano did awesome work on Daredevil, Gotham Central, X-O Manowar, and more. We've still got Charlie on pencils and Cliff on tones. We're stoked to have this team working together on The Walking Dead.
Ok so that's the first two big items. Are you ready for the third? Stand up so you can sit down again because "All Out War" will be published TWICE a month! The biggest complaint we get* is that you have to wait so long between issues. Well complain no more. For half a year you're going to be hitting your comic shop every two weeks (well, for the most part, silly Julian Calendar).
Feel free to hit us up with questions below and stay tuned for even more news from Skybound at Comic-Con in just a couple weeks (holy crap that is soon).
Oh, here's your first look at Charlie, Dave, and Stefano working together!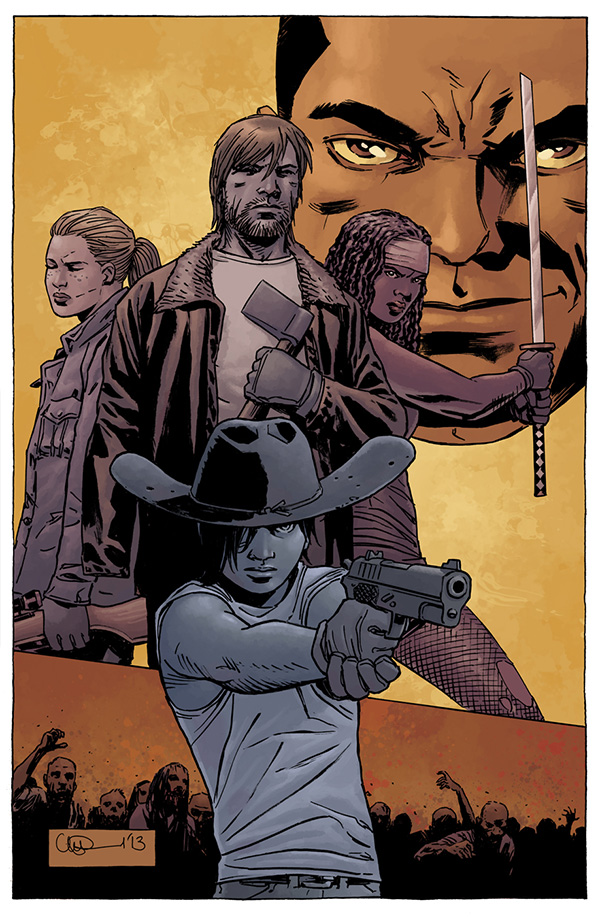 *Ok honestly the biggest complaint is probably that tigers eat too much to be feasible as a pet in a zombie apocalypse. Think about that.
And while I have you, you should really follow us on Twitter and like us on Facebook? We're all friends here, right? We run contests and promos on both. We won't spam your Facebook timeline. We're cool like that.