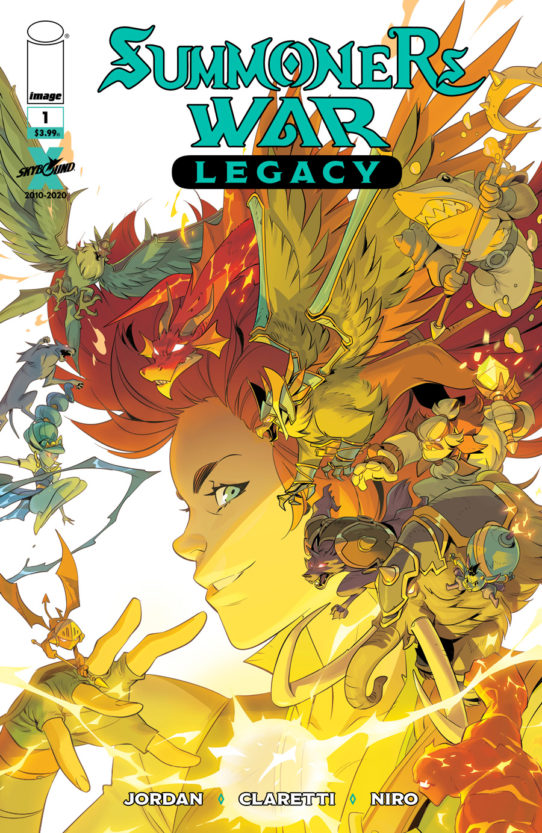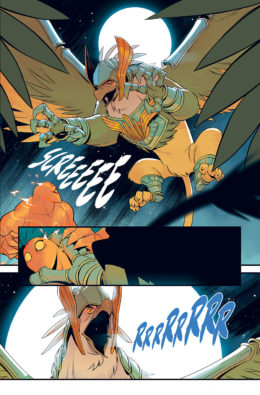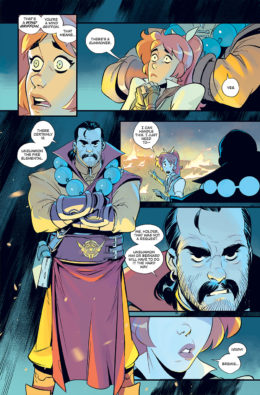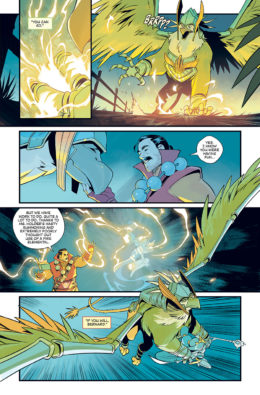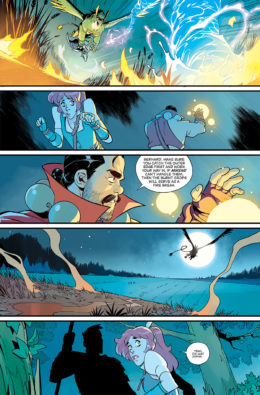 The highly anticipated tie-in comic book series Summoners War: Legacy—by writer Justin Jordan (The Strange Talent of Luther Strode, Reaver) and artist Luca Claretti (Adventure Time Comics) with colors by Giovanna Niro (Star Trek: Nero) and lettering by Deron Bennett (Excellence, Assassin Nation)—is set to launch in April 2021 from Image/Skybound Entertainment in partnership with game publisher Com2uS.
Fans of the game and newcomers alike will have the chance to journey to Alea in this dramatic, action-packed prequel comic book based upon the wildly popular Summoners War mobile game. Summoners War: Legacy comic series is the latest expansion to the Summoners War IP, along with upcoming mobile games Summoners War: Lost Centuria and Summoners War: Chronicles. The variety of expansions is a testament to the game's success and longevity which proves to be a major tentpole for Com2uS' gaming portfolio.
In Summoners War: Legacy, Rai knows there's only one way out of a nothing town—to become a summoner! Armed with a summoning book of monsters, there would be nowhere she couldn't go, and no adventure she couldn't have. There's only one problem: the world is at war and even untrained summoners like Rai must join the fight.
Recruited by Abuus Dein as an apprentice, Rai finds herself thrust into a battle for the fate of the world that none of them expected. Rai must learn there's a lot more to life than having fun, but can she become the summoner the world needs in time?
Summoners War: Legacy takes place 35 years before the universe-shattering conflict at the mobile game's center. The comic series features fan-favorite monsters, explores the fate of Durand's parents, and expands on the mystical land of Alea and its colorful characters including Abuus, Rai, and Tomas. This riveting addition to Summoners War canon brings a rich lore to the franchise and draws new connections to the upcoming Summoners War games and the Summoners War: Sky Arena game that fans know and love.
"Summoners War has created a great world, and it's been amazing fun to grow that world," said Jordan. "Legacy is a really fun book that will explore places the game has yet to go, and I think it's a damn good adventure too. Luca and Gio have done amazing work with the art, and I can't wait for people to see the book."
Claretti added: "The thing that excited me the most about working on this project, is that even though there was a world already very characterized, deep and alive, I still had great freedom to explore and create 'our' vision of the world of Summoners War. And that's not necessarily what you'd expect in this kind of project."
Summoners War #1 (Diamond Code FEB210054) will be available at comic book shops on Wednesday, April 28.
Summoners War #1 will also be available for purchase across many digital platforms, including Amazon Kindle, Apple Books, comiXology, and Google Play.
ABOUT IMAGE COMICS:
Image Comics is a comic book and graphic novel publisher founded in 1992 by a collective of bestselling artists. Image has since gone on to become one of the largest comics publishers in the United States. Image currently has six individuals on the Board of Directors: Robert Kirkman, Erik Larsen, Todd McFarlane, Marc Silvestri, Jim Valentino, and Eric Stephenson. It consists of five major houses: Todd McFarlane Productions, Top Cow Productions, Shadowline Comics, Skybound Entertainment, and Image Central. Image publishes comics and graphic novels in nearly every genre, sub-genre, and style imaginable. It offers science fiction, fantasy, romance, horror, crime fiction, historical fiction, humor and more by the finest artists and writers working in the medium today. For more information, visit www.imagecomics.com.
ABOUT SKYBOUND ENTERTAINMENT:
Skybound Entertainment is a multiplatform content company that works closely with creators and their intellectual properties, extending their stories to further platforms including comics, television, film, tabletop and video games, books, digital content, events, and beyond. The company is the home of notable properties including The Walking Dead, Invincible, and Super Dinosaur.
Skybound holds strategic partnerships across the entertainment industry, and has the in-house capabilities to serve as publisher, producer, and global distributor for tabletop and video games. On screen, Skybound holds a first-look television deal with Amazon Studios and a first-look movie deal with Universal. Additional partnerships include comic book publishing with Image Comics, book publishing with Simon & Schuster, and a first-look narrative audio deal with Audible. Skybound also houses a variety of unique creators and their IP, including Kristian Harloff and his pop-culture movie trivia platform the Schmoedown Entertainment Network, and printmaking expert Peter Santa Maria's Attack Peter brand.
ABOUT COM2US:
Established in 1998 and headquartered in South Korea, Com2uS operates internationally with offices in the United States, Germany, Japan, Indonesia, Taiwan, China, Thailand, and Vietnam and became a subsidiary of GAMEVIL in 2013. The mission is simple. As a leading developer and publisher of mobile games, they thrive on creating games with a level of depth and engagement rarely experienced on mobile platforms. For more information about Com2uS and their portfolio of groundbreaking mobile games, visit: www.com2us.com.
ABOUT SUMMONERS WAR:
With over 100 million downloads, Summoners War has ranked #1 grossing in RPG games in 122 countries (App Store) and in 97 countries (Google Play) since its launch in 2014. Featuring over 1,000 monsters and 5 different attributes, Summoners Warprovides a unique RPG gaming experience players are able to enjoy anytime, anywhere. Summoners War also expands outside of the mobile realm with its community focused events, animated shorts, and much more! Follow Summoners Waron Facebook, Instagram, or Twitter to get the latest updates!