April showers bring May… comics?! Apparently, as we've got a lovely crop coming in. From the triumphant, bloody, revenge-filled return of DEAD BODY ROAD to the final issue of the OUTER DARKNESS/CHEW crossover to—OHMYGODICAN'TBELIEVEIT—the final issue of OUTCAST by KIRKMAN & AZACETA! It's always kind of bittersweet to see the end of a Robert Kirkman title. Sad to see them go but he has a habit of sticking the landing, so be sure to ready yourself for that! Scroll down for the full list and the amazing covers that go with them.
And don't forget that FIRE POWER #1 arrives May 2nd for FREE COMIC BOOK DAY! And word on the street is we might have a little INVINCIBLE treat for FCBD as well!
---
DEAD BODY ROAD: BAD BLOOD #1 (of 6)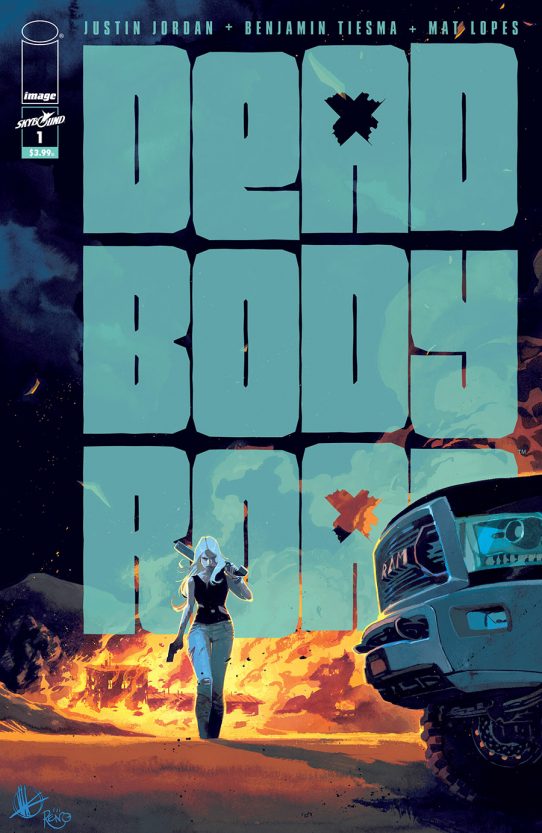 STORY: JUSTIN JORDAN
ART: BENJAMIN TIESMA & MAT LOPES
COVER: MATTEO SCALERA & MORENO DINISIO
MAY 20 | 32 PAGES | FULL COLOR | MATURE | $3.99
NEW SERIES
Bree Hale has left a lot behind in her life. Crime. The military. But she can't leave behind her own family, and when the local crime boss puts a hit out on her brother, there's nothing she won't do to save him. Absolutely nothing.
Skybound's pulse-pounding action series returns, with writer Justin Jordan (REAVER, Luthor Strode) and artist Benjamin Tiesma delivering an explosive tale of revenge like you've never seen before!
---
BIRTHRIGHT #44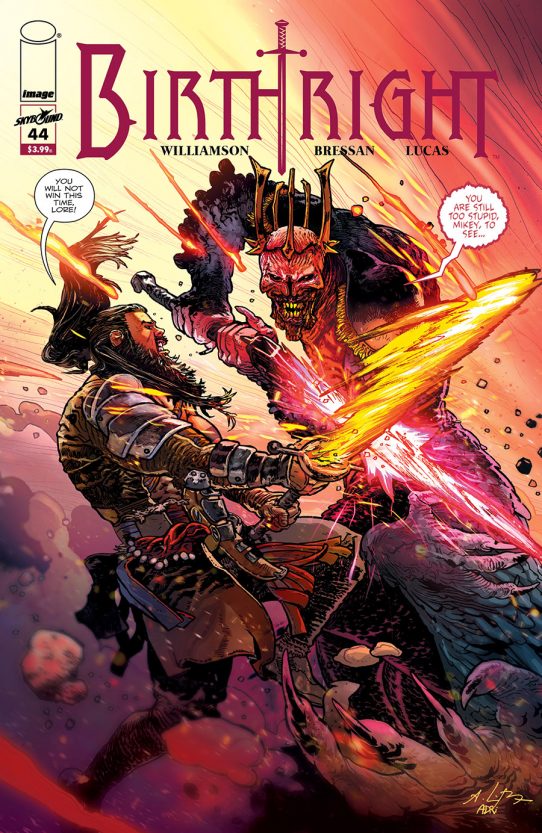 STORY: JOSHUA WILLIAMSON
ART/COVER: ANDREI BRESSAN & ADRIANO LUCAS
MAY 6 | 32 PAGES | FULL COLOR | TEEN+ | $3.99
The Chosen One vs. the God King Lore for the fate of two worlds! Could this be the end of Mikey Rhodes?
---
DIE!DIE!DIE! #11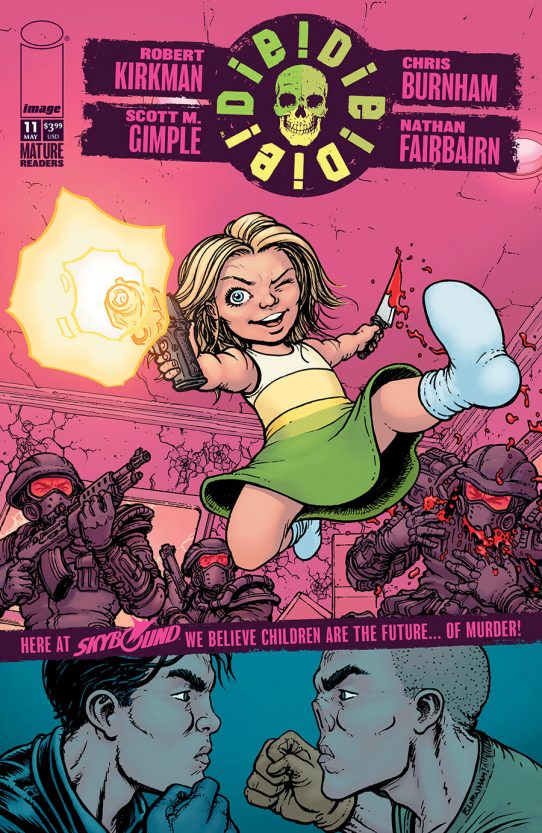 STORY: ROBERT KIRKMAN
ART/COVER: CHRIS BURNHAM & NATHAN FAIRBAIRN
MAY 20 | 28 PAGES | FULL COLOR | MATURE | $3.99
Bonnie thought she was free of her Russian overlords, turns out that may not be the case! Has she trained Nancy enough to save the day? Or will they both suffer a tragic fate! Join us for a story that could only be called DIE!DIE! Plus: Paul and George fight… it's brutal.
---
EXCELLENCE #8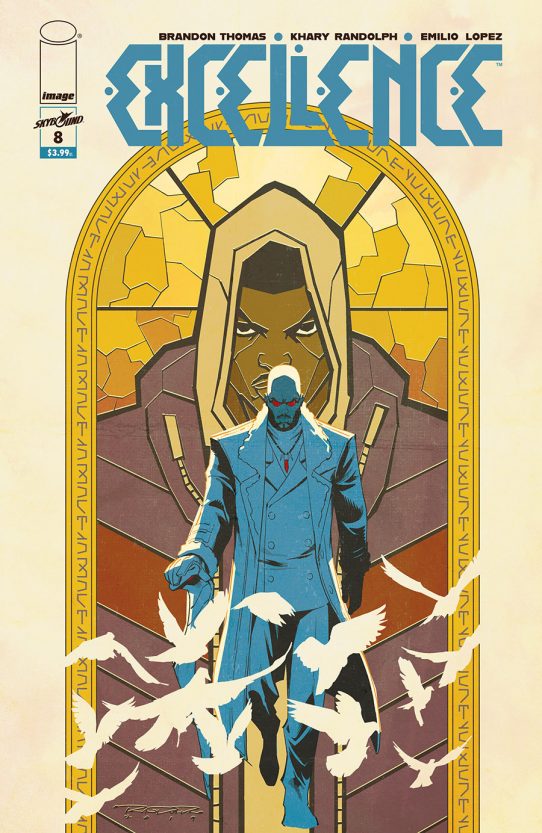 STORY: BRANDON THOMAS
ART/COVER: KHARY RANDOLPH & EMILIO LOPEZ
VISIONS OF EXCELLENCE VARIANT: ALITHA MARTINEZ
MAY 13 | 32 PAGES | FULL COLOR | MATURE | $3.99
One of the Tenth comes gunning for Spencer! Who is Dequan Hill? Will he end Spencer's rebellion just as it's getting started?
---
OUTCAST BY KIRKMAN & AZACETA #48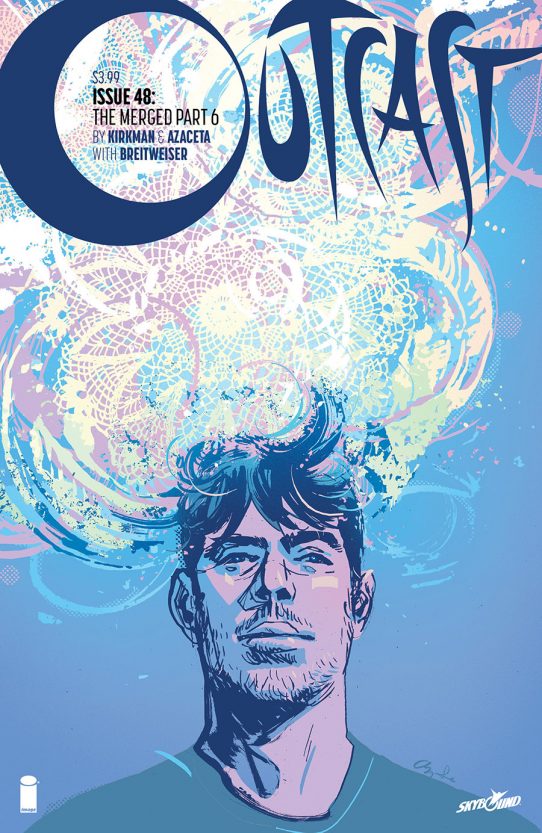 STORY: ROBERT KIRKMAN
ART/COVER: PAUL AZACETA & ELIZABETH BREITWEISER
MAY 27 | 32 PAGES | FULL COLOR | MATURE | $3.99
FINAL ISSUE!
It has all been building to this! The Great Merge is here! What does this mean for the world moving forward? Kyle Barnes has spent every waking moment trying to gain control of his powers, to find a place in this world safe for him and his family… in the end, was it all for nothing?
---
OUTER DARKNESS/CHEW #3 (of 3)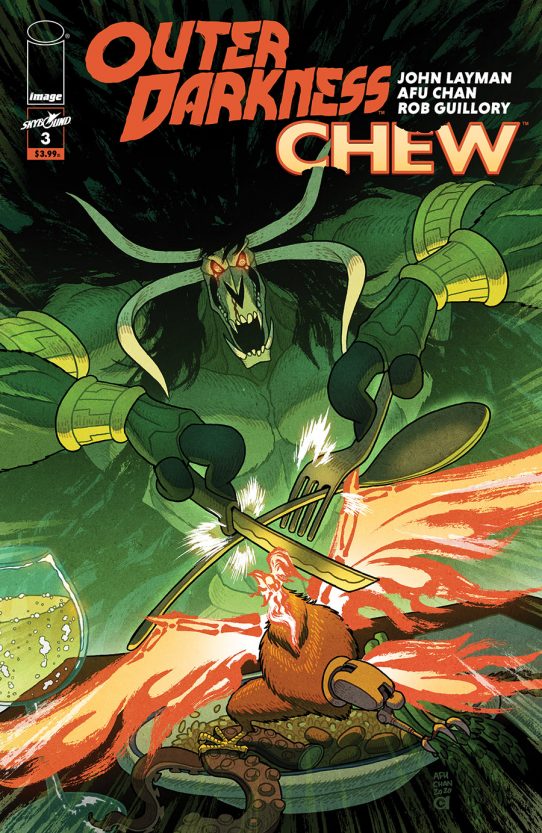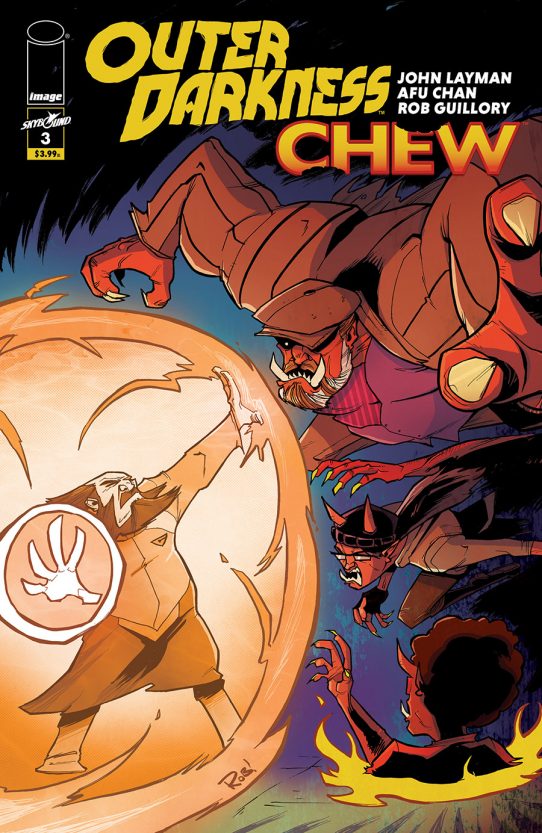 STORY: JOHN LAYMAN
ART: AFU CHAN & ROB GUILLORY
COVER A: AFU CHAN
COVER B: ROB GUILLORY
MAY 13 | 32 PAGES | FULL COLOR | MATURE | $3.99
Our crossover concludes as the cast of culinary crazies of CHEW and the cosmic cutthroats of OUTER DARKNESS go head-to-head for a gory, blood-soaked climax. Not a reboot, dream or imaginary story. Witness the very last adventure of Tony Chu and the CHEW crew… In spaaaaaace!!!
---
REAVER #9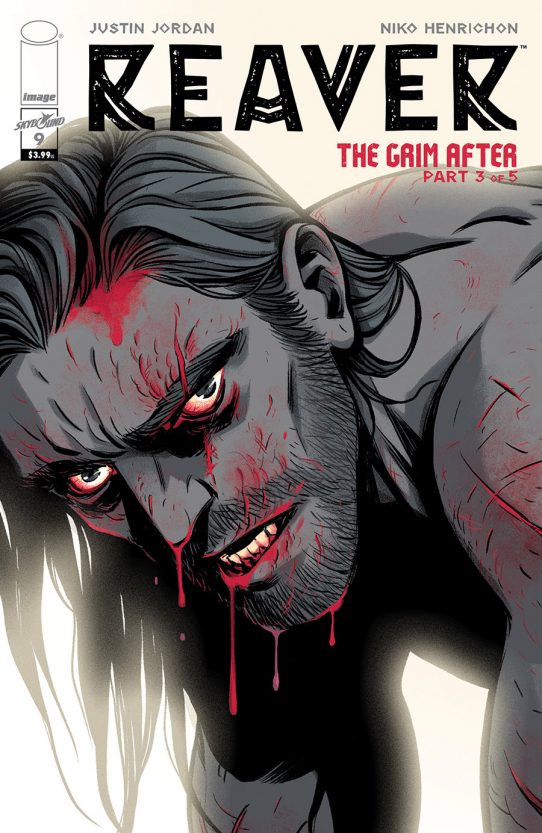 STORY: JUSTIN JORDAN
ART: NIKO HENRICHON
COVER: BECKY CLOONAN
MAY 13 | 32 PAGES | FULL COLOR | MATURE | $3.99
First, the Watch came for the children. Then, they came for Breaker and Rekala. But locking up the Devil's Son and the skin eater is different than keeping them there…
---
REDNECK #28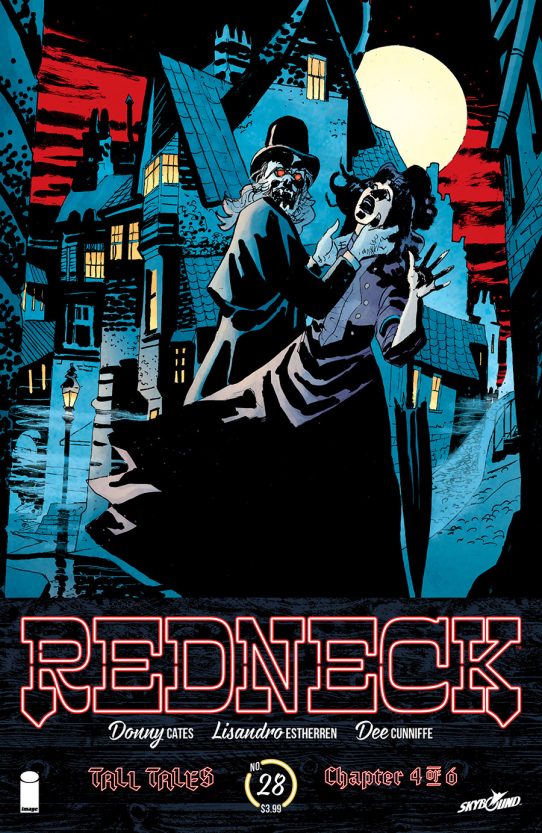 STORY: DONNY CATES
ART/COVER: LISANDRO ESTHERREN & DEE CUNNIFFE
MAY 27 | 32 PAGES | FULL COLOR | MATURE | $3.99
In this issue of "Tall Tales", The Last Stand of JV Bowman!
---
STEALTH #3 (of 6)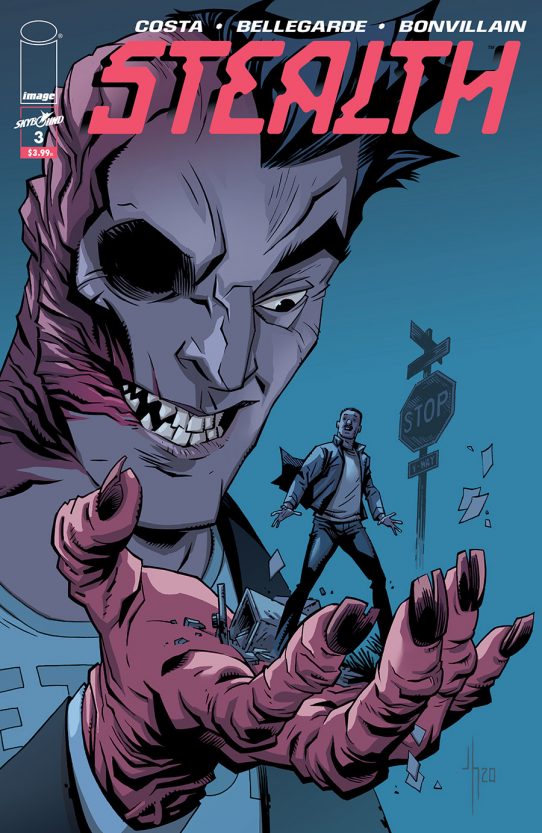 STORY: MIKE COSTA
ART: NATE BELLEGARDE & TAMRA BONVILLAIN
COVER: JASON HOWARD
MAY 20 | 32 PAGES | FULL COLOR | TEEN+ | $3.99
Dead Hand goes viral! This old school villain takes his vendetta against Stealth to the streets, to call out his rival… and everyone in Detroit must choose a side.
---
MANIFEST DESTINY VOL. 7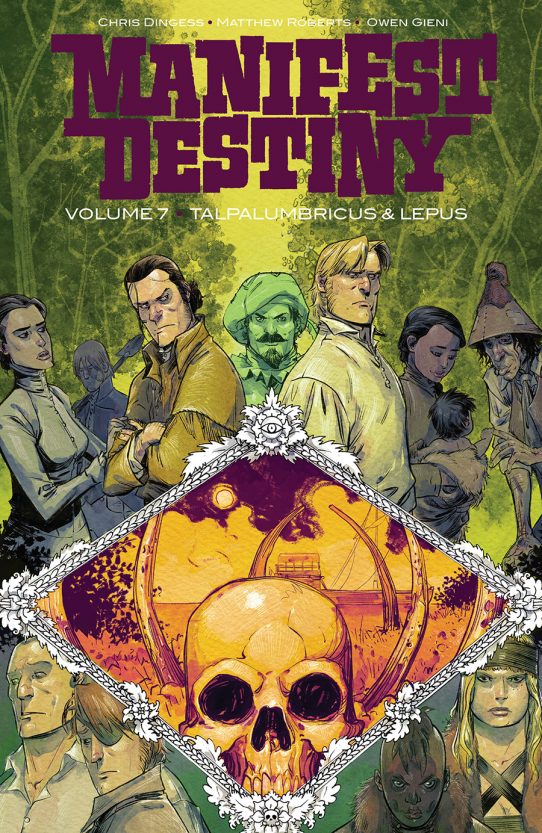 STORY: CHRIS DINGESS
ART/COVER: MATT ROBERTS & OWN GIENI
MAY 6 | 128 PAGES | FULL COLOR | MATURE | $16.99
In 1804, Captains Meriwether Lewis and William Clark began an expedition into the uncharted American frontier. This is the story of the monsters they discovered lurking in the wilds.
Spring has sprung and the Corps of Discovery is closing in on the Pacific! But new beginnings mean new horrors for Sacagawea, and out on the plains, a sleeping beast has awoken!
Collects MANIFEST DESTINY #37-42.
ACTION/ADVENTURE