Our beloved The Walking Dead is celebrating its 20th Anniversary this year! As part of our celebration we're granting fans free early access to The Walking Dead: Betrayal on Steam. This third person action game of cooperation and deception is available to play free from September 14th (today) through September 18th, 2023. Check out the official details below, along with a gallery of gameplay images…
Skybound Entertainment, the creator-led, multi-platform entertainment company, today announced that Early Access for The Walking Dead™: Betrayal begins today via Steam. The Walking Dead: Betrayal is a third person action game of cooperation and deception for up to eight players and is currently in development for PC with Other Ocean Interactive, the team behind the critically-acclaimed and best-selling hidden-role survival game, Project Winter.
The Walking Dead: Betrayal will be hosting a free weekend on Steam starting at 10 AM PT September 14 and ending at 10 AM PT on September 18. Players can purchase via The Walking Dead: Betrayal Steam page for $19.99 USD, and can receive a 10% discount during Early Access launch week, ending September 20th.  Players who purchase during Early Access will receive the Rick Grimes skin for free. Current players of Other Ocean Interactive's Project Winter will also receive 10% off if they purchase The Walking Dead: Betrayal and complete the bundle of the two titles.  
Skybound and Other Ocean have also released an Early Access roadmap of upcoming plans and content drops. The Walking Dead: Betrayal will be continuously supported with updates and fixes from community feedback up through the full release.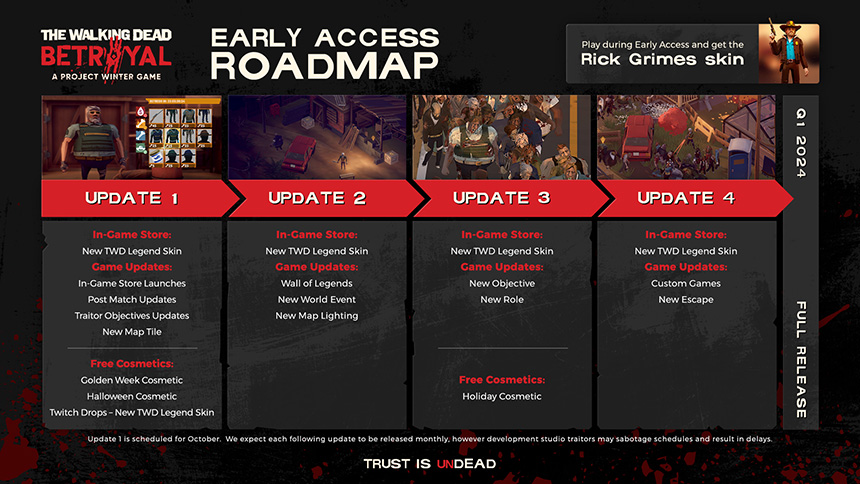 In each match, a group of survivors are out of resources with a herd of walkers on their heels. Players must work together to complete objectives and escape. They'll need to work fast, as walkers aren't the only threat they will have to face in rural Canada. Incognito 'traitors' lurk among them, plotting to do everything in their power to delay repairs, and prevent anyone from leaving. As evidence of their sabotage becomes apparent, paranoia and accusations threaten to tear the survivors apart as they desperately work towards escaping.
For more information about The Walking Dead: Betrayal visit Steam. Join The Walking Dead: Betrayal Discord channel for the latest game updates.
The Walking Dead is a trademark of Robert Kirkman, LLC. All other trademarks and registered trademarks are the property of their respective owners, without intent to infringe.