Skybound Games announced an exciting new game at SDCC 2023, The Walking Dead: Betrayal, which is currently available for playtest via Steam. We've got an official guide to playing the game in its beta form. Read on for all the ins and outs, including match structure, objective, survival tips, and much more. Let the best survivor (or traitor) win!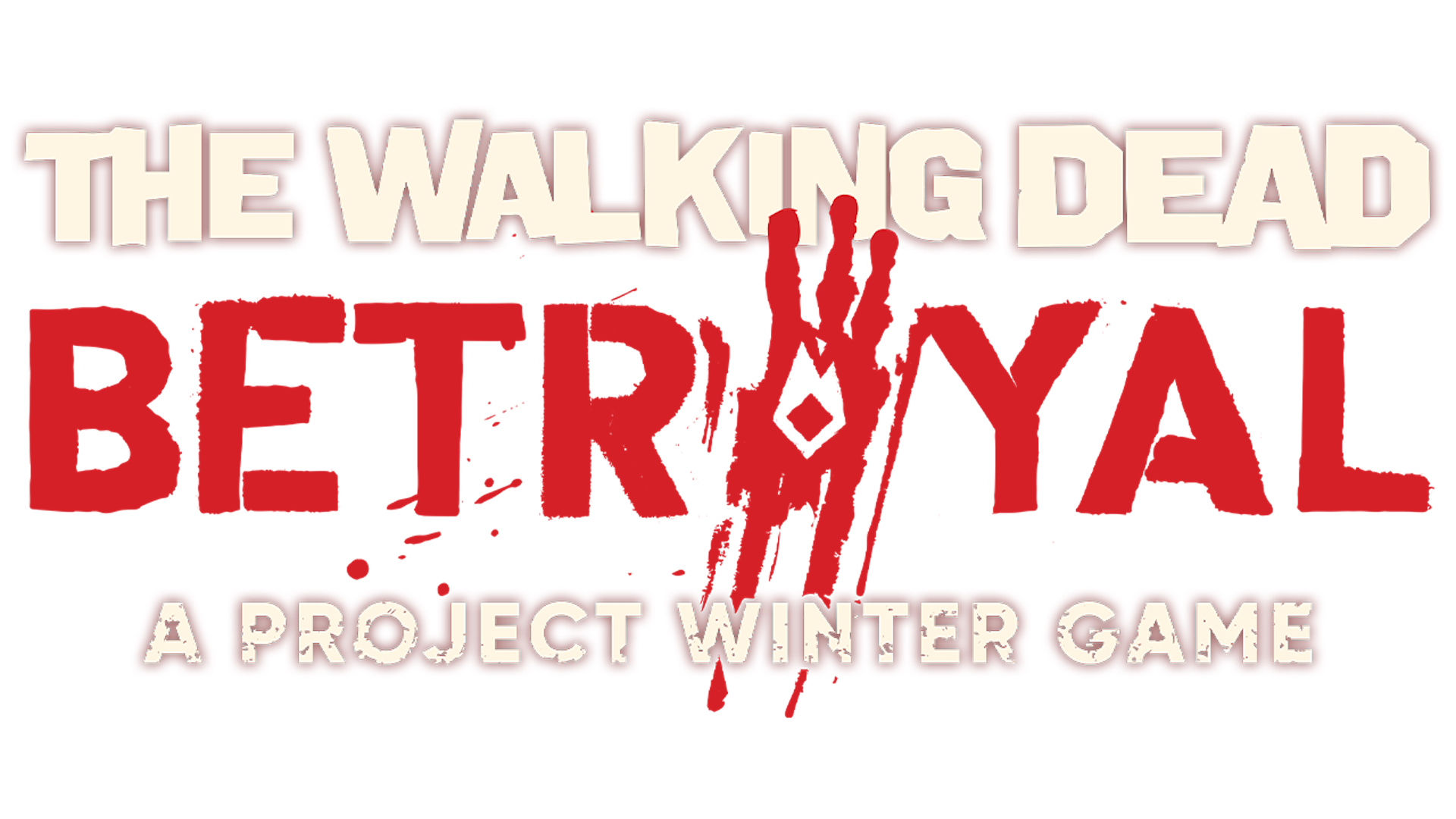 In The Walking Dead: Betrayal, you'll be part of a group of survivors racing against the clock to repair your cart of supplies and make your escape. You'll only have 30 minutes before you're overrun by an oncoming walker herd. But be warned… walkers aren't the only threat out there. There are incognito traitors in the group who are trying to sabotage and prevent the escape at any cost! 
Roles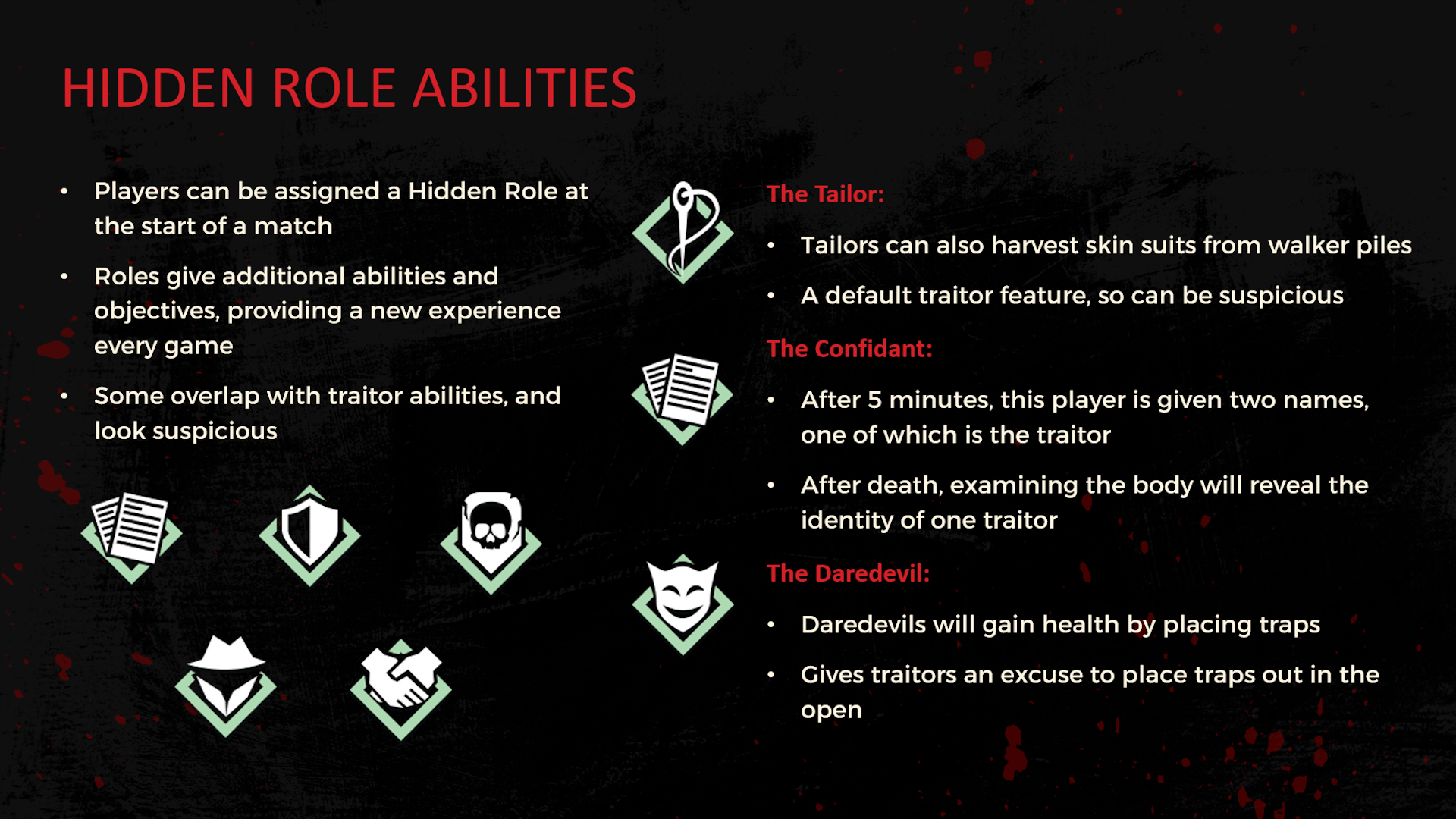 In a full, 8-player game, there will be 6 survivors working to repair the objective and escape and 2 traitors trying to stop them. Once you're assigned a role, it's up to you if you want to share it with your group! 
 
If you're a survivor, you'll be assigned a secondary role, such as a Tailor or Bodyguard. Each role has an additional ability you can use to help your team… or just help yourself. But be careful, some of these abilities can look suspicious and may make others think you are the traitor! 
 
Some matches may also have a neutral role called the Bereaved. The Bereaved must poison every living player in the match so they can pick a new role. The Bereaved is a threat to survivors and traitors alike, so be wary of them! 
 
You can view your role in the upper right corner of the screen, or view it in more detail at the table within the Safe Zone church. 
HUD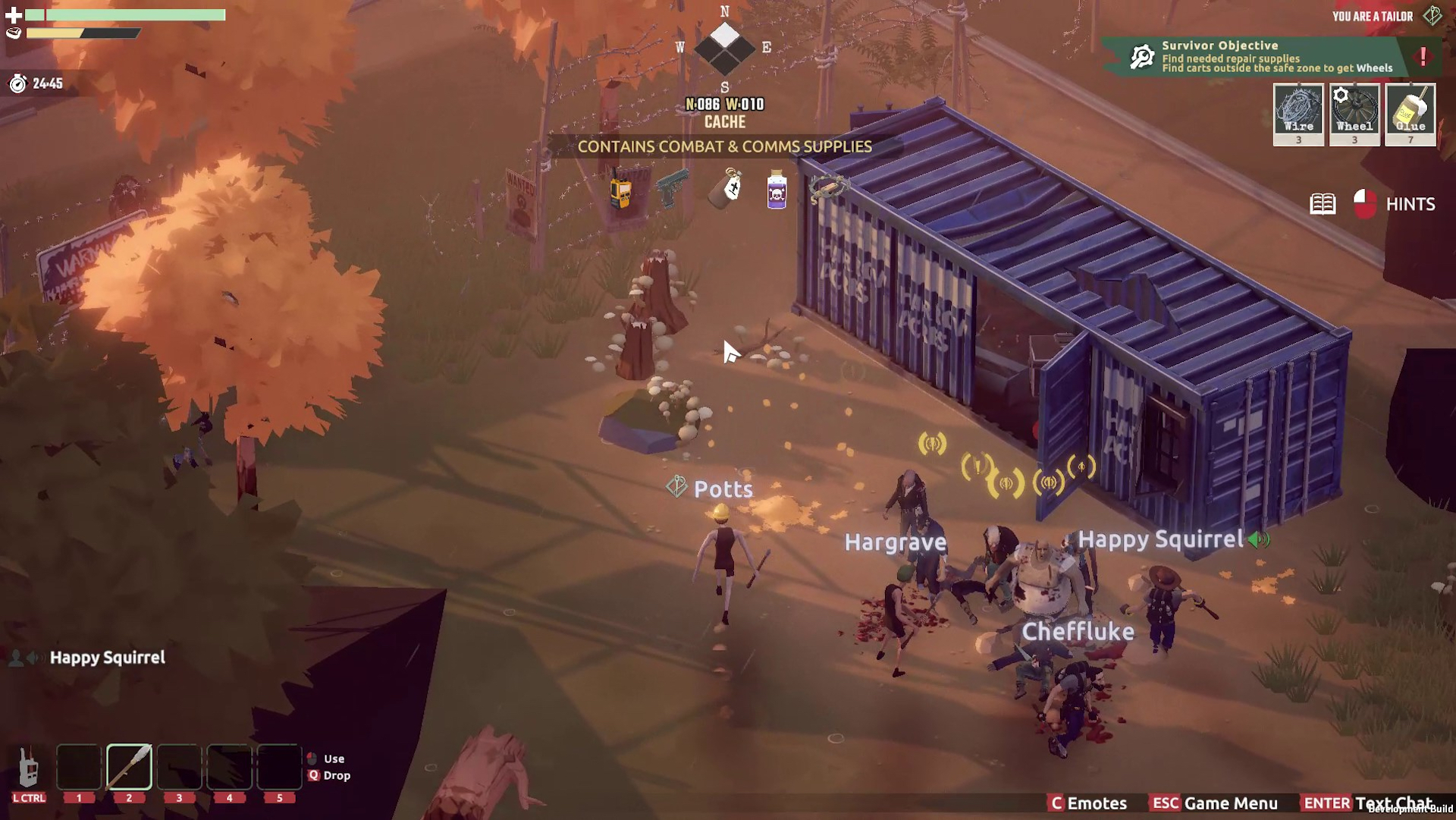 In the upper left corner of the screen is your health meter. As long as your health is above the red line, you'll be able to fend off bites from Walkers, though you'll still take damage from their attacks. If your health is below the red line, Walkers can bite and infect you. If you are infected, a timer will appear above your head, counting down to the moment you become a Walker! 
 
Underneath the health meter is your food meter. You'll need to eat often to keep your energy levels up, as if your food meter is depleted, you'll begin to starve and your health meter will steadily drain. You can sate your hunger with the berries and mushrooms found across the map, and there are even a few berry bushes in the Safe Zone. Eating berries and mushrooms raw will help in a pinch, but cooking them first at the stove in the Church will provide a much larger benefit, so you should try and cook whenever possible. 
 
In the bottom left of the screen is your inventory. You have 5 inventory slots that can be used for weapons, food, or supplies. Space is very limited, so you'll need to prioritize the items that will be most helpful to your strategy. There is an additional inventory slot for a radio, which can be used to communicate at long distances. 
 
In the upper right corner of the screen is the Survivor Objective. The Survivors will need to gather the indicated resources to repair the cart before they can make their escape. 
 
In the top-center of the screen is your mini-map, which helps you understand which quadrant of the map you're on. There are also coordinates underneath to help you give your precise location to your teammates. 
The Church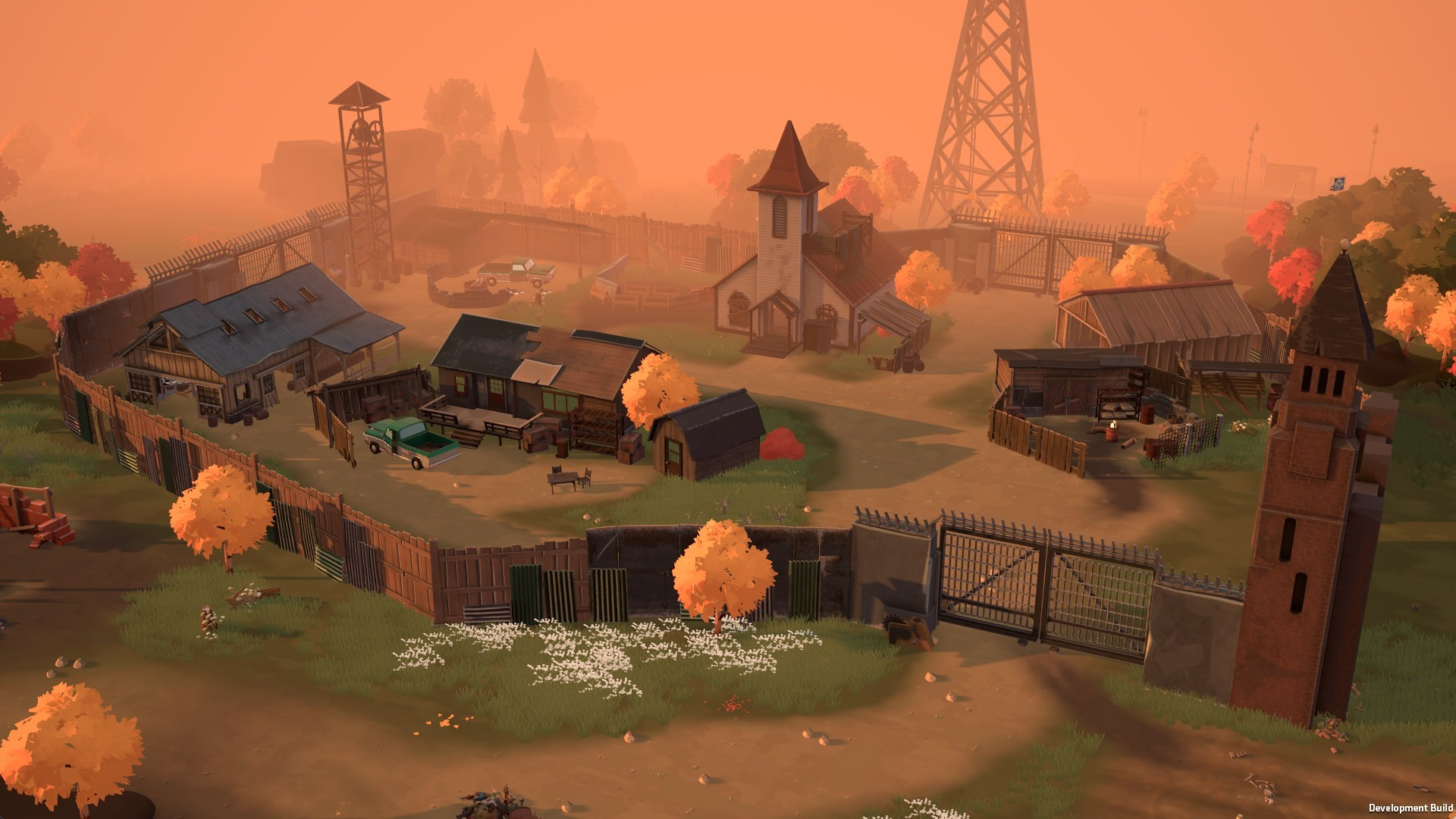 You'll start each match in the Church within the safe zone, which houses the stove for cooking food, the Weapon crafting table for crafting weapons, and the item crafting table for crafting resources, traps and radios. 
 
The red mailboxes in the game are called Dead Drops. Players can use them to both vote and share items from across the map. They also include a special inventory only visible to traitors. 
 
If you suspect someone is the traitor, you can vote at a dead drop to have them exiled from the Safe Zone. This will bar them from the safe zone (unless someone lets them back in). It will also prevent them from sabotaging the objective! 
 
If there is a member of the group who you trust, you can vote to make them a Leader, which will give them increased stats and the ability to see how many items are in settlements. 
 
If you place an item in one Dead Drop, it will be accessible from any other dead drop on the map. Traitors have an extra section that contains additional items to assist their nefarious plans. 
 
The last element of the Church is the storage box. If you're running low on space or have items that you want to share with the rest of the team, you can put them in here. 
Objective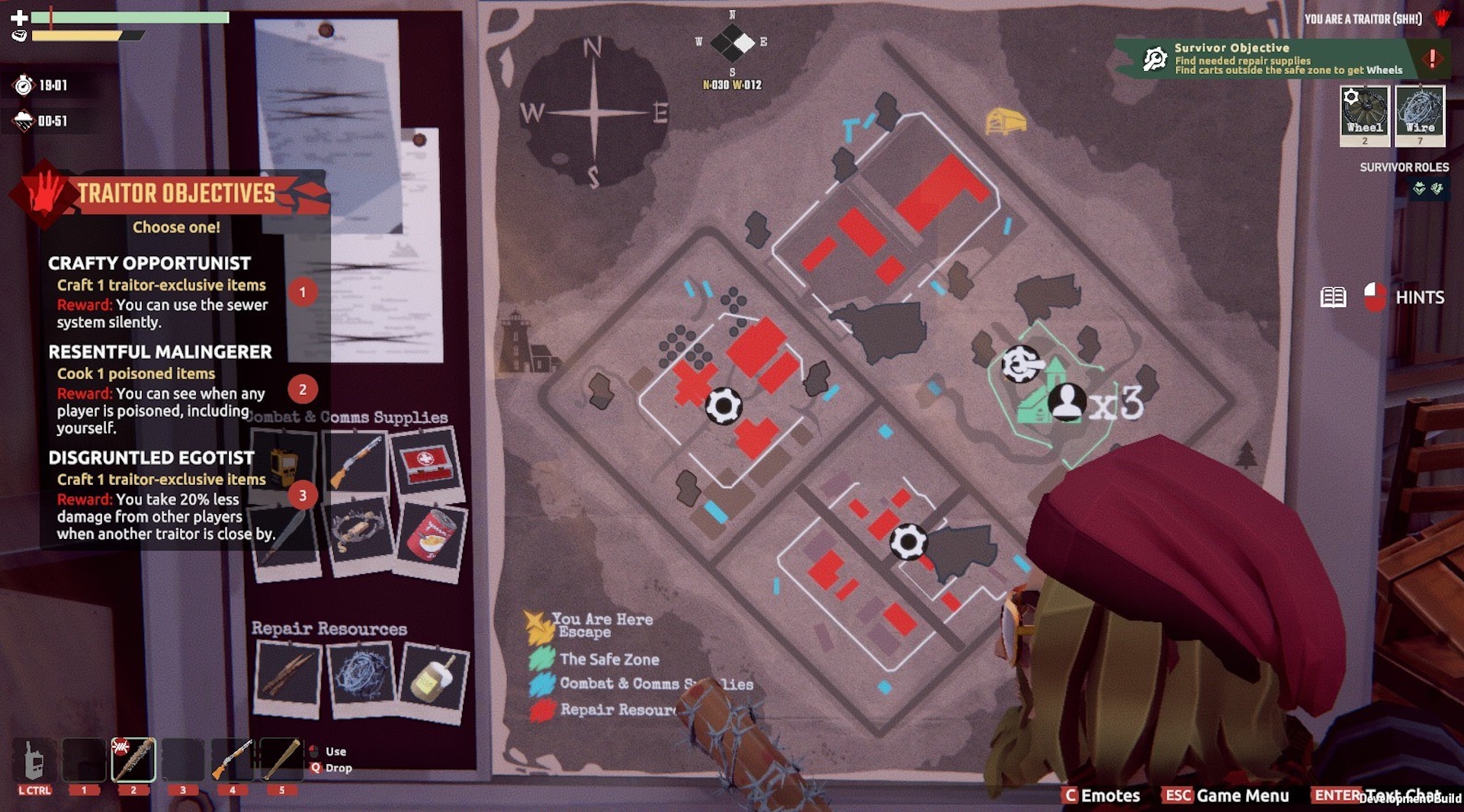 At the beginning of the match, you will want to head to the Survivor Objective building just to the southwest of the Church. You'll find several spears outside of it, so you'll want to pick one up before you leave the safe zone! Spears are great starter weapons and make fighting walkers much easier until you can find or craft better weapons. 
 
Inside the Objective building, you will see the cart in need of repair. This is where you place the supplies to complete your first objective. 
 
To the left of the cart is the main map. There is a lot of important information on this map, so let's take a closer look! 
 
The areas marked in blue contain combat and communication supplies. It's a good idea to seek these out first, so you can be better prepared to take on larger groups of walkers. 
 
The areas marked in red contain repair resources. Repair resources are the resources needed to repair the cart and complete your first objective. 
 
Wheels are a repair resource that cannot be crafted and must be found outside of the safe zone. These have their own special icon on the map. 
 
Check the edges of map for the escape! This is where you go to complete the escape after repairing the cart. 
Survivor Tips
The world of The Walking Dead: Betrayal is dangerous, and you'll need to stick together and know how to communicate with other players to survive. The game features proximity-based chat, and you can talk to other players around you by holding the spacebar (or LB on a controller). The further away you are from other players, the more difficult it will be for other players to hear you. 
 
If you want to communicate at a long distance, you'll need to find or craft a radio. You can hold one radio in the radio inventory slot and talk to other players who have the same color radio holding Left Ctrl (or RB on a controller). 
 
Walkers are attracted to noise, so you'll need to be mindful about how loud you're being. Keep an eye out for a yellow indicator that appears above the source of active noise. Don't worry though, unless the Dead Calm random event is active, using the voice chat will not alert walkers! 
Traitor Tips
If you're playing as a traitor, you get access to a few extra abilities. Traitors start the game with a red radio, allowing them to communicate with the other traitor secretly and over long distances. Traitors can also use the sewer system, allowing them to quickly traverse the map. When traitors access a Dead Drop, they'll find it filled with useful supplies for sabotage. 
 
If you locate a walker pile, traitors are able to craft skin suits. Skin suits allow players to blend in with other walkers, albeit for a limited amount of time. They're great for accessing buildings that are overrun by walkers, or for sneaking up on unsuspecting survivors. 
 
At the Crafting Station in the Church, you'll also be able to craft a handful of items to disrupt the match! One of these is the noisemaker, which will attract nearby walkers to its position when deployed. Perfect for dropping outside of a building while survivors are searching inside! 
 
There are tons of creative possibilities for how traitors can betray the team. They can jam the gates to let walkers into the Safe Zone, steal items from the objective, set traps, poison food and crates, unleash walkers in blocked-off areas, set off noisy alarms, and more! 
Walker Tips
If your character dies in the game, death doesn't need to be the end! You can keep on playing as a walker and try and seek revenge on who wronged you. When spectating, you can use the mouse buttons to immediately find other players or traverse the map with a free camera to find a herd of walkers to influence. Once you've spotted a perfect target, press E (or A on controller) to take control of the walker. 
 
In the world of The Walking Dead, a single walker is never much of a threat, but you can use noise to amass a large herd to lead around the map for a better chance at trapping the remaining players in the game. If you find that there are no nearby players, you can always leave your current walker and find a new one to control!
For more on The Walking Dead: Betrayal, be sure to check out the game's beta version on Steam!